JEE Online Coaching in Saudi Arabia- Riyadh, Jeddah, Dammam:
Planning to take up Engineering to get admission in India's Best Engineering Institutes?
Great! You must be knowing about JEE – Joint Entrance Examination. Did you decide which one you need to write to get into your dream college? If not you need to know it here is the info JEE Mains Paper-1 & JEE Mains Paper 2.
Quick Connect: +966 8800 1234 92 / info@testprepkart.com
JEE Main Online Courses in KSA - Riyadh, Jeddah, Dammam:
Before taking a look at the JEE Courses, you must be updated with the how Testprepkart offers the best high quality live and interactive classes at your own place in Saudi Arabia (Riyadh, Jeddah, Al Khobar, Dammam, Al Jubail ..etc ):
Select your ideal JEE Online Course. For any clarification, please speak with us on +91 8800 1234 92 or write us at info@testprepkart.com
| JEE Prep Courses | Duration | Level | Course Detail |
| --- | --- | --- | --- |
| | 480 Hours | 1 Year Prep | View Course | SAR 7782 |
| | 704 Hours | 2 Year Prep | View Course | SAR 9511 |
| | 390 Hours | 1 Year | View Course | SAR 4184 |
| | 3 Hr/Test | 1 & 2 Year | View Course | SAR 230 |
| | Upon Enquiry | Grade 11th / 12th | View Course | SAR 885 |
| | Upon Enquiry | Grade 12th | |
All the above mentioned online JEE Prep Courses conducted in Saudi Arabia are completely live and interactive with special focus on improving marks in Physics, Chemistry & Mathematics especially for NRI Students looking for NIT, CFTI admissions under DASA / CIWG Quota.
Testprepkart's JEE Perfect Graders:
JEE Main Online Course Preview:
Choose the appropriate JEE Online Course for yourself and speak to our JEE Counselor in Saudi Arabia to clear up your queries & for JEE Course Enrollment. Select from the range of foundation courses, online test series or crash course depending on your requirements. If you are unsure of what range of JEE Ranks would be needed for your dream Institute, please speak to our JEE Course Counselor at info@testprepkart.com for further clarity.
Expert JEE Tutors To Help You Excell:
Phenomenal experience and great teaching experience of over a decade or more, our JEE Tutors in various cities of KSA (Riyadh, Jeddah, Dammam) make sure you Rank high enough in your JEE Mains for first-timers and subsequently improve to the desired JEE Rank for your college selection.
Online JEE Coaching Format & Structure:
JEE Syllabus incorporates three sunjects – Physics, Chemistry & Maths. Our online JEE Coaching Classes are are completely live & interactive & are also recorded by default for your revision. Students also have the access to hard copies of JEE study material shipped to their location.
Now, let's take you through the JEE Main scoring blueprint:
JEE Main Structure:
During JEE Coaching classes as well as exams, you are prohibited to use calculator. Tips and Tricks are discussed during coaching classes to overcome the calculation problems.
During JEE Mains Paper 1, you've have to answer 75 questions in 3 hours duration. All these 90 questions multiple-choice ones. Upon answering correct, you will be awarded 4 marks per question.
A variety of questions are included in JEE. Various questions in JEE Syllabus accompanies bars/graphs/charts depending on the question. Indeed, you will deal with tables/graphs in all the 3 JEE Subjects.
# of Multiple Choice Questions – 75 (25 for each subject)

Mode of Exam – Online (CBT – Computer Based Test)

Exam Duration - 3 Hours
JEE Main Maths Structure:
In this section, JEE Preparation/ coaching will cover the questions from the JEE Maths Syllabus including the chapters – Complex Numbers, Probability & Statistics, Algebra & Trigonometry.
# of Multiple Choice Questions in JEE Maths – 25
JEE Main Maths Online Coaching:
JEE Maths Preparation Books -
IIT Mathematics-M.L Khanna

Differential Calculus-A Dasgupta

Higher Algebra by Hall and Knight

RD Gupta's Mathematics book for Class 11th and 12th

Geometry and Trigonometry books by S.L Loney
JEE Main Physics Overview:
JEE Physics involves numericals, graphs, diagrams, derivations as well as theory.
Physics being a difficult subject, special focus is given on all its important chapters such as Magnetism, Mechanics, Thermodynamics, in our JEE Coaching Program.
# of Multiple Choice Questions in JEE Physics – 25
JEE Main Physics Online Coaching: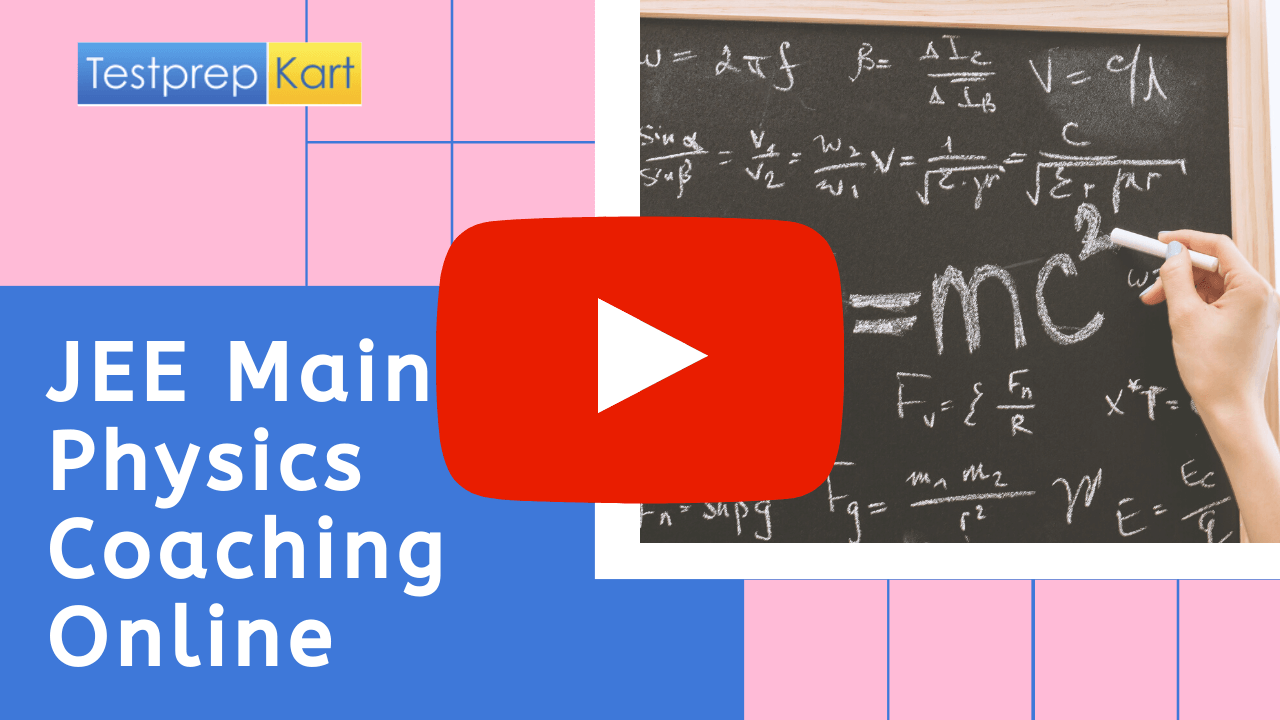 JEE Physics Preparation books-
H.C Verma's Concepts of Physics-Part 1 and 2

IIT JEE Physics by D.C. Pandey

Problems in General Physics by I.E. Irodov – Best for Physics

Problems in Physics by S.S. Krotov – Mostly Recommended

Physics for IIT JEE by Resnick, Halliday and Walker
JEE Main Chemistry Overview:
JEE Chemistry section is about various concepts, derivations, chemical formulas & numericals high school level chemistry which generally include topics from Physical Chemistry, Organic & Inorganic chemistry.
# of Multiple Choice Questions in JEE Physics – 25
JEE Main Chemistry Online Coaching:
JEE Chemistry Preparation books-
Organic Chemistry by O.P. Tandon

Inorganic Chemistry by O.P Tandon

Organic Chemistry by Morrison Boyd

Concise Inorganic Chemistry by J. D. Lee

Numerical Chemistry by P. Bahadur
JEE Paper 2 (Arch) Structure:
JEE Mains Paper 2 has a total of 3 sections called- Mathematics, Aptitude Test and Drawing test. Maths & Aptitude Test of conducted online & Drawing Test is taken offline (Pen-Pencil & Paper based). Fill the form above on right side for free demo on online coaching for Jee Paper 2.
# of Questions – 83

Mode of exam – Both Online & Offline

Exam Duration – 3 Hours
JEE Advanced Online Coaching Classes:
Once the students qualify JEE Mains, they get a step closer to becoming an IITian by qualifying JEE Advanced. We make sure that such students are given enough guidance during their JEE Advanced Online Coaching Classes so that they can ace the JEE Advanced Papers.
JEE Advanced Preparation books:
JEE Advanced Preparation Books For Mathematics-
Algebra, Differential Calculus, Integral Calculus, Vector and 3D geometry- all these books are by Arihant Prakashan

Higher Algebra-Bernard and Child

Coordinate Geometry-Dr. Gorakh Prasad

Maths-Krechmar

Calculus-J.Edward
JEE Advanced Preparation Books For Physics-
Problems in Physics-A.A. Pinsky

Problems in general Physics-I.E. Irodov

Physics Vol 1 and 2- Tipler

Advanced Physics- Nelkon and Parker

Aptitude Test Problems in Physics-L.A. Sena
JEE Advanced Preparation Books For Chemistry-
ORGANIC CHEMISTRY:
Organic Chemistry-Arihant Prakashan

Organic Chemistry-J.D March

Organic Chemistry-Solomons

Organic Chemistry-IL Finar

Organic Chemistry-Peter Sykes
INORGANIC CHEMISTRY:
Inorganic Chemistry-Arihant Prakashan

Inorganic Chemistry-J.D Lee
PHYSICAL CHEMISTRY:
Physical Chemistry-O.P.Tandon

Physical Chemistry-P.W.Atkins

Numerical Chemistry-R.C. Mukherjee

Physical Chemistry-P.Bahadur

General Chemistry-Ebbings
With practicing on various JEE study resources, including books, e-books, mock tests, online JEE test series, our JEE Advanced Coaching Online equips the JEE Aspirants with accurate & quick problem solving abilities.
JEE Coaching Program Features:
Live and Interactive:

This is completely live and interactive coaching for JEE students. These classes will be conducted online and students can attend these classes from anywhere in the world. Students can connect to our virtual whiteboard on their laptops and that is it.

World Class Faculties:

Since we are online – We manage to handle a pool of 150+ JEE teachers for your JEE preparation. These faculties are highly experienced and know what all it takes to ace JEE exams.

Study Material:

Students get their PCM study material uploaded in their student's accounts on TestprepKart. In cases where hard copy of study material is requested – It will be send by courier.

Online Test Series:

With every JEE preparation or coaching program, students get a set of online test series for JEE assessment. This boosts their confidence and helps them in overcoming the weak areas. This will further be discussed in a classroom by the faculties.

Assessment Reports:

Students get daily assessments to do before they join the session, so that the complete focus is given on problem solving during the classes.

Doubt Removal Sessions:

Separate doubt removal sessions are organised for JEE students so that at the end if they have any doubts, these can be discussed during the doubt removal sessions.

Class Recordings:

All the classes conducted on TestprepKart for JEE is recorded automatically and gets updated in students accounts in 24 hrs. for revision.
How to register for JEE preparation courses:
Fill up the form above on right hand side. On receiving your information, you will be called up by JEE counsellor for course explanation. After filing up enrolment form link and fee submission your classes will start.

You can directly call us on

+91 8800 1234 92

or write us at

info@testprepkart.com
JEE Coaching Classes FAQs:
Since many students prepare for JEE in Saudi Arabia for obvious reasons of taking admission into IITs by wirting JEE Main & Advanced. We often come across many questions which are listed below, We try to answer them all through email.
Q1. What are the JEE coaching classes timings during the day?
Answer: All JEE courses that we offer mostly run during evening time, typically after 6:00 PM (local time). This helps students manage their school activites alongside. JEE class timings are decided in accordance with the student availability, this bring no confontation and easy course completion.
Q2. What are the JEE expert credentials?
Answer: We make sure that we have the best talent available for JEE entrance classes. All the facultie have experience of more than 5 yrs. of JEE preparation classes and come from institues like IIT, IIIT, AIIMS, Harvard and other top institutes. Our JEE course faculties are experienced enough to understand student's level, this helps them in designing a plan for a better JEE score.
Q3. How much time will this course will generally take to finish entire JEE Main & Advanced test syllsbus for Physics, Chemistry & Mathematics?
Answer: It depends, we offer JEE Main & Advanced courses for students who are in grade (8th, 9th, 10th, 11th & 12th).
Online Test Series & Distance Learning Program are also available for students of all grades.
Q4. What is a good JEE rank we should target for admission in top ranking JEE with good specialisation?
Answer: This is also related to the specialization you want for example Computer Science, Electrical etc. To get the best IIT with best of the specialisation you should not score any less than 1500 rank. Even here the chances are less but this will surely place you decently.
Q5. What will be the JEE class duration?
Answer: All classes are of 2 hours. 3 times a week and in some cases when JEE test series is organised, classes may run for 3 hours as well.
Q6. How my performance will be measured and analysed for JEE Main & Advanced?
Answer: Enrolled JEE students go through repetitive analysis sessions for Physics, Chemistry and Mathematics. Based on analysis they are guided further for getting close to cutoff marks. JEE course includes online test series which prepares students well.
Q7. Are the classes run on one on one basis or its a group or batch classes?
Answer: We offer JEE classes in both models - One on One & Batch mode. In batch mode for JEE, we keep a group for 5 students from Saudi Arabia only so that all have the same level and timings. In one on one classes, only single student is aligned with the faculty and this JEE coahcing in highly customizable.
Other JEE FAQs:
Q1. My childrens had studied in Saudi Arabia (Riyadh) until 10th grade and now they are doing their +2 from India. Are they eligible for writing JEE under NRI quota?
Q2. We are planning to prepare for JEE Main - What will the NITs cutoff for admission in top 10 NITs in India?
Q3. For all the students who are preparing for IITs - Will they get any financial assistance?
Q4. Is it fine to prepare for JEE in 11th grade and score well, also how many times we can write JEE exam?
Q5. My child is preparing and taking coaching for JEE, i need to know the fee details of IITs under NRI quota.
Q6. We are planning for JEE for admission in India. If we are not listed in NITs counseling, what options do we have after that?
Q7. After writing JEE in Saudi Arabia - Are IITs & NITs the only option for engineering. Are there any other institutions as well?
Q8. Can you help us with the list of engineering institutions in India which accepts JEE Main score?
Useful JEE Main Links You Should Not Miss:
JEE Details You Should Not Miss:
JEE Coaching Centers:
JEE Main & Advance Preparation Resources:
How to register for JEE Online Preparation Courses: