by April,14,2020
68 comments
23 Views
Online JEE Coaching in Dubai, AbuDhabi, Fujairah, ...
Planning to take up Engineering to get admission in India's Best Engineering Institutes?
Great! You must be knowing about JEE – Joint Entrance Examination. Did you decide which one you need to write to get into your dream college? If not you need to know it here is the info JEE Mains Paper-1 & JEE Mains Paper 2.
Quick Connect: +971 8800 1234 92 / info@testprepkart.com
JEE Main Online Courses (UAE – Dubai, Abu Dhabi, Ajman & more):
Before taking a look at the JEE Courses, make yourself familiar with the differences/ updates in JEE Syllabus & opportunity for NRI Students to apply under DASA & CIWG through your JEE Main Rank:
Select your ideal JEE Online Course. For any clarification, please speak with us on +91 8800 1234 92 or write us at info@testprepkart.com
| JEE Prep Courses | Duration | Level | Course Detail |
| --- | --- | --- | --- |
| | 480 Hours | 1 Year Prep | View Course | AED 7782 |
| | 704 Hours | 2 Year Prep | View Course | AED 9511 |
| | 390 Hours | 1 Year | View Course | AED 4184 |
| | 3 Hr/Test | 1 & 2 Year | View Course | AED 230 |
| | Upon Enquiry | Grade 11th / 12th | View Course | AED 885 |
| | Upon Enquiry | Grade 12th | |
All the above mentioned online JEE Prep Courses conducted in UAE are completely live and interactive with special focus on improving marks in Physics, Chemistry & Mathematics especially for NRI Students looking for NIT, CFTI admissions under DASA / CIWG Quota.
Testprepkart's JEE Perfect Graders:
JEE Main Online Course Preview:
Choose the appropriate JEE Online Course for yourself and speak to our JEE Counselor in UAE to clear up your queries & for JEE Course Enrollment. Select from the range of foundation courses, online test series or crash course depending on your requirements. If you are unsure of what range of JEE Ranks would be needed for your dream Institute, please speak to our JEE Course Counselor at info@testprepkart.com for further clarity.
Expert JEE Tutors To Help You Excell:
Phenomenal experience and great teaching experience of over a decade or more, our JEE Tutors in various cities of UAE (Dubai, Abu Dhabi, Sharjah, Ajman & more) make sure you Rank high enough in your JEE Mains for first-timers and subsequently improve to the desired JEE Rank for your college selection.
Online JEE Coaching Format & Structure:
JEE Syllabus incorporates three subjects – Physics, Chemistry & Maths. Our online JEE Coaching Classes are completely live & interactive & are also recorded by default for your revision. Students also have access to hard copies of the JEE study material shipped to their location.
Now, let's take you through the JEE Main scoring blueprint:
JEE Main Structure:
During JEE Coaching classes as well as exams, you are prohibited to use the calculator. Tips and Tricks are discussed during coaching classes to overcome the calculation problems.
During JEE Mains Paper 1, you've had to answer 75 questions in 3 hours duration. All these 90 questions multiple-choice ones. Upon answering correct, you will be awarded 4 marks per question.
A variety of questions are included in JEE. Various questions in JEE Syllabus accompany bars/graphs/charts depending on the question. Indeed, you will deal with tables/graphs in all the 3 JEE Subjects.
# of Questions - (60) MCQs + (15) Numerical Based questions [20 + 5 for each subject]

Mode of Exam – Online (CBT – Computer Based Test)

Exam Duration - 3 Hours
JEE Main Maths Structure:
In this section, JEE Preparation/ coaching will cover the questions from the JEE Maths Syllabus including the chapters – Complex Numbers, Probability & Statistics, Algebra & Trigonometry.
# of Multiple Choice Questions in JEE Maths – 20

# of Numerical Based Questions in JEE Maths – 5
JEE Main Maths Online Coaching:
JEE Main Physics Overview:
JEE Physics involves numerical, graphs, diagrams, derivations as well as theory.
Physics is a difficult subject, special focus is given on all its important chapters such as Magnetism, Mechanics, Thermodynamics, in our JEE Coaching Program.
# of Multiple Choice Questions in JEE Physics – 20

# of Numerical Based Questions in JEE Physics – 5
JEE Main Physics Online Coaching: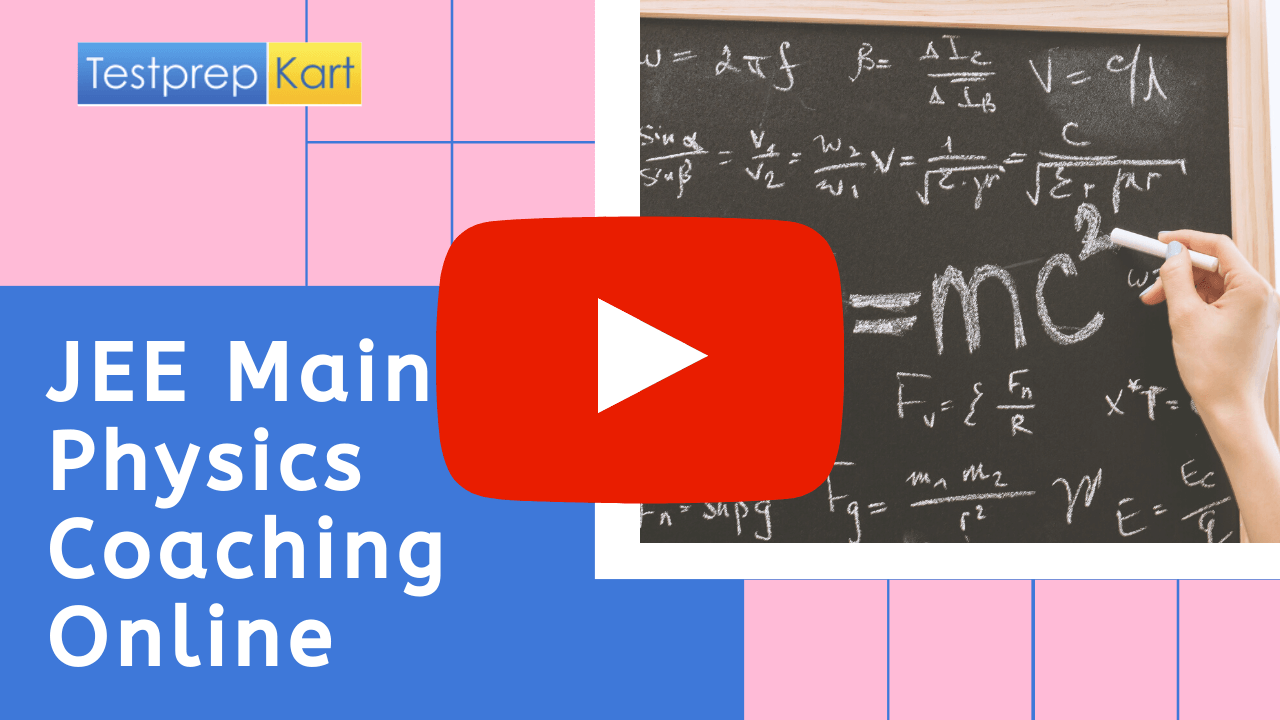 JEE Main Chemistry Overview:
JEE Chemistry section is about various concepts, derivations, chemical formulas & numerical high school level chemistry which generally include topics from Physical Chemistry, Organic & Inorganic chemistry.
# of Multiple Choice Questions in JEE Chemistry – 20

# of Numerical Based Questions in JEE

Chemistry

– 5
JEE Main Chemistry Online Coaching:



JEE Paper 2 (Arch) Structure:
JEE Main Paper 2 has a total of 3 sections called- Mathematics, Aptitude Test and Drawing Test. Maths & Aptitude Test of conducted online & Drawing Test is taken offline (Pen-Pencil & Paper based).
# of Questions – 77 [20 MCQs + 5 numerical based ques in Mathematics, 50 MCQs in Aptitude Test, 2 questions in Drawing Test]

Mode of exam – Both Online & Offline

Exam Duration – 3 Hours
Note: According to the latest update from DASA, from session 2021-22 onwards, JEE Mains Rank is mandatory for NRI/ PIO/ OCI/ FN Students to be eligible for DASA & CIWG Schemes. Hence, 2021-21 will be the last year when SAT 2 scores will be considered for DASA/CIWG Scheme.
TestprepKart JEE Students Reviews:
At TestprepKart, we feel satisfied having worked closely with students and parents toward achieving a common objective of great JEE Rank and selection in prestigious Engineering Institutes such as IITs, NITs, IIITs, CFIs & SPAs. Here is what our students speak about JEE Coaching at TestprepKart.
JEE Coaching in UAE. Why TestprepKart?
If you need a reason to enroll with TestprepKart, the list goes on and the list never ends. Here are the pinnacles of TestprepKart:
Highly Qualified Faculties:
Teachers play the most important role in the student's learning and progress. And there is no substitute for a qualified and experienced teacher. Thus, TestprepKart brings for its students a panel of the most qualified and highly experienced group of faculty members.

Our JEE faculty members in UAE specialize in their subjects where they are undisputed experts- Physics, Chemistry & Mathematics and are assisted by other experts as well when it comes to preparing the JEE course material as well as Tests, Assignments and Practice problems.

Most of the JEE faculty members are alumni of IITs/BITS Pilani and other top-ranked Engineering institutes with the best grasp on the JEE preparation strategies and techniques.

Our JEE Faculty members, for the live classes, are selected through a rigorous recruitment process that considers their subject knowledge, conceptual understanding and their style of teaching, which should make it easy for students to understand and apply the concepts.

The JEE faculty panel will be enlarged according to demands and TestprepKart takes proper care that they are trained in the technical aspects of Live classes as well so as to make optimum use of the students' time through their teaching, timely tests as well as course material sharing.

All JEE teachers try to remain updated with any changes in the exam patterns of JEE Mains & JEE Advanced and TestprepKart takes care to keep them abreast of any new developments or any new topic knowledge required.
One-to-One JEE Mentoring Sessions:
The students would often need JEE guidance regards their preparation based on the assessment in the tests as well as class participation.

The faculty members would take JEE coaching sessions of half-an-hour every quarter for each student.

One student will have one JEE faculty member as a mentor and the mentor would be responsible for his smooth progress in the class as well as helping him/her cope with stress and anxiety.

The JEE Coaching sessions in UAE would focus less on academics and more on general preparation strategies, tactics and individual progress and on what subjects to focus more.

The mentoring session can involve parents as well if they want to so that they get a genuine feedback of their ward's progress and know of the future plans for his/her score improvements.

The JEE Coaching Prep goal would be to make a student ready for his goals ahead and focus on his subjects without getting left behind in the competitive scenario.
Test Series for JEE Main / JEE Advanced Prep:
JEE Live Test Series are tests taken at regular intervals along with the progress in the syllabus as it determines a student's progress and performance in a test environment.

It identifies a student's weaknesses and strengths as well as benchmarks his/her performance with peers from across India and other countries.

In total, 30 JEE tests across all 3 subjects will be taken in the academic session for the students at dates scheduled beforehand.

The syllabus of the tests will be known beforehand and can be taken anytime at that time in the 24 hour period.

The pattern will be MCQs of 3 hours duration for our JEE online test series/ mock tests.

The JEE periodic tests are to remove the fear and anxiety of JEE Exams from the mind of students as a lesser number of the chapter will ease them into the test-taking mode while preparing them for bigger challenges ahead.

Complete syllabus tests will be taken near the end of the academic sessions for the assessment of the grasp of the entire course.

These tests will measure a student's performance against the yearly goals and will help him/her determine his efforts and progress in the year and thus plan for the next year accordingly.

After the full syllabus tests, the students will get a one-to-one JEE mentoring and guidance session with a faculty member to discuss the progress against the plan and then plan for the next year with rigid expectations in mind.
JEE Main 2021 Examination FAQs:
Useful JEE Main Links You Should Not Miss:
JEE Details You Should Not Miss:
JEE Coaching Centers:
JEE Main & Advance Preparation Resources:
How to register for JEE Online Preparation Courses:
Fill up the form above on right hand side. On receiving your information, you will be called up by JEE counsellor for course explanation. After filing up enrolment form link and fee submission your classes will start.

You can directly call us on +91 8800 1234 92 or write us at info@testprepkart.com