Difference Between JEE Main & JEE Advanced
For any engineering aspirant in India or abroad, JEE Main and JEE Advanced are the most important exams that determine their college, which in turn decides the package that they will receive.
The CIWG (Children of Indian Workers in the Gulf) scheme is now applicable to both these exams, which means that even NRI students from the Middle East will have to appear for these exams in order to get into IITs, NITs, and major private engineering institutions in India.
Earlier, there was an option to give SAT instead of JEE Main, but starting from the 2021 batch, this will no longer be applicable.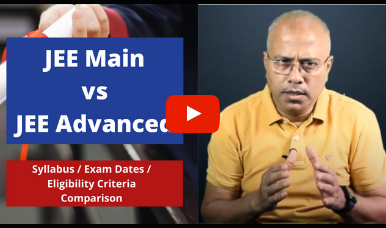 This raises a lot of questions: What is the difference between JEE Main and JEE Advanced? What is the difference in their syllabus? What is the difference in their eligibility? What colleges are available to students appearing for both these exams? In this article, we aim to answer all those questions and more.
This is a brief summary of the differences between the two exams, in a tabular format. Further below, we have explained the major differences between the two in detail.
JEE Main vs JEE Advanced Highlights
| | | |
| --- | --- | --- |
| Criteria | JEE Main | JEE Advanced |
| Average Number of Students Appearing | 10,00,000 | 2,50,000 |
| Maximum Number of Permissible Attempts | 3 years, and two attempts each year | 2 years, there is only a single attempt every year |
| Colleges available | NITs, IIITs, GFTIs, several private colleges | 23 IITs all over India |
| Eligibility | Class 12 passed or currently in Class 12 | Top 2,50,000 rank holders in JEE Main |
| Conducting Authority | NTA (National Testing Agency) | One of the IITs. In 2021, it will be conducted by IIT Kharagpur |
| Medium of Attempting the Paper | English and Hindi | English and Hindi |
Difference in Eligibility Criteria
Comparing the JEE Main Eligibility and JEE Advanced Eligibility is different. For JEE Main, the student needs to either have passed Class 12 within the past 2 years or currently be in Class 12. Know more about the
There is no age limit and any eligible candidate can apply. Several different boards are accepted by the NTA for this purpose.
However, the eligibility criteria for JEE Advanced is a bit more strict. Only the top 2,50,000 rank holders from JEE Main are eligible. The candidate must have been born after 1st October 1996 (1991 for SC and St candidates). Any student who has previously been accepted to an IIT is not eligible to give the exam.
Difference in the Number of Attempts
While there are 3 maximum years that a candidate can appear for JEE Main, with two attempts in each year (one conducted in January and the other in April), for JEE Advanced a candidate has only two permissible attempts.
Difference in Exam Pattern
For the B.Tech and B.E. paper in JEE Main, there are a total of 75 questions in the paper. The maximum time permissible is 3 hours. Candidates are given 4 marks for every correct answer. 80% of the paper (60 questions) are of the multiple-choice type in which 1 mark is deducted for every incorrect answer. Get complete JEE Main Exam Pattern here
The remaining 15 questions are of an integral number answer type questions and there is no negative marking in these questions. The maximum score that a candidate can achieve is 300.
For JEE Advanced Exam Pattern, the format is different. 2 papers are conducted, of 3 hours each with a break in between. While the first part is solely based on Multiple Choice questions, the second part comprises short answer type questions.
Both the tests are conducted in a CBT - Computer Based Test format.
Difference in Syllabus of the Exams
There is a huge difference between the syllabus of JEE Main Syllabus and JEE Advanced Syllabus.
The JEE Main Syllabus includes the entire syllabus of Class 11 and 12. There are several topics that are tested in JEE Main but are not included in the JEE Advanced syllabus.
Topics like Electronic Devices, Electromagnetic Waves and Communication Systems are examples of this. Similarly, some of the topics of Mathematics like Sets, Relations and Functions, Statistics and Probability, Trigonometry and Mathematical Reasoning also fall under this category.
However, there are also some topics that are not tested in JEE Main but are included in the JEE Advanced syllabus. These topics are Thermal Physics and Electrochemistry.
Difference in the Difficulty Level
Let us compare the difference in the JEE Main Difficulty Level and JEE Advanced Difficulty Level.
Whilst JEE Main tests students solely on the syllabus of Class 11 and 12, the number of students attempting it is very high. Still, it is considered to be an easier exam comparatively.
Since only the toppers of JEE Main get selected for JEE Advanced, and it also has a more specialized syllabus, it is considered to be more difficult than JEE Main. This is because the level of competition is very high and so are the stakes for the exam.
These were some of the main differences between the JEE Main and JEE Advanced exams. Hope this cleared up your queries.
The JEE Main 2021 will be conducted in January as well as April 2021. The registrations will begin online on the NTA website from September 2020. JEE Advanced 2021 will be conducted in May 2021.
FAQ Difference Between JEE Main & JEE Advanced:
Answer 1:The syllabus for JEE Advanced is not same as of the JEE Main as there are two papers in the JEE Exam and both are compulsory. JEE Advanced is the second stage of Joint Entrance Examination after JEE Main.
Answer2 :As JEE Advanced is considered for IIT selection, it is bound to be tougher and to challenge your problem solving ability. Topics covered in JEE ADVANCED is more than your class 11 and class 12 syllabus.
Answer 3 :The steps to access the video lectures are as follows: Visit the official website of NTA i.e. nta.ac.in. Click on the "CONTENT BASED LECTURES - FOR JEE MAIN AND NEET-UG BY IIT PROFESSORS / SUBJECT EXPERTS" tab. You will be redirected to the page containing the name of different subjects. Choose the video lecture by clicking on the subject.
Answer 4 :The questions with one or more correct answers have partial marking.For partially correct responses the criteria is as follows: +4 marks are added for a perfect answer +3 - If all the four options are correct but only three options are chosen +2 - If three or more options are correct but only two options are chosen, both of which are correct options. +1 - If two or more options are correct but only one option is chosen and it is a correct option There is negative marking for incorrect responses. "
Answer 5 : Candidates who wants to get admission in NIT or IIITs do not have to appear for JEE Advance. But IIT aprants,, JEE Advanced is must after JEE manins.