Top 5 SAT Preparation Books

1- The College Board's Official SAT Study Guide
A bunch of pages to explaining the test structure, basic strategies, and answer explanations. you can find the majority of this info online,
Read through the SAT Study Guide so you'll know what to expect on test day. Practice tests are also available online so you can simulate test day and figure out how to focus your SAT study
2- Kallis' SAT Pattern Strategy
Students and educators alike have reported having great experiences with Kallis' Redesigned SAT Pattern Strategy book. This book provides six full-length practice tests, adding up to around 24 hours of practice testing.
Kallis make sure of the structure, format, and topics covered on the SAT in detail, so you'll have a strong grasp of topics before test day. This review will save you time in having to read any instructions and pace yourself since you'll know exactly what to expect on the SAT.
3-SAT Prep Black Book, 2nd Edition
Highly recommend SAT Prep Black Book for its insightful strategies and test advice. The SAT Black Book, as it's called, was written by Mike Barrett, who's taken the time to understand the test inside and out. In it, he goes over the different types of questions and introduces critical tips, such as how to recognize tricky wording and "distractor" answer choices.
4-McGraw-Hill Education SAT
If you're looking for an informative overview of the structure and content of the SAT, then McGraw-Hill Education SAT 2019 is a decent choice. At more than 750 pages long, this massive book goes over the SAT in great detail, from the number of questions to the time limits on each section, so you can know exactly what to expect on test day
5-Barron's SAT, 29th Edition
Barron's SAT, 29th Edition is another thorough prep book that offers ample content review, sample questions, and SAT practice tests.
The book contains four full-length practice tests, in addition to access to two more full-length online practice tests. This gives you tons of opportunities to
practice.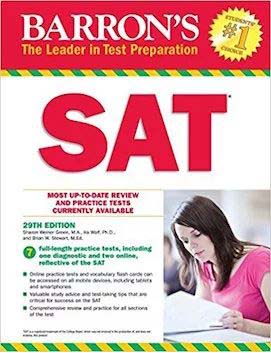 Free Preparation Resources
SAT 1 / SAT General Preparation:
| Reading | Writing | Mathematics L1 | Essay |
| --- | --- | --- | --- |
| | | | |
| | | | |
| | | | |
| | | | |
| | | | |
| | | | |
| | | | |
| | | | |
| | | | |
| | | | |
| | | | |
| | | | |
| | | | |
| | | | |
| | | | |
| | | | |
SAT 2 / SAT Subject Preparation: