Plannnig to Study Abroad and Get Admission in World's Best Universities?
Great! You must be knowing about SAT - General and Subject. Did you decide which one you need to write to get into your dream college? If not you need to know it here. What is SAT General & What is SAT Subject
NRI Students looking for get admission in NITs and other Engineering Colleges (India) - SAT Subject Prep is needed under CIWG & DASA Scheme
SAT Courses Starting In Riyadh
Check the SAT 1 (SAT General) Courses which are about to start in Riyadh below:
| | | | |
| --- | --- | --- | --- |
| SAT Courses | Duration | Level | Course Details |
| SAT 1 | 42 Hrs | Advanced | |
| SAT 1 | 60 Hrs | Intermediate | |
| SAT 1 | 72 Hrs | Intermediate | |
| SAT 1 | 90 Hrs | Intermediate | |

Check the SAT (SAT Subject) Courses which are about to start in Riyadh below:
| | | | |
| --- | --- | --- | --- |
| SAT Courses | Duration | Level | Course Details |
| SAT Subject | 42 Hrs | Advanced | |
| SAT Subject | 60 Hrs | Intermediate | |
| SAT Subject | 72 Hrs | Intermediate | |
| SAT Subject | 90 Hrs | Intermediate | |
| SAT General | 72 Hrs | Going 11th Level | |
| SAT General | 90 Hrs | Going 11th Level | |
If you're aiming to enroll, check out our Best SAT Courses in Riyadh here
Quick Connect: Call us at +91 8800 1234 92 / info@testprepkart.com
SAT Course Preview:
Select the appropriate SAT Course for you and speak to our SAT Counselor in Riyadh for SAT Course Enrollment. Choose from SAT General Courser or SAT Subject Courses. If you are unsure which SAT Score would be needed for your dream university, please speak to our SAT Course Counselor for further clarity.
TestprepKart SAT Students Reviews:
At TestprepKart we feel satisfied having worked closely with students and parents toward achieving a common objective of Great SAT Score and Selection in Good University. Here is what our students speaks about SAT Coaching at TestprepKart.
SAT Expert Tutors To Help You Achieve:
Phenomenal experience and great teaching experience of over a decade or more, our SAT Tutors at Riyadh make sure you score more than 1300+ in your SAT 1 for first timers and sunsequently improve to the desired score for your college selection.
Looking for SAT coaching classes in Riyadh? We are the leaders in SAT Preparation for US Universities and Indian Universities for students in Riyadh.
As of now, we have helped enormous number of students raise their SAT scores and on-board the highly-qualified colleges like Brown University, University of Pennsylvania, University of Michigan, Dartmouth, Georgetown, The University of Texas, Illinois Institute of Technology, Arizona State University.
The best feature in our SAT Coaching is students can either choose single subject or all subjects together.
All our SAT Coaching classes in Riyadh are completely live and interactive and comes with below features as standard for all SAT Courses.
SAT Course Features:
Have a glance at the course features we offer at TestprepKart:
Live & Interactive:
Fully live and online classes with one on one interaction for SAT General and SAT Subject Coaching. All classes are realtime and live with options on 42 hours, 60 Hours, 72 Hours, 90 Hours and more. Supported by Study Material, Test Series, College Board Official SAT Papers Practice, Doubt Removal Classes.
Highly-Qualified Faculty:
TestprepKart brings you a panel of the most qualified and highly experienced SAT faculty and our outperforming SAT instructors are the alumni of IITs, Harvard, Wharton, Yale, Stanford and Maryland. Our faculty is selected through a rigorous screening process where we keep into account their subject knowledge, conceptual understanding and their style of teaching.
Study Material:
SAT Subject Courses comes with full SAT Subject Study Material for students to focus specifically on what is needed to secure perfect 2400. SAT General Courses comes with official SAT Papers and detailed Solutions for students to practice along with regular live classes.
Online Test Series:
SAT Live Test Series are tests taken at regular intervals along with the progress in course. The pattern will be MCQs of 3 hours just as tests are taken for SAT II. You'll be diagnosing with over 6500 problems during the entire test series.
Assessment Reports:
You are daily assessed on the SAT topic you're instructed. You have to take the test before it expires.
Special Query Sessions:
SAT Special Query Sessions (Doubt Classes) encourage students that hesitate to clarify their doubts during the live sessions and also for the students to clarify their doubts after appearing for the SAT Online Test Series.
Accessible Videos:
You'll be accessed to all SAT Video Sessions if you won't be able to attend the sessions due to any reason.
SAT Prep Downloads
Prior appearing for the SAT, it's pretty important to acquaint yourself with the SAT and here's the general SAT's repository which covers the SAT E-Books, Practice Papers and College Essay stuff.
Walk through the ultimate SAT repository from TestprepKart below:
SAT Achievers From Riyadh:
Have a glimpse on our SAT Achievers from Riyadh:
Prachi Vohra
"Having TestprepKart's SAT coaching program was an enjoyable SAT experience. Their excellent SAT classes, curriculum design and prep material assisted me a ton to hit the perfect score in the regular SAT. Special Query Sessions assisted me a lot to on-board one of my prospective colleges."
Jeevan Patnaik
"Thank you TestprepKart, for always being so helpful and supportive throughout the SAT classes. Your motivation and strategy helped me to prepare and crack SAT General with a concrete score. You are the sole cause for scoring 1560 in SAT, which helped me admitting one of the renowned engineering colleges in the United States of America."
Akash Garg
"I enjoyed my journey a ton with TestprepKart SAT coaching classes. It was so wonderful experience to have the faculty that are fully-equipped with the competencies of different subjects. Their problem solving ability is spectacular and they taught me the same hacks they've known. Those made me ace the SAT with an incredible score. Hope you serve SAT coaching for tons of students like me further."
Pawan Prajapati
"TestprepKart's prep classes were absolutely invaluable to me. I loved their faculty and their attitude to students. That attitude pushed me to aim high and it definitely paid off in the end with the SAT score of 1570. So I would love to recommend TestprepKart for SAT classes as their efforts were highly appreciative."
SAT Coaching Format Will Follow Below Structure:
SAT general incorporates three sections – Evidence Based Reading & Writing (EBRW) and Mathematics & Essay. As Essay part is optional, it's up to you to do the Essay or not. Let's take you through the SAT scoring blueprint:
S.No

Sections

Scoring Range

1

Evidence Based Reading (Reading)

200-800

2

Writing & Language (Language)

3

Math

200-800

4

Essay (Optional)

2-8
Let's decode the EWRW & Math Level 1 into the sub-sections according to the duration of test.
TestprepKart experts suggest you to examine the websites of your prospective colleges and finalize your decision.
S.No

Sections

No. Of Questions

Time (in minutes)

1

Evidence Based Reading (Reading)

52

65

2

Writing & Language (Language)

44

35

3

Math (No Claculator)

20

25

4

Math (Calculator)

38

55

5

Essay (Optional)

1

50

Total

154 Questions & 1 Essay

3 Hours (Apart from Essay)

3 Hours, 50 Minutes (with Essay)
Now, you can see that the Evidence Based Reading & Writing (EBRW) is divided into two subsections (Reading and Writing & Language) & Math is divided into two subsections (Maths No Calculator & Maths Calculator).
You get 2 interval sessions while taking the SAT. That is, one after the Writing & Language sub-section and one after the Math Level 1 (No Calculator) session.
Let's decode all the subsections of general SAT – Reading, Writing & Language, Math (No Calculator) and Math (Calculator) & Essay sessions successively.
Reading Section Overview:
SAT Reading section is the longest section and there's only 65 minutes to answer this section. Special focus will be given for SAT Reading section during SAT Coaching Program.
The Reading section is passage-based and each passage has 10-12 multiple-choice questions (A, B, C & D). You'll be facing 5 comprehensive passages in this section – One from US/World Literature, Two from History/Social Studies and the last Two from Science.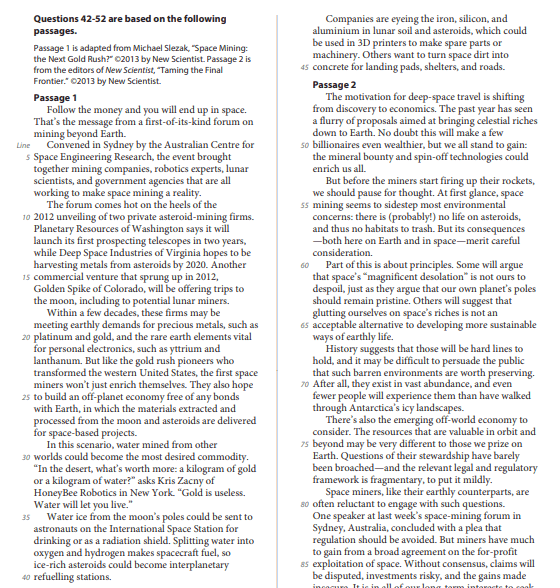 Some passages accompany bars/graphs/charts according to the passage. Indeed, you will deal with tables/graphs in all the four sections of the SAT.
College Board often takes these comprehensive passages from prose or selections from fictional narratives.
After accomplishing the Reading section, you'll get 5 minutes break.
Writing & Language Section Overview:
SAT Writing & Language section is about half of the Reading part duration.
Writing & Language section is Passage based and each passage is accompanied with 11 questions. Every question in the passage is of multiple-choice one. You've to answer 44 questions in 35 minutes.
These comprehensions deal with Careers, Humanities, Science and Social Studies. All the Writing passages will be argument-based, explanatory and non-fiction narrative.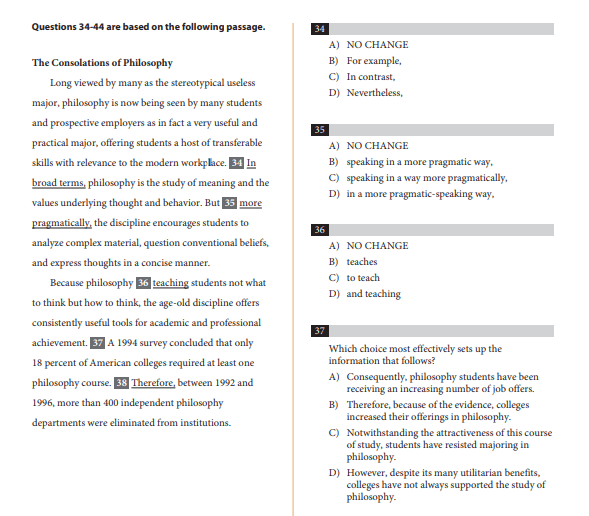 This section passages examine your writing competencies. You've to revise the passage to improve the expression of ideas for some questions. For some questions, you've to edit the passage, rectify the errors in the sentence structure, usage, or punctuation. Some passages accompany bars/charts to support the comprehensive passages.
Some questions in the comprehension will direct you to an underlined portion of the passages and some questions direct you to the location of a passage and ask you to think about the entire passage and answer the multiple-choices.
Some questions in the comprehension will direct you to an underlined portion of the passages and some questions direct you to the location of a passage and ask you to think about the entire passage and answer the multiple-choices.
Math Non - Calculator Section Structure:
During SAT Coaching classes, In the non calculator section, you are strictly prohibited to use calculator. Tips and Tricks are discussed to overcome calculation problems.
You've have to answer 20 questions in 25 minutes duration. 15 of them will be multiple-choice ones and the remaining five are grid-ins.
Duration – 25 Minutes
# of Multiple Choice Questions – 15 (#1-15)
# of Grid-Ins – 5 (#16-20)
| | | |
| --- | --- | --- |
| Syllabus Topics | No. of Questions | % of Test |
| Heart of Algebra | 8 | 40% |
| Passport to Advanced Math | 9 | 45% |
| Additional Topics | 3 | 15% |
In this section, SAT Preparation will cover the questions from the syllabus of three areas – Heart of Algebra, Passport to Advanced Math, and Additional Topics. Let me illustrate the syllabus in the below blueprint:
Math Calculator Section:
In this Math section, you've to answer 38 questions and you're allowed to use calculator in the entire 55 minute duration. You're asked to answer the 30 multiple choice questions and the 8 grid-in questions. One grid-in question would be an Extended Thinking Question, which illustrates a graph and asks you two more questions about it.
Duration – 55 Minutes
# of Multiple-Choice Questions – 30 (#1-30)
# of Grid-ins – 8 (#31-38)
This section tests you on all the Maths No Calculator section topics (Heart of Algebra, Passport to Advanced Math, and Additional topics) along with the Problem Solving & Data Analysis one. Let's walk you through the blueprint of Math Calculator section which will also be followed while SAT Classes are going on:
| | | |
| --- | --- | --- |
| Syllabus Topics | # of Questions | % of Test |
| Heart of Algebra | 11 | 29 |
| Passport to Advanced Math | 7 | 18 |
| Problem Solving with Data Analysis | 17 | 45 |
| Additional Topics | 3 | 8 |
Most Colleges In The US Require SAT Scores:
Most colleges of the United States want you to submit SAT scores to examine your competencies in the EBRW, Math Level 1 and Essay. The SAT test acts as an indicator for you to demonstrate your abilities.
Colleges also acknowledge some more factors while offering an admission to the student. The factors are Letter of Recommendation (LOR), Statement of Purpose (SOP), University Wise Specific Essays, Ideal Activities etc. Check the components of an undergraduate application to know more.
If you're unsure about if you have to take the SAT Essay or not, here's the list of colleges that require SAT Essay (updating soon).
SAT Coaching in Riyadh - TestprepKart. Why?
If you need a reason to enroll with TestprepKart, the list goes on and the list never ends. Here are the pinnacles of TestprepKart:
Highly Qualified Faculty
Teachers play the most important role in the student's learning and progress. And there is no substitute for a qualified and experienced teacher. Thus TestprepKart brings for their students a panel of the most qualified and highly experienced group of faculty members. Our teachers belong to Harvard, Wharton, Yale, Stanford and Maryland.
The SAT faculty members (Riyadh) specialize in their subjects where they are undisputed experts- Physics, Chemistry, Mathematics, Biology and English and are assisted by other experts as well when it comes to preparing the course material as well as Tests, Assignments and Practice problems.
Most of the SAT faculty members are alumni of Harvard, Wharton, Yale, Stanford and Maryland, IITs/BITS Pilani and other top ranked Engineering institutes with the best grasp on the SAT II / SAT I preparation strategies and techniques.
SAT Faculty members for the live classes are selected through a rigorous recruitment process that considers their subject knowledge, conceptual understanding and their style of teaching, which should make it easy for students to understand and apply the concepts.
The SAT faculty panel will be enlarged according to demands and TestprepKart takes proper care that they are trained in the technical aspects of Live classes as well so as to make optimum use of the students' time through their teaching and timely tests as well as course material sharing
All SAT teachers try to remain updated with any changes in the exam patterns of SAT II / SAT I etc and TestprepKart takes care to keep them abreast with any new developments or any new topic knowledge required.
One-to-One SAT Mentoring Sessions
The students would often need SAT guidance regards their preparation based on the assessment in the tests as well as class participation.
The faculty members would take SAT coaching sessions of half-an-hour every quarter for each student.
One student will have one SAT faculty member as mentor and the mentor would be responsible for his smooth progress in the class as well as helping him/her cope with stress and anxiety.
The SAT Coaching sessions (Riyadh) would focus less on academics and more on general preparation strategies, tactics and individual progress and on what subjects to focus more.
The mentoring session can involve parents as well if they want to so that they get a genuine feedback of their ward's progress and know of the future plans for his/her score improvements.
The SAT Coaching Prep goal would be to make a student ready for his goals ahead and focus on his subjects without getting left behind in the competitive scenario.
Test Series for SAT I / SAT II Prep
SAT Live Test Series are tests taken at regular intervals along with the progress in syllabus determine a student's progress and performance in a test environment.
It identifies a student's weaknesses and strengths as well as benchmarks his/her performance with peers from across India and other countries.
In total 30 SAT tests across subjects will be taken in the academic session for the students at dates scheduled beforehand.
The syllabus of the tests will be known beforehand and can be taken anytime on that time in the 24 hour period.
The pattern will be MCQs of 3 hours just as tests are taken for SAT II / SAT I.
The SAT periodic tests are to remove the fear and anxiety of tests from the mind of students as lesser number of chapter will ease them into the test taking mode while preparing them for bigger challenges ahead.
Besides the LTS, completed syllabus tests will be taken nearing the end of the academic sessions for the assessment of grasp of the entire course.
These tests will measure a student's performance against the yearly goals and will help him/her determine his efforts and progress in the year and thus plan for the next year accordingly.
After the full syllabus tests, the students will get a one-to-one SAT mentoring and guidance session with a faculty member to discuss the progress against plan and then plan for the next year with expectations in mind.
One of TestprepKart's leading experts elucidates you the pedagogy of SAT General Test and the features TestprepKart provides once you enrol with us. Check the below-mentioned video for more details:
Other Reviews:
Prachi Vohra (SAT Score - 1600)
My experience with TestprepKart has been extremely pleasant. Their adroit instructors delivered SAT classes in a very comprehensive manner. The 115 diagnostic tests and the special query sessions helped me to on board a renowned Brown University. Lastly, TestprepKart helped me to perform the best of my ability on the SAT.
ID - 1100641
Jeevan Patnaik (SAT Score - 1600)
TestprepKart fulfilled my dreams into a reality in just 3 months span. Their SAT program offered the 115 diagnostic tests and they assisted me to diagnose myself and the niche domains I need to give attention to. Their prep books are extremely awesome. I strongly believe that their SAT prep books have outpaced the typical standards of Kaplan and Princeton ones. Hoping the best for you - TestprepKart.
ID – 1100732
Priyanka Solanki (Parent)
I would like to offer my appreciation for the services delivered by TestprepKart for Priyanka Solanki's SAT preparation. The instructors were extremely skilled and they even managed to do night sessions when Priyanka was unable to attend the morning sessions. Their diagnostic tests tapped out the competencies in Priyanka and finally made her to admit in Cornell University. I am already recommending TestprepKart to the parents who are after the SAT preparation. I thank instructors profusely for being instrumental in Priyanka's admission to Cornell University.
Swagath Bollineni (Parent)
At the outset, let me thank the TestprepKart team for being supportive and extremely helpful. After opting for the SAT prep course we were totally anxious about the outcome. Then after practicing the diagnostic tests I noticed the enhancement in Swagath's SAT score after successive tests. Lastly, after doing SAT we received offer letters from two renowned universities in the US – Princeton & Massachusetts Institute of Technology.
SAT Faculty Profile
Check out some of our best faculty members associated with us:
Name: Lita Margarette:
Subject: Verbal & Math
I am a highly experienced SAT instructor. I love sharing knowledge and that has driven me towards the career in teaching. I am an adroit at preparing students for both SAT Math I & Verbal. I have a concrete record in preparing students for top-tier universities such as University of California, University of Pennsylvania, BITS Pilani, King's College London, University of South Carolina and Boston University.
My engineering and English background helped me ton to prepare students for SAT Math & SAT English. I have tutored over 5000 in both the SAT Math I & SAT Verbal in my 15 years tutoring career. More than 90% of my students scored perfect score in SAT Math I and 87% have scored perfect score in SAT Verbal.
Name: Sanjay Kumar Sharma:
Subject: Math
I hold a graduation from Delhi Technological University with a First Class Honour's degree and graduated in the top 5 in my cohort. And I pursued Masters in Mathematics & Statistics from the University of Sydney. My achievements in applied mathematics delivered me the academic award as well. I am known for building solid relations with all my students based on the trust and mutual respect and never care how challenging the situations are.
My determination, patience and thorough subject knowledge allowed me to crack many students' misconceptions and resulted in achieving fantabulous results. I have tutored over 3000 students and mostly, my SAT students' often outpace the other SAT students with a minimum score of 1500.
Name: Steven McHon:
Subject: Physics
I am a California University graduate with a Master's Degree. I am a well-qualified professor with 10 years of experience in standardized college-readiness tests like SAT, ACT and even curriculums like IB Diploma Program. I have tutored more than 3000 students in SAT Physics and SAT Mathematics.
Prior to this, I taught in two oversubscribed colleges in Manchester. I use my creativity in everyday teaching and tailor lessons according to the student's needs so that I can help them to reach their goals. Since becoming a tutor, I have successfully helped 2500 students to achieve 1550+ score.
Name: Muskan Kumari:
Subject: Chemistry & Biology
I am into private tutoring for the past 12 years and have tutored 5000+ students in SAT Chemistry, SAT Biology. I am a Chemistry graduate with a Masters. I am a highly qualified professor and tackles with the curriculums like IGCSE, IB and CBSE along with the college entrance tests like SAT and ACT. I use supportive dialogue to build students confidence and to encourage the curiosity, questioning and perseverance.
I also examine the student's performance via open dialogue and jot down the student's cons and manage study planner as per the students' needs. As of now, 88% of my SAT students' has ended up with a perfect score.
Check Out Some Useful Prep Resources for SAT:
If you've got any queries, drop us an email at info@testprepkart.com or phone us on +91-8800123492. We'll always be there to assist you.
Scholastic Aptitude Test (SAT) is one of the biggest global level entrance examination conducted by College Board. Each year millions of students around the globe apply for SAT Test and the co-related competitions to get into the top-notch universities are ever increasing day by day, every student from various corners of globe fighting for admission in premier US / UK Universities. Not only the students of Chinese origin search for SAT Test Prep Courses but also the pupils of expatriate of various countries are also giving their optimum effort to ace the SAT Examination in order to get admitted in a reputed US / UK based University. Beyond the current issues of the security breach or Cheating Scams in SAT Exam particularly in Asia Pacific Region, the stakes are very high for preparing for SAT Exam so as students from various corners search for SAT Tutors and SAT Classes in the regions of Asia, Pacific, Middle-East, African Continent and many more. Basically, SAT Preparation requires some specific strategy and expert guidance in-order to score around 2400 to get admitted in top-notch universities.
We at TestprepKart know well that great scores to get into any top-notch university take a great deed of hard work. But we believe in smart work rather than hard work that's why our expert board of educationalist had designed SAT Prep Course curriculum according to the best in the current SAT Exam requirement. Our SAT Test Courses are efficient, targeted and strategic so that you make the most of every single time invested behind SAT Coaching Classes in Riyadh-UAE. Our experts from Harvard, Stanford and IIT's know how to design lessons based on how you're learning. That means we don't just give SAT Coaching in a pre-formatted self-paced manner rather than we believe in customized course curriculum and schedule for each of our students. We guarantee you'll improve and ace a higher SAT Score after going through our complete SAT Prep Course Curriculum.
Courses Offered:
| | | | |
| --- | --- | --- | --- |
| Packages | Duration | Level | Course Details |
| SAT 2 | 42 Hrs | Advanced | |
| SAT 2 | 60 Hrs | Intermediate | |
| SAT 2 | 72 Hrs | Intermediate | |
| SAT 2 | 90 Hrs | Intermediate | |
| SAT 1 | 72 Hrs | Going 11th Level | |
| SAT 1 | 90 Hrs | Going 11th Level | |
Importance of SAT Prep Courses:
Learn Fundamental Concepts as well as Core Concepts and grow an ability to reinforce what learned at home with additional online drills, lessons and practice.
Prepare with other scoring student worldwide which will led to a global level analysis of the level of understanding.
The Teacher-led interactive session with students will open the Diaspora of students mind and make the student more communicative in the global standard.
Dedicated students will primarily get inspire related to the subject and grow an ambition regarding the Future Career Prospect.
Our SAT Test Prep Courses will help students to prepare for that feeling, to acclimate them to the test and its oddities, and help them practice. When the Clocks runs down their practice kicks in.
Work with admission advisors from top schools to work upon on LOR and SoP.
Out of million students writing SAT Test only top one lac students get admission in their dream college i.e 10% of the whole. If you want to be among that 10% of students around the globe hurry up and come on-board with us in the journey towards your Dream College / University. TestprepKart is an affordable online SAT Prep Course Provider available in Riyadh. The Online SAT Course Curriculum is scientifically designed in order to have a clear idea about the student's present aptitude, strengths, weaknesses, areas of improvement. Moreover, we provide extra doubt clearing sessions after the end of the course curriculum. We at TestprepKart had a legacy of keeping no stone unturned in order to make the student understand each and every concept (clear and doubt free).
Why TestprepKart?
Real Time – Live Inter-active SAT Classes for all subjects.
SAT Classroom Recordings / SAT Online Practice Test.
Expert Faculties from Best Institution like Harvard University, Stanford and many more.
24 x 7 Academic Support / Free Lifetime Career Counseling.
Special Counseling for Abroad Education.
Free Doubt Removal Sessions.
Profile's of Our Expert Faculties:
Physics: Dr. Vishal Gupta, Assistant Professor in Physics has the research interest in "Particle Physics" from IIT Kharagpur, MS from Texas Tech University (2004) and P.hD from University of Illinois. He is one of our most treasured mind associated with our organization with the same vision to teach student various aspects of Physics based on SAT Subject Test (Physics).
Chemistry: Dr. Sameer Kumar (IIT Bombay), Assistant Professor in Chemistry has the research interest in "Precipitation and stabilization of nano-particles in aqueous suspensions, Engineering stable micro-bubbles formulations for biomedical applications". He is with us tutoring Chemistry for both SAT 2 (Chemistry) and JEE Advanced.
Mathematics: Dr. Atul Krishnan Dixit, Assistant Professor in Mathematics (IIT Chennai) has the research interest in "Analytic Number Theory, Modular Forms and Q-Series". He is our Mathematics Guru, one of the most bright mind in our organization tutoring student for past 20 yrs in Mathematics for SAT Exam and JEE Advanced.
How to Register for SAT Prep course:
Fill up the form above on right hand side. On receiving your information, you will be called up SAT counselor for course explanation. After filing up enrolment form link and fee submission your classes will start.
You can directly call us on +91 8800 1234 92 or write us at info@testprepkart.com
SAT Prep Classes FAQs:
Since many students prepare for SAT in China for obvious reasons of taking admission into US / UK based Universities by writing SAT Subject Test. We often come across many questions which are listed below; we try to resolve them all through email.
Q1. What are the SAT class timings during the day?
Answer: All SAT courses that we offer mostly run during evening time, typically after 6:00 PM (local time). This helps students manage their school activities alongside. Class timings are decided in accordance with the student availability, this bring no confrontation and easy course completion.
Q2. What are the SAT expert credentials?
Answer: We make sure that we have the best talent available for SAT classes. All the faculties with aligned have experience of more than 5 yrs. of SAT preparation classes and come from the top institutes like Harvard, Stanford, IIT's and other top institutes. Our SAT course faculties are experienced enough to understand student's level, this helps them in designing a plan for a better SAT score.
Q3. Are SAT 1 classes different from SAT 2 classes?
Answer: Yes, SAT 1 is a different test and SAT 2 is also called as SAT subject test. These are two different exams and needs separate coaching classes to prepare. SAT 2 is a subject test and can be written for different subjects. Students planning to write for SAT for admission into engineering course curriculum will choose Physics, Chemistry and Mathematics as subjects for SAT 2 exam. Therefore we provide different coaching programs for SAT 1 and SAT 2 exams.
Q4. How much time will this course will generally take to finish entire SAT subject test syllabus for Physics, Chemistry & Mathematics?
Answer: It depends, we offer SAT preparation courses for 40 hours, 60 hours, 80 hours & 100 hours. Student who are in grade 12th and preparing for SAT generally opt for 40 & 60 hours course as these courses focus on Q&A concepts. Whereas students who are in grade 11th opt for 80 and 100 hours, as these SAT course help students prepare for SAT test from the concept level and slowly bringing it to advanced level.
Q5. What is a good SAT 2 (Subject Test) score we should target for admission into best universities?
Answer: SAT 2 papers are of 2400 marks and it's not difficult to score 2400 / 2400 marks in SAT test if the preparation is planned and efforts made towards it. To get admission in best of the universities students should focus on getting 2300+ marks for admission in good universities.
Q6. What will be the class timings for these classes?
Answer: SAT preparation classes generally start from 6:00 PM and run until 11:00 PM (Local Time). SAT classes are live and interactive so students can attend the SAT classes while being at home only.
Q7. What will be the SAT class duration?
Answer: All classes are of 2 hours. 3 times a week and in some cases when SAT test series is organized, classes may run for 3 hours as well.
Q8. How my performance will be measured and analyzed for SAT?
Answer: Enrolled SAT students go through repetitive analysis sessions for Physics, Chemistry and Mathematics. Based on analysis they are guided further for getting close to 2400 marks. SAT course includes online test series which prepares students well.
Q9. Are the classes run on one on one basis or it's a group or batch classes?
Answer: We offer SAT classes in both the models - One on One & Batch mode. In batch mode for SAT, we keep a group for 5 students from China only so that all have the same level and timings. In one on one class, only single student is aligned with the faculty and this SAT coaching in highly customizable.
If, you have any question which is still not answered, call us on +91 8800 1234 92 or drop a mail on info@testprepkart.com
Important information related to SAT Test Prep Courses:
Locations where TestprepKart is offering SAT Prep Courses:
Course Fee Payment Mode:
Bank Details:
Account Name - Counselkart Educational Services
Bank Name - HDFC Bank
Branch Name - HDFC Bank, Vaishali, Ghaziabad, U.P.
Account No. - 50200008613221
IFSC Code - HDFC0000422
SAT Preparation Resources
SAT 1 / SAT General Preparation:
| Reading | Writing & Language | Quantitative (Mathematics) | Essay |
| --- | --- | --- | --- |
| | | | |
| | | | |
| | | | |
| | | | |
| | | | |
| | | | |
| | | | |
| | | | |
| | | | |
| | | | |
| | | | |
| | | | |
| | | | |
| | | | |
| | | | |
| | | | |
SAT 2 / SAT Subject Preparation: