SAT Prep Courses:
TestprepKart offers a spectacular courses for all regular SAT test takers and our SAT prep courses are designed in a way that no students leave with queries. All our courses are completely live and interactive. Our dynamic instructors from institutes like Harvard, Wharton, Yale, Stanford, and Maryland will instruct you on the virtual classrooms online.
Do we have renowned instructors from renowned colleges?
Yes, we do boast about our dynamic instructors from the elite colleges associated with us.
Who are we?
We're TestprepKart. TestprepKart is a leading online prep company that offers gamut of prep courses for the standardized college-readiness tests like SAT all over the world.
SAT Prep Courses Starting in Jeddah
Check the SAT courses which are about to start in Saudi Arabia (Jeddah) below:
| | | | |
| --- | --- | --- | --- |
| Course Name | Starting On | Timings | Class Duration |
| SAT – 42 Hrs. | April 5, 2019 | Thrice a Week | 2 Hrs. |
| SAT – 60 Hrs. | April 20, 2019 | Thrice a Week | 2 Hrs. |
| SAT – 72 Hrs. | May 5, 2019 | Thrice a Week | 2 Hrs. |
| SAT – 90 Hrs. | May 20, 2019 | Thrice a Week | 2 Hrs. |
If you're aiming to enroll, check out our best best SAT courses in Jeddah here.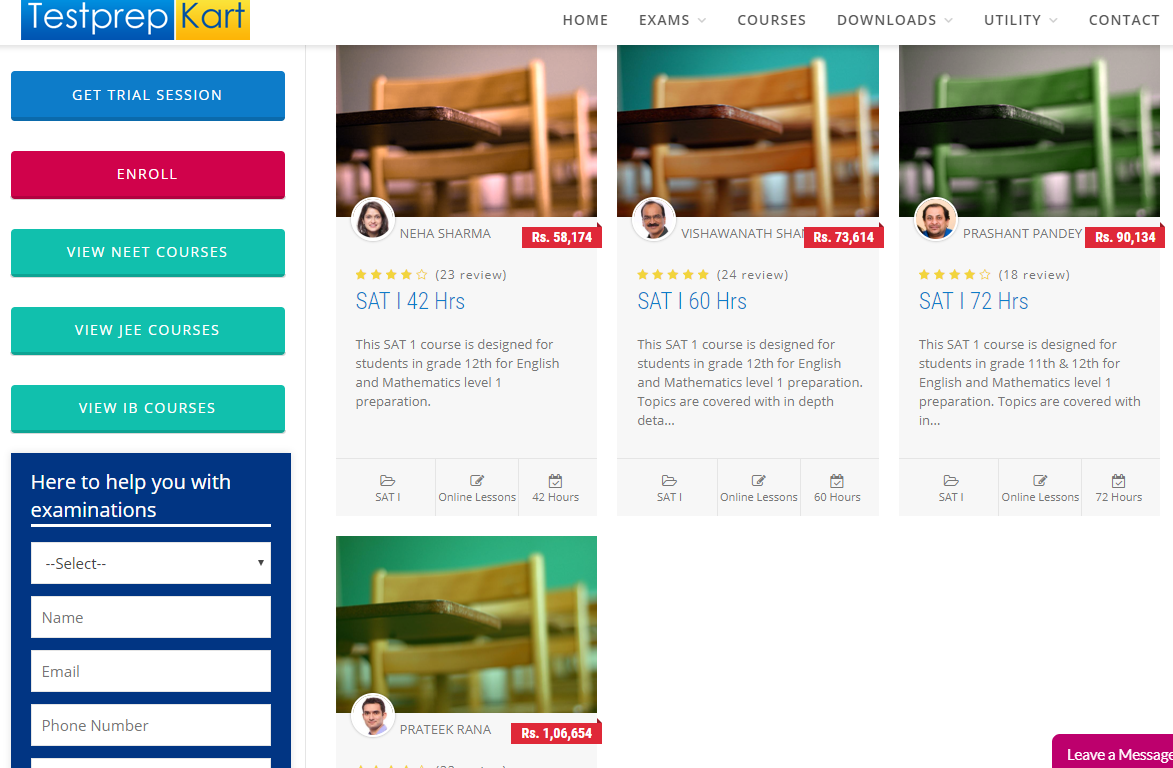 SAT Course Salient Features:

Live and Interactive:
Our Virtual Classroom feature facilitates students a live and interactive experience. Students with just a mere 2mbps internet speed could access the class from anywhere in the world. Students can connect to our virtual whiteboard on their laptops and would experience a renaissance beyond the traditional physical coaching experience.
Highly-Qualified Faculty:
Teachers play the most important role in the student's learning and progress. And there is no substitute for a qualified and experienced teacher. Thus TestprepKart brings for their students a panel of the most qualified and highly experienced group of faculty members. Our teachers belong to Harvard, Wharton, Yale, Stanford and Maryland.
The faculty members specialize in their subjects where they are undisputed experts - Mathematics and Evidence Based Reading & Writing and you'll be assisted by other experts as well when it comes to preparing the course material as well as Tests, Assignments and Practice problems.
Most of the faculty members are alumni of Harvard, Wharton, Yale, Stanford and Maryland and other top ranked Engineering institutes with the best grasp on the SAT I preparation strategies and techniques.
Faculty members for the live classes are selected through a rigorous recruitment process that considers their subject knowledge, conceptual understanding and their style of teaching, which should make it easy for students to understand and apply the concepts.
The faculty panel will be enlarged according to demands and TestprepKart takes proper care that they are trained in the technical aspects of Live classes as well so as to make optimum use of the students' time through their teaching and timely tests as well as course material sharing.
All faculty try to remain updated with any changes in the exam patterns of SAT I etc and TestprepKart takes care to keep them abreast with any new developments or any new topic knowledge required.
Study Material:
Students get their PCMB study material uploaded in their student's accounts on TestprepKart. In cases where the hard copy of study material is requested – It will be sent by courier.
Online Test Series for SAT I:
Live Test Series are tests taken at regular intervals along with the progress in syllabus determine a student's progress and performance in a test environment.
It identifies a student's weaknesses and strengths as well as benchmarks his/her performance with peers from across India and other countries.
In total 30 tests across subjects will be taken in the academic session for the students at dates scheduled beforehand.
The syllabus of the tests will be known beforehand and can be taken anytime on that time in the 24 hour period.
The pattern will be MCQs of 3 hours just as tests are taken for SAT I.
The periodic tests are to remove the fear and anxiety of tests from the mind of students as lesser number of chapter will ease them into the test taking mode while preparing them for bigger challenges ahead.
Besides the LTS, completed syllabus tests will be taken nearing the end of the academic sessions for the assessment of grasp of the entire course.
These tests will measure a student's performance against the yearly goals and will help him/her determine his efforts and progress in the year and thus plan for the next year accordingly.
After the full syllabus tests, the students will get a one-to-one mentoring and guidance session with a faculty member to discuss the progress against plan and then plan for the next year with expectations in mind.
Assessment Reports:
Students can daily assessments to do before they join the session so that the complete focus is given to problem-solving during the classes.
Doubt Removal Sessions:
The Doubt Clearing sessions provide additional attention and guidance to the students especially helping those students who couldn't understand a concept at first which hampers their performance.
It keeps in mind those types of students who hesitate to ask their doubts during the live classes.
It is a periodic feature available at TestprepKart throughout the academic session for all the classes.
DCSs encourage students to clarify their doubts in time without affecting their future performance. This is ensured through proper grasping of the concepts/basics of any subject.
The members of faculty are available at specific timings for Doubt Clearing sessions as scheduled beforehand.
Since these sessions are more personal and informal than normal classes, students get more attention and are more involved. This can motivate them to improve their performances with renewed energy and focus.
For anyone who has missed any class either because of late admission or due to some other reason in-between can find the DCSs quite useful to cover those parts after they have gone through the recorded video of the class.
The DCSs are most beneficial for students who aren't quite confident in any particular subject or chapter which is affecting their overall performance.. Through DCSs students can increase their hold on the subject.
Class Recordings:
All the classes conducted on TestprepKart for SAT is recorded automatically and gets updated in students account in 24 hrs. for revision purpose.
SAT Verbal DEMO:
Prior enrolling with us, check the Demo of our SAT Verbal video here to get to know about our way of teaching.
SAT Achievers of Saudi Arabia:
Have a glimpse on our SAT Achievers:
Rajendra Bhumarker
"Having TestprepKart's SAT coaching program was an enjoyable SAT experience. Their excellent SAT classes, curriculum design and prep material assisted me a ton to hit the perfect score in the regular SAT. Special Query Sessions assisted me a lot to on-board one of my prospective colleges."
Tulsi Katre
"Thank you TestprepKart, for always being so helpful and supportive throughout the SAT classes. Your motivation and strategy helped me to prepare and crack SAT General with a concrete score. You are the sole cause for scoring 1560 in SAT, which helped me admitting one of the renowned engineering colleges in the United States of America."
Vinay Kumar Mishra
"I enjoyed my journey a ton with TestprepKart SAT coaching classes. It was so wonderful experience to have the faculty that are fully-equipped with the competencies of different subjects. Their problem solving ability is spectacular and they taught me the same hacks they've known. Those made me ace the SAT with an incredible score. Hope you serve SAT coaching for tons of students like me further."
Ravneet Singh
"TestprepKart's prep classes were absolutely invaluable to me. I loved their faculty and their attitude to students. That attitude pushed me to aim high and it definitely paid off in the end with the SAT score of 1570. So I would love to recommend TestprepKart for SAT classes as their efforts were highly appreciative."
How to register for SAT prep course?
1. Fill up the form above on right-hand side. Our counselor will speak to you on the phone.
2. You can directly call us on +91 8800 1234 92 or write us at info@testprepkart.com
What's next?
Let's dive into the SAT Subject Test Prep Courses.
SAT Subject Test Courses
TestprepKart does offer SAT Subject Test prep courses for the under graduate students of engineering and medical aspirants in the Middle Eastern countries and all over the world.
SAT Subject Test Prep Courses in Saudi Arabia:
TestprepKart offers the SAT coaching classes for 4 SAT Subject Tests in this section. The list is as follows:
​
| | | | |
| --- | --- | --- | --- |
| Course Name | Starting On | Timings | Class Duration |
| SAT – 42 Hrs. | April 5, 2019 | Thrice a Week | 2 Hrs. |
| SAT – 60 Hrs. | April 20, 2019 | Thrice a Week | 2 Hrs. |
| SAT – 72 Hrs. | May 5, 2019 | Thrice a Week | 2 Hrs. |
| SAT – 90 Hrs. | May 20, 2019 | Thrice a Week | 2 Hrs. |
If you're aiming to enroll, check out our best best SAT Subject Test courses in Jeddah here.
Note: The prep course features of SAT Subject Tests are alike the above-mentioned SAT I features.
SAT Online Coaching FAQs
Here're the general FAQs you might met with –
Q1: What is the registration fee and how to register for the SAT?
Answer: The Registration Fee of SAT is 46 USD (Excluding Essay) and 60 USD (Including Essay). You are charged 29 USD more for late registration. Here's the entire process of SAT Registration (Updating soon).
Q2: Do I need to give essay in the SAT?
Answer: It depends on the college you wish to apply for. Every college eligibility criteria varies. So it would be better to check the eligibility criteria of the college you are aiming to on board.
Q3: How early will I get my SAT scores?
Answer: The SAT General Sores will be out in 3 weeks after the test. You can get them via email or via hard copy.
Q4: How many times can I take SAT General and SAT Subject Tests yearly?
Answer: SAT is conducted by College Board 7 times a year.
For US aspirants, SAT General Test is conducted 7 times a year - August, October, November, December, March, May and June. Whereas, SAT Subject Tests are conducted 6 times a year - August, October, November, December, May and June.
For International Students, SAT General Test is conducted 4 times a year - October, December, March and May. Whereas, SAT Subject Tests is conducted 5 times a year - October, November, December, May and June.
Q5: What's the validity of SAT score?
Answer: Yeah, SAT Score validity is 5 years. But you can keep up yourself improving by doing repetitive attempts. Send the best SAT score to the colleges you are aiming to join.
Q6: Will universities give admission on the basis of SAT scores alone?
Answer: No, many renowned colleges in the US offer admission via ACT and the SAT. A few more colleges accept the SAT, ACT and the IB points. Finally, admissions will be allotted solely on the merit basis.
Q7: Do I need to have SAT score at the time of applying to universities?
Answer: You don't need SAT score at the time of applying to universities. Your SAT score should reach the colleges you are aiming to join prior 1 month of the college application deadline.
Q8: Which SAT score is reckoned by the universities if I do the SAT more than once?
Answer: Around 1600 for SAT General Test would be good SAT score to onboard renowned colleges like Ivy League.
Q9: Are SAT 1 classes different from SAT 2 classes?
Answer: Yes, SAT 1 is a SAT General Test and SAT 2 is widely termed as SAT subject test. They are entirely different and the formats as well. SAT Subject Test is given by the students that are willing to join engineering and SAT General Test is mostly given to on board the streams rather than Engineering.
Q10: What are the SAT prep class timings during the day?
Answer: We do arrange all our sessions in the evenings (I.e. after 6PM) to keep yourself away from the school activities. Classes are scheduled on the basis of student's pace and comfort.
Q11: What are the SAT expert credentials?
Answer: Our SAT tutors are extremely skilled and they have got 10 years of average experience in delivering SAT classes online. They still examine themselves by doing SAT once in every 2-3 years.
Q12: How long will this course generally take to finish the entire SAT General test syllabus?
Answer: It depends on the time availability student has got and the pace of the student. We strongly recommend 72 & 90 hours for the sophomores and 42 & 60 hour crash courses for the junior level students.
Q13: What are the good SAT General Test and SAT Subject Test scores to on board the renowned universities?
Answer: SAT General Test is of 1600 marks and student need to get around 1600 to on board renowned universities. Students with 1500+ scores are likely to admit the top-notch colleges.
Q14: What are the SAT class timings?
Answer: Mostly, our session timings are in between 6:00 PM to 10:00 PM (Local Time).
Q15: What would be the SAT session duration?
Answer: All classes are about 2 hours and the classes are scheduled thrice a week.
Q16: How my performance will be analysed for SAT Test?
Answer: Enrolled SAT General students' performance will be scrutinized by conducting the intensive SAT diagnostic Tests. And after having SAT tests aspirants can raise their queries in the Special on Demand Sessions. These on demand sessions are usually held weekly once.
Free SAT Preparation Resources:
SAT 1 / SAT General Preparation:
| Reading | Writing | Mathematics L1 | Essay |
| --- | --- | --- | --- |
| | | | |
| | | | |
| | | | |
| | | | |
| | | | |
| | | | |
| | | | |
| | | | |
| | | | |
| | | | |
| | | | |
| | | | |
| | | | |
| | | | |
| | | | |
| | | | |
SAT 2 / SAT Subject Preparation:
Drop us an email at info@testprepkart.com for further assistance, we'll always be there to assist you.