SAT Preparation Online in Dubai (UAE)
Planning to Study Abroad and Get Admission in World's Best Universities or in India?
Great! You must be knowing about the SAT - General. Did you decide which one you need to write to get into your dream college? If not, you need to know it here. What is SAT General
SAT Preparation Online Courses Offered At Centers In Dubai, Abu Dhabi, Sharjah...
Check the SAT Preparation Online Coaching Courses designed for students in the UAE.
Get Free Demo Session Download Course Brochure
If you're aiming to enroll, check out our Best SAT Preparation Online Courses in Dubai here
Quick Connect: +971 800085231013 (Toll Free) Email: [email protected]
SAT Preparation Online Course Preview:
Select the appropriate SAT Course for you and speak to our SAT Counselor in Dubai for SAT Course Enrollment. Choose from SAT General Courser.
If you are unsure which SAT Score would be needed for your dream university, please speak to our SAT Course Counselor for further clarity.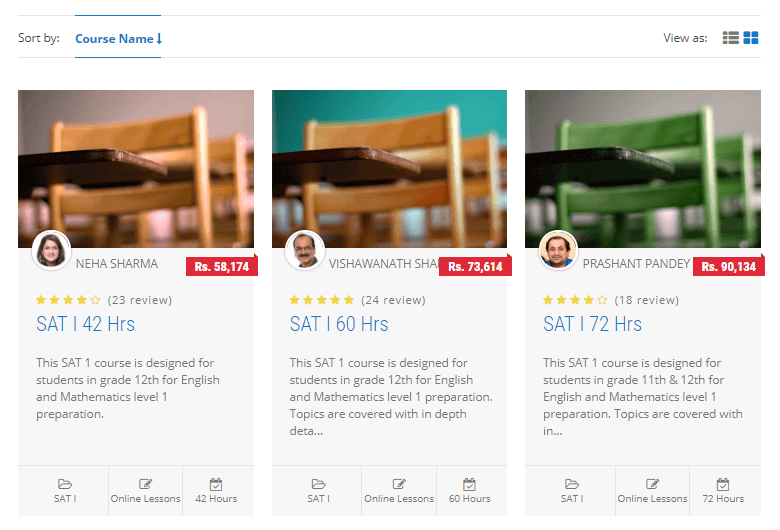 Testprepkart SAT Preparation online Features
TestprepKart is the leading educational services company in the middle eastern region targeting NRIs. We offer the following SAT products for Online SAT Preparation. Our SAT Preparation Online Course is developed with top SAT experts around the globe. they not only prepare the online prep course but some of them take live sat classes too. Pick the one that suits your requirement and we will deliver you the best SAT preparation ever.
Here are some of the features of our SAT preparation online courses.
| | |
| --- | --- |
| 1. Live & Interactive classes | We have standardized live online classes with one on one interaction in our online SAT preparation courses. |
| 2. SAT study material | SAT preparation courses come with all the SAT study material for students to focus especially on what is needed to secure a perfect score. |
| 3. Highly Qualifies SAT tutors | TestprepKart brings you a panel of the most qualified and highly experienced SAT tutors. Our SAT tutors are alumni of IITs, Harvard, Wharton, Yale, Stanford, and Maryland. SAT faculty are selected through a rigorous screening process. |
| 4. SAT live test series | SAT live test series are taken at regular intervals along with the progress in the courses. You'll be diagnosing over 6500 problems during the entire test series. |
| 5. SAT special Query Session | You are provided with access to all of our SAT video sessions. In case you miss a session these videos will help you a lot. |
| 6. SAT Accessible Videos | You are provided with access to all of our SAT video sessions. In case you miss a session these videos will help you a lot. |
| 7. SAT Prep Download | Prior to appearing for the SAT, it is pretty important to acquaint yourself with the SAT study material, and we provide the best SAT repository which covers the SAT eBooks, practice papers, and notes. |
| 8. SAT Live Assessment Reports | You are daily assessed on the SAT topic you are instructed on. You have to take the test before it expires. Assessment will help you analyze your SAT preparation. |
| 9. Doubt removal - Backup classes | Doubt removal is a must for any preparation, If your doubt doesn't get resolved it will create a void in your SAT preparation. Our SAT faculty is dedicated to resolving any issue you face during SAT preparation. |
Why You Should take SAT Preparation Online?
You cannot achieve anything if you don't know what you are doing. I am not saying you cannot prepare for SAT without coaching. You can, but there will always be a difference. But with proper guidance, you can avoid many mistakes that are ahead of you. Candidates try to score as much as possible. This is where coaching comes to play, you are a step ahead.
TestprepKart SAT Students From Middle East - Reviews:
At TestprepKart we feel satisfied having worked closely with students and parents toward achieving a common objective of Great SAT Score and Selection in Good University.
Here is what our students speak about SAT Online Classes in Dubai, Abu Dhabi, Sharjah... at TestprepKart.
TestprepKart SAT Achievers:
Students at TestprepKart Dubai, Abu Dhabi, Sharjah, and Fujairah did exceptionally well and secured a perfect SAT Score.
This helped the team in counseling students for getting admission to the best of the US universities for engineering and prestigious IIITs & other institutes in India.
SAT Expert Tutors To Help You Achieve:
Phenomenal experience and great teaching experience of over a decade or more, our SAT Tutors at Dubai make sure you score more than 1300+ in your SAT 1 for first-timers and subsequently improve to the desired score for your college selection.

Looking for SAT Online Classes in Dubai? We are the leaders in SAT Preparation for US Universities and Indian Universities for students in Dubai.
As of now, we have helped an enormous number of students raise their SAT scores and on-board highly-qualified colleges like Brown University, University of Pennsylvania, University of Michigan, Dartmouth, Georgetown, The University of Texas, Illinois Institute of Technology, Arizona State University.
The best feature in our SAT Coaching is students can either choose a single subject or all subjects together.
All our SAT Coaching classes in Dubai (UAE) are completely live and interactive and come with the below features as standard for all SAT Courses.
Walkthrough the ultimate SAT repository from TestprepKart below:
| | | |
| --- | --- | --- |
| SAT - Verbal & Math | SAT - Practice Papers | SAT - Essay |
| | | |
| | | |
| | | |
| | | |
| | | |
| | | |
| | | |
| | | |
| | | |
| | | |
| | | |
| | | |
| | | |
| | | |
| | | |
| | | |
SAT Preparation Online Format Will Follow Below Structure:
SAT general incorporates three sections – Evidence-Based Reading & Writing (EBRW) and Mathematics & Essay. As the Essay part is optional, it's up to you to do the Essay or not.
Let's take you through the SAT scoring blueprint:
S.No

Sections

Scoring Range

1

Evidence-Based Reading (Reading)

200-800

2

Writing & Language (Language)

3

Math

200-800

4

Essay (Optional)

2-8
Let's decode the EWRW & Maths Level 1 into the sub-sections according to the duration of the test.
TestprepKart experts suggest you to examine the websites of your prospective colleges and finalize your decision.
S.No

Sections

No. Of Questions

Time (in minutes)

1

Evidence-Based Reading (Reading)

52

65

2

Writing & Language (Language)

44

35

3

Math (No Calculator)

20

25

4

Math (Calculator)

38