TestprepKart SAT Preparation Online [Digital SAT Preparation]
Select the appropriate SAT Preparation Online Courses for you and speak to our SAT Expert Counsellor for SAT Preparation Coaching Enrolment. You can take a demo with our Sat Expert Tutors Online to opt for SAT coaching online.
SAT Preparation Online Courses Details
Check the SAT Preparation Online Courses.
| | | | | |
| --- | --- | --- | --- | --- |
| SAT Preparation Online | Duration | Level | Fees | Course Details |
| SAT Online Course - 42 | 42 Hrs | Advanced | Rs. 58,174 | |
| SAT Online Course - 60 | 60 Hrs | Intermediate | Rs. 73,614 | |
| SAT Online Coaching - 72 | 72 Hrs | Intermediate | Rs. 90,134 | |
| SAT Online Coaching - 90 | 90 Hrs | Intermediate | Rs. 1,06,654 | |
TestprepKart SAT Students Review
At TestprepKart we feel satisfied having worked closely with students and parents toward achieving a common objective of a Great SAT Score and Selection in a Good University. Here is what our students speak about SAT Coaching at TestprepKart.
TestprepKart Digital SAT Preparation Online Features
TestprepKart is the leading educational services company in the middle eastern region targeting NRIs. We offer an Online SAT Preparation Course which is developed with top SAT experts around the globe. They not only prepare for the online prep course but some of them take live SAT classes too. Pick the one that suits your requirement and we will deliver you the best SAT preparation ever.
Highly Qualified SAT Expert Tutors: Teachers play the most important role in the student's learning and progress. And there is no substitute for a qualified and experienced teacher. Thus, TestprepKart brings a panel of the most qualified and highly experienced faculty members for SAT Coaching Online Course for their students. Our teachers belong to Harvard, Wharton, Yale, Stanford, and Maryland.
SAT Online classes: The SAT faculty takes the session for SAT online preparation course of half an hour every quarter for each student. One student will have one SAT Expert Tutor as a mentor and the mentor would be responsible for his or her smooth progress in the class as well as for helping him/her cope with stress and anxiety.
SAT Preparation Test Series: SAT online preparation test Series are tests taken at regular intervals along with the progress in the syllabus to determine a student's progress and performance in a test environment. It identifies a student's weaknesses and strengths as well as benchmarks his/her performance with peers from across India and other countries.
Our SAT Toppers 2022 [TestprepKart SAT Result]
SAT eBook
It is very important to know minor to major facts when starting your preparation for an aptitude-based exam like SAT, with updates that can help with your SAT preparation.
We are pleased to announce the release of TestprepKart's free SAT study guide for the new SAT. This free SAT ebook gives you everything you need to know about the test, from content to content mastery, among the top practice goals you need.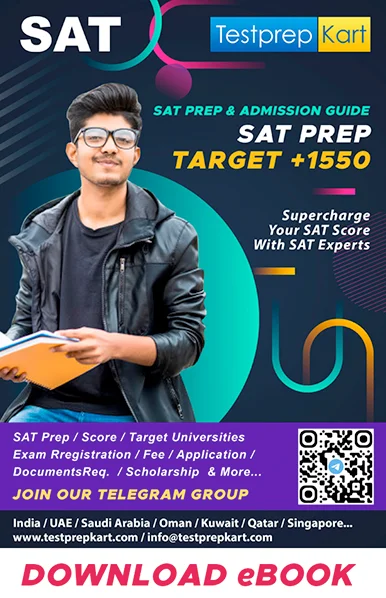 Digital SAT Test Centers Dubai:
| | |
| --- | --- |
| Schools Name | Test Centres Code |
| MER SCH OF DUBAI | 52820 |
| AMERICAN INTERNATIONAL SCHOOL | 52825 |
| Al Maaref Private School | 52929 |
| CAMBRIDGE INTERNATIONAL SCHOOL-DUBAI | 52862 |
Digital SAT Test Centers Qatar:
| | |
| --- | --- |
| Schools | Code |
| Al Manar Intl Sch | 52-622 |
| Qatar Sci + Tech Sec Sch for boys | 52-626 |
| Dps Modern Indian Sch Doha | 52-624 |
| Qatar Foundation | 52-612 |
| Qatar University | 52-623 |
| The Gulf English Sch | 52-611 |
| The Intl Sch of Choueifat | 52-615 |
| American Sch Of Doha | 52-619 |
| INTL Sch Of London Qatar | 52-605 |
SAT Preparation Online FAQs
Answer: It depends upon your level of understanding of your high school syllabus and your grade. But for scoring somewhere between 1200-1450 on the SAT you need to give at least 2 months or 40 hours to your SAT Online Course.
Answer: Technically one can give the SAT unlimited times. We would suggest you give your first SAT as soon as possible. And if you don't get the desired score, try the next SAT Test whenever you feel you are ready but plan your SAT Test dates well in advance and join SAT Online Course seriously.
Answer: Everyone has the ability to improve, and you want your SAT score to match your potential so that you can get into the best possible University. Yes, you should definitely prepare for the SAT.
Answer: The Preliminary SAT or PSAT is a practice version of the SAT. This exam also helps you get scholarships. But PSAT can only be given once a year and it's a 2 hours and 45 minutes test. If you are looking to get a scholarship for your college and also to get familiar with SAT, then start your SAT preparation by enrolling in any online SAT prep course.
Answer: You should start your SAT preparation somewhere in high school sophomore year. Because in this way your senior year will be freed up for college application
Answer: There's nothing like the best time for anything. But you should plan your first SAT before junior year and the second SAT in the fall of junior year.
Answer: The following are the reasons for taking the SAT:
Most of the Colleges Require SAT Scores.
Some of the Scholarships require your SAT scores.
Some employers require SAT scores.
The SAT Is Taken at a Slower Pace compared to the ACT.
Answer: SAT math topics are as follows:
Algebra
Problem Solving and Data Analysis
Advanced Math
Geometry and Trigonometry
Answer: The SAT scores are valid for a period of 5 years. But candidates mostly do not use their SAT scores till five years or so. They end up taking new tests and then they apply to the desired colleges.
Answer: If you take multiple SATs. The universities will prefer the best result of all.
Answer: All classes are about 2 hours and the classes are scheduled thrice a week
Answer: Thank you for asking this question and I would love to answer this. Testprepkart's SAT preparation online courses are prepared by the top subject matter experts in the country to ensure that we leave no stone unturned to help you get a perfect SAT score, all the classes will be live and fully interactive. That ensures that this is a high-quality online course.
Answer: Thanks for asking this question, there are various reasons why our SAT preparation online courses are different and better than others like we provide live and fully interactive classes to our students and weekly feedback to parents about their children. Not to forget, we give the best study materials that are prepared by the top subject matter experts in the country and those are not in the soft copy, they are in hard copies to make the preparation more realistic like the offline ones.
Answer: First of all, I would like to thank you for asking how we can help you get a perfect score. We offer SAT online courses that are prepared by the top subject matter experts in the country to help you get the perfect score with the best study materials, Sample papers, Past year papers, and many other resources to help you. Not to forget that all the classes are live and fully interactive to help you learn and understand the concepts completely and there are doubt sessions for you and IITians will help you to clear your doubts. Testprepkart's SAT online course has everything you need to score a perfect score.