SAT Preparation Courses: Boost Your Score with Expert Tips and Strategies
Select the appropriate SAT Preparation Online Courses for you and speak to our SAT Expert Counsellor for SAT Preparation Coaching Enrolment. You can take a taril session with our SAT Expert Tutors to opt for SAT Preparation Online.
Explore the SAT Course Book a Free Trail Session
SAT Preparation Online Courses Details
Check the SAT Preparation Online Courses.
| | | | | |
| --- | --- | --- | --- | --- |
| SAT Preparation Online | Duration | Level | Fees | Course Details |
| SAT Online Course - 42 | 42 Hrs | Advanced | Rs. 58,174 | |
| SAT Online Course - 60 | 60 Hrs | Intermediate | Rs. 73,614 | |
| SAT Online Coaching - 72 | 72 Hrs | Intermediate | Rs. 90,134 | |
| SAT Online Coaching - 90 | 90 Hrs | Intermediate | Rs. 1,06,654 | |
TestprepKart SAT Students Review
At TestprepKart we feel satisfied having worked closely with students and parents toward achieving a common objective of a Great SAT Score and Selection in a Good University. Here is what our students speak about SAT Coaching at TestprepKart.
TestprepKart Digital SAT Preparation Online Features
TestprepKart is the leading educational services company in the middle eastern region targeting NRIs. We offer an Online SAT Preparation Course which is developed with top SAT experts around the globe. They not only prepare for the online prep course but some of them take live SAT classes too. Pick the one that suits your requirement and we will deliver you the best SAT preparation ever.
Highly Qualified SAT Expert Tutors: Teachers play the most important role in the student's learning and progress. And there is no substitute for a qualified and experienced teacher. Thus, TestprepKart brings a panel of the most qualified and highly experienced faculty members for SAT Coaching Online Course for their students. Our teachers belong to Harvard, Wharton, Yale, Stanford, and Maryland.
SAT Online classes: The SAT faculty takes the session for SAT online preparation course of half an hour every quarter for each student. One student will have one SAT Expert Tutor as a mentor and the mentor would be responsible for his or her smooth progress in the class as well as for helping him/her cope with stress and anxiety.
SAT Preparation Test Series: SAT online preparation test Series are tests taken at regular intervals along with the progress in the syllabus to determine a student's progress and performance in a test environment. It identifies a student's weaknesses and strengths as well as benchmarks his/her performance with peers from across India and other countries.
Our SAT Toppers 2022 [TestprepKart SAT Result]
SAT eBook
It is very important to know minor to major facts when starting your preparation for an aptitude-based exam like SAT, with updates that can help with your SAT preparation.
We are pleased to announce the release of TestprepKart's free SAT study guide for the new SAT. This free SAT ebook gives you everything you need to know about the test, from content to content mastery, among the top practice goals you need.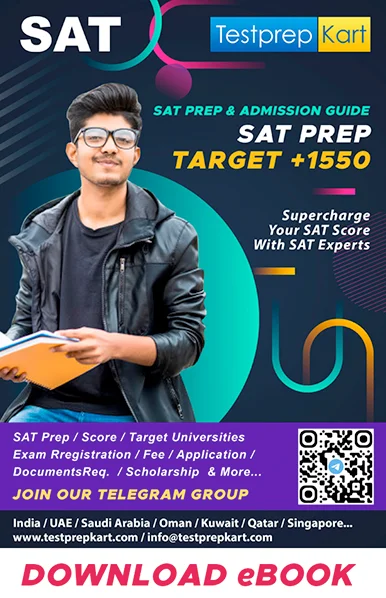 Related Blogs:
SAT Preparation Online FAQs
Answer: The SAT (Scholastic Assessment Test) is a standardized test widely used for college admissions in the United States. It assesses a student's readiness for college and is often a requirement for entry into undergraduate programs.
Answer: High school students who are considering applying to colleges or universities in the United States, including NRI (Non-Resident Indian) students, typically take the SAT exam. It's also accepted by many international institutions for admissions.
Answer: The SAT consists of three main sections: Evidence-Based Reading and Writing (Reading, Writing & Language), Math, and an optional Essay (not required by all colleges).
Answer: NRI students may opt to take the SAT as American universities widely recognize it and offer them a chance to compete on a global level for admissions.
Answer: NRI students can register for the SAT Exam through the College Board website. They will need to create an account, choose a test date, and pay the required fees.
Answer: TestprepKart is an educational platform that provides comprehensive SAT preparation resources, including study materials, practice tests, and personalized coaching, to help NRI students excel in the SAT exam.
Answer: TestprepKart offers online classes and tutoring tailored to the needs of NRI students. They provide guidance on SAT content, test-taking strategies, and time management, helping students achieve their desired scores.
Answer: SAT math topics are as follows:
Algebra
Problem Solving and Data Analysis
Advanced Math
Geometry and Trigonometry
Answer: The SAT Essay is optional, and NRI students can choose whether to take it based on the requirements of their desired colleges. Some universities might require the essay, while others do not.
Answer: Yes, the SAT is administered internationally, allowing NRI students to take the exam in their home countries at designated testing centers.
Answer: The SAT is typically offered seven times a year in the United States and six times a year internationally. NRI students can choose a test date that aligns with their preparation timeline.
Answer: Thank you for asking this question and I would love to answer this. Testprepkart's SAT preparation online courses are prepared by the top subject matter experts in the country to ensure that we leave no stone unturned to help you get a perfect SAT score, all the classes will be live and fully interactive. That ensures that this is a high-quality online course.
Answer: Thanks for asking this question, there are various reasons why our SAT preparation online courses are different and better than others like we provide live and fully interactive classes to our students and weekly feedback to parents about their children. Not to forget, we give the best study materials that are prepared by the top subject matter experts in the country and those are not in the soft copy, they are in hard copies to make the preparation more realistic like the offline ones.
Answer: First of all, I would like to thank you for asking how we can help you get a perfect score. We offer SAT online courses that are prepared by the top subject matter experts in the country to help you get the perfect score with the best study materials, Sample papers, Past year papers, and many other resources to help you. Not to forget that all the classes are live and fully interactive to help you learn and understand the concepts completely and there are doubt sessions for you and IITians will help you to clear your doubts. Testprepkart's SAT online course has everything you need to score a perfect score.