Struggling with IB - MYP or DP (SL/HL) Science or Mathematic?
No worries! With expert IB Tutors from India and aborad you now can prepare well for all IB Levels and together you can prepare for Entrance Examinations Too: SAT / ACT / JEE / NEET & Others with TestprepKart
Students who wish to prepare at their own pace, we have IB Free Online Preparation Module for students in Dubai. Explore all your subjects and get all your doubts removed.
IB Coaching Courses (Dubai / UAE):
Select your IB DP or MYP Course from the below list. For all needed clarification, please speak with us on +91 8800 1234 92 or write on info@testprepkart.com
| | | | |
| --- | --- | --- | --- |
| IB Courses | Duration | Level | IB Course Details |
| IB Physics Course | 120 Hrs | DP (SL / HL) | |
| IB Chem. Course | 120 Hrs | DP (SL / HL) | |
| IB Math Course | 120 Hrs | DP (SL / HL) | |
| IB Biology Course | 120 Hrs | DP (SL / HL) | |
All above mentioned IB Coaching Programs are meant for Dubai (UAE) NRI students only. IB students who could not find their relevant IB Courses here can speak to us directly or write us with requirements.
We will be able to customize your IB Class with suitable time and subject of your preference.
Quick Connect / Request Free IB Session: +91 8800 1234 92 / info@testprepkart.com
IB Course Preview:
Select the appropriate IB Course for you and speak to our IB Counselor in Dubai / Abu Dhabi or in other emirates for IB Course Enrollment. Choose from IB MYP or IB DP (SL / HL) Courses. IB Students can choose to study all subjects or individual subject where help is needed.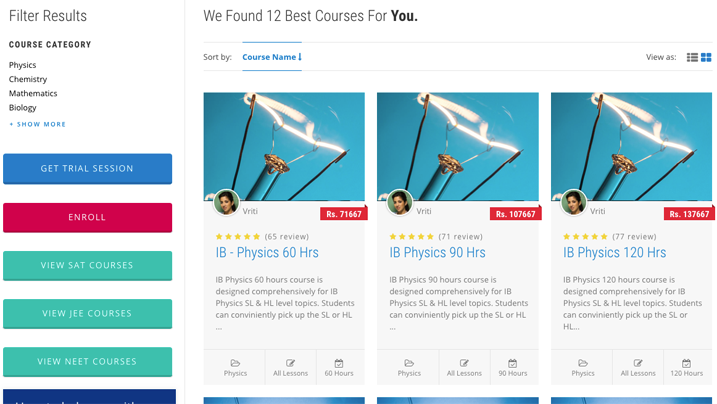 IB Expert Tutors To Help You Achieve:
Phenomenal experience and great teaching experience of over a decade or more, our IB Tutors in Dubai / Abu Dhabi make sure you get the best points altogetjer. Our IB Tutors and IB Courses are synched with popular entrance examinations which NRI Indian students often write like SAT / JEE / NEET and few others.
TestprepKart Students Reviews From Middle East:
At TestprepKart we feel satisfied having worked closely with students and parents toward achieving a common objective of Great IB Score and Selection in Good University. Here is what our students speaks about their Coaching experience at TestprepKart.
IB Tutoring Features:
1. Live and Online Classes – All IB preparation classes (Dubai, Abu Dhabi & Other Emirates) for all subjects are live and interactive, means we do not provide any recordings. We do it real time on our whiteboard with inbuilt voice and camera feature. Such classes helps you to interact with faculty in real time and enable discussion over the topic which is a necessity for IB Physics, Chemistry, Mathematics and Biology preparation for all levels like SL and HL.
2. Study Material – To sincerely prepare for IB, soft copy for IB material is updated in your account immediately after the enrolment. This study material will be used for all the online session and discussed accordingly.
3. Online Test – IB Online Test Series will be provided to the students. This Test Series will be made available to Dubai IB students in their account on the website. To keep you stay updated with your performance we conduct regular IB Online Tests and based on the performance your class schedule is altered. So that we work on the weaker areas first.
4. Doubt Removal Sessions – Special doubt removal sessions are conducted every month where students can bring all their doubts for clarification by the faculty. These sessions are included and clubbed together in all IB preparation classes.
5. Revision Notes – We have made sure that whatever you have learned in class, you should be able to take it back along with you. So, we provide you the recordings of all these classes directly in your account. You can download your past class from your account and revise it as many times as you want.
IB Faculties:
We all want to study hard and ace the IB test, we give our 100% but when it comes to the faculty who is supposed to teach you further, is not qualified enough.
Having dealt with NRI students with IB curriculum in UAE from major cities like Dubai, Sharjah, Abu Dhabi, Ajman, Ras Al Khaimah etc. we found that students don't have access to the required teachers who are qualified to be an IB Test expert. Over a period of time student's compromise with local tuition teachers, this results in achieving nothing.
When it comes to serious IB preparation, you need a faculty who has trained IB students in past, who knows about what you are preparing for, what is the paper structure, colleges you are targeting for, looking for scholarship or not and everything else, only then a faculty can guide you for your IB exam preparation.
To overcome this barrier we help students with the best of IB faculties online for Physics, Chemistry, Maths and Biology who have experience of more than 8 years and trained almost 1000+ students. They know the details to work on and areas to focus on for your prep. Your search for the IB faculties will end here.
IB Coaching Classes in UAE:
Dubai, Sharjah, Abu Dhabi, Ajman, Ras Al Khaimah
Being one of the biggest IB online preparation academy, we help students across the globe without any geographical boundaries. Majority of the students enrolled with us for IB Coaching are from cities like:
1. Dubai IB Prep (UAE)
2. Sharjah IB Prep (UAE)
3. Abu Dhabi IB Prep (UAE)
4. Ajman IB Prep (UAE)
5. Ras Al Khaimah IB Prep (UAE)
IB Coaching FAQs:
IB Topics Covered DP (SL / HL):
IB Downloads:
Your IB preparation certainly need IB resources, for you we have compiled a IB resource section (IB Downloads) where you can download files related to IB Mathematics, IB Chemistry, IB Physics, IB Biology, IB Syllabus, IB Booklets and more.