JEE Rank Mandatory For DASA / CIWG Seat From 2021 - 2022. Read More..
How To Apply For CIWG Scheme 2020-21 Step By Step Process:
MNNIT, Allahabad will release the online application form of DASA 2020 during the second week in April. Interested applicants can register for the admission process.
NRI / OCI / PIO Students that are keen will have to submit their SAT scores by June 11, 2020. The step by step procedure to fill the application form is as follows:
Step 1: Registration Process of CIWG:
Here's a list of steps that an applicant needs to follow to get registered successfully.
Create an account at https://www.dasanit.org/ by filling the following details.
Email (A valid web link will be sent to your email which will be your username.

Captcha Words (In the space filled to confirm you aren't a robot).

The moment valid details are entered, hit 'Create my account'.

An email will be sent to the applicant's email address to complete the registration.

Enter the Applicant Id (Received in the email)

Enter a password (Alphanumeric one)

Confirm password

Once the details are filled the registration is completed.
You should note the Applicant Id and Password for future logins. And also don't reveal your password to anybody.
Will you be applying for DASA / CIWG 2021 or years after that? You must then prepare for JEE Main.
Step 2: Application Form Filling:
In this step, candidates will have to submit their personal and academic information in the online application form of DASA 2020 using the registered email id and password.
NRI /OCI/ PIO applicants can enter any number of institutes or courses they would like to join now. Then applicants need to apply the following in the step by step sequence just as shown.
Personal Details:
Name of the Applicant

Date of Birth

Gender

Residential Eligibility

Citizenship

The Country in which 11th or 12th standard is completed

Name of the Parent/Guardian Relationship with applicants
Specifications of the Scanned Documents:
| Required Scanned Documents | Format | Dimensions | File Size |
| --- | --- | --- | --- |
| Latest photograph: Format | JPEG/JPG | 35mmX35mm | File size <100kB |
| Scanned signature of the applicant | JPEG/JPG | - | File Size <100kB |
| Scanned copies of relevant documents | JPEG/JPG format | - | File Size <500kB Colour/B&W/Gray Scale |
Step 3: Submission of the Details:
The other relevant documents are the passport, Proof of Date of Birth, Proof of Completion of 10th, 11th, 12th standard or equivalent, Proof of fee payment in case of payment of SWIFT transfer.
Passport Details:
Name of the Issuing Country
Proof of Date of Birth
Qualifying Examination Details:
The Result of Qualifying Examination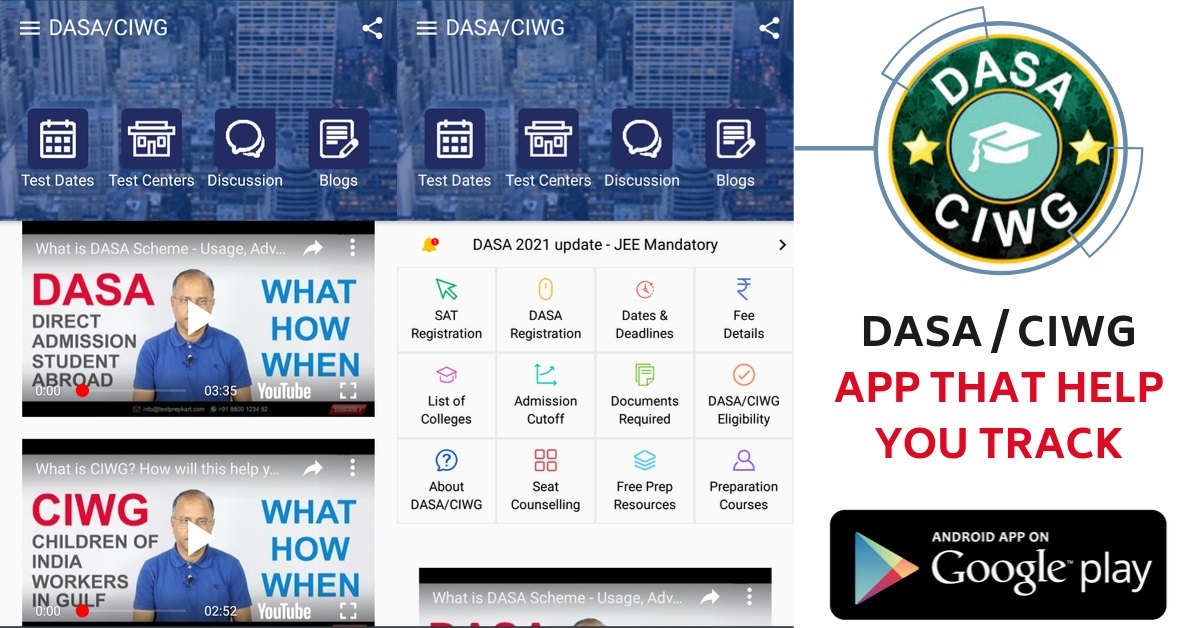 Step 4: Payment of the Application Fees:
The application fees can be paid in two methods – SWIFT Transfer or E-Payment. The candidates will also have to pay the first-semester tuition fee along with the application fee.
E-Payment can be done using credit and debit cards. A transaction Id will be generated after the successful transaction.
If the candidates are unable to get admission or withdraw the application, then his/her semester tuition fee will be refunded. NRI candidate needs to submit all the bank details to get the refund amount.
Bank Account Details Needed for Refund:
Address of Account Holder
Country of Account Holder
Beneficiary Bank Swift Code
Beneficiary Bank IBAN Number
Intermediary Bank Address
Intermediary Bank Swift Code
Intermediary Bank IBAN Number
Bank IFSC Code (if account is in India)
Other Relevant Details (if any).
Drop us an email if you've got any queries regarding DaSA 2020. You can always find us at info@testprepkart.com.
CIWG Details You Need To Know:
Useful JEE Main Links You Should Not Miss:
JEE Details You Should Not Miss:
JEE Coaching Centers:
JEE Main & Advance Preparation Resources:
How to register for JEE Online Preparation Courses:
Fill up the form above on right hand side. On receiving your information, you will be called up by JEE counsellor for course explanation. After filing up enrolment form link and fee submission your classes will start.

You can directly call us on +91 8800 1234 92 or write us at info@testprepkart.com