On

October,05,2020

0 comments
56 Views
SAT English Preparation Course
Are you stuck in the 600-700 range on the SAT English Test? Do you want to get a perfect - 800 in the SAT English exam? Start your SAT English Preparation with our SAT English Preparation Courses.
SAT English is one of the toughest and competitive sections of the SAT. Scoring a perfect SAT score in the SAT English Reading section is not easy and requires a lot of effort. But with good strategies and hard work you can easily get your dream SAT score.
Free SAT English Preparation Demo
SAT English Preparation Course:
We believe in bringing the best out of students, with effortless and stress-free preparation. Our SAT English Preparation Course offers
Live classes and interaction with faculty

Unlimited doubt clearing sessions

Comprehensive Study material
Select the appropriate Online SAT Engish Preparation Course for you and speak to our SAT Experts for SAT English Preparation Course Enrolment. You can also, take a demo with our SAT English tutors before making a decision.
With the SAT English Preparation course, you get materials for Reading, Language, and Writing, Essay. We are currently offering the following SAT English Preparation Courses:
Quick Connect: Call us at +91 8800 1234 92 / info@testprepkart.com
SAT English Preparation Course Details:
Our SAT English Preparation course includes SAT English experts from around the globe. This not only helps make the course best in class, but it also helps students clear any doubt he/she might have. We also take periodically doubt clearing and practice sessions in our SAT English Preparation Course.
SAT English Reading
The sat reading section is the test of reading comprehension. This section will test how efficiently one can interpret, synthesize, and use evidence from a wide range of sources. Apart from passages, it also includes tables, charts, and graphs.
Consistent practice and time management with full-length tests and good quality material will significantly improve your chances of scoring a good SAT score.
SAT English Writing
The SAT Writing section tests your knowledge of grammar, punctuation, and use of language. With a systematic approach and with a handful of grammar rules you can easily ace your SAT exam. Some of the concepts that you need handy are subject-verb agreement, pronoun usage, parallelism, and modifiers.
SAT English Preparation Course Demo:
SAT General Test is more common among the two SAT exams. SAT is preferably used by UG Colleges for admissions. This test assesses the written, verbal, and mathematical skills of students.
SAT English Section is divided into two parts -
1) SAT English Reading
Our SAT English Tutors will guide you in developing your reading comprehension and literary analysis skills. With SAT English Preparation Tests and live video lessons, you will be able to accomplish your dream of getting a perfect score in the SAT English Test.
The detailed demo video of our SAT English Prep lecture is attached for your satisfaction. Take a video session with our SAT English Tutors to know the tips and tricks plus solution methodology for SAT English Reading.
2) SAT English - Writing and Language
SAT Writing and Language preparation courses help you overcome SAT test anxiety. Don't take that for granted because test anxiety is one of the reasons why students get a low score. Our SAT English Tutors will not only make you learn in a very stress-free environment but will encourage your inner curiosity while SAT English Prep.
Here is the detailed demo video lecture of SAT English Preparation Coaching. Take a video session to know the tips and tricks + solution methodology for solving the SAT English Language and Writing.
SAT English Preparation Courses Benefits:
By taking SAT English Preparation Coaching / Courses you will learn a few important aspects, that can help to get a perfect score in SAT, Our SAT English Preparation Courses will help you to -
Understand the strategy for reading comprehension of SAT English Test

Know where to look for an answer in the passage.

Pick the correct answer from the given choices.

Understand how to acquire a stronger vocabulary for that perfect score in SAT English Test

Understand the strategy for sentence corrections

Achieve a combined 800 Reading and Writing & Language score on the SAT

Compose a 5 paragraph essay in response to the SAT prompt

It will help your fundamental grammar if you are preparing for an SAT English Test.
Our SAT English Preparation Courses/ Coachings are designed while keeping the above pointers in mind and also to get the best of the student. Our SAT tutors helps you in understanding the concepts really well, which in turn helps in your SAT English Preparation.
SAT English Preparation Course Enrollment: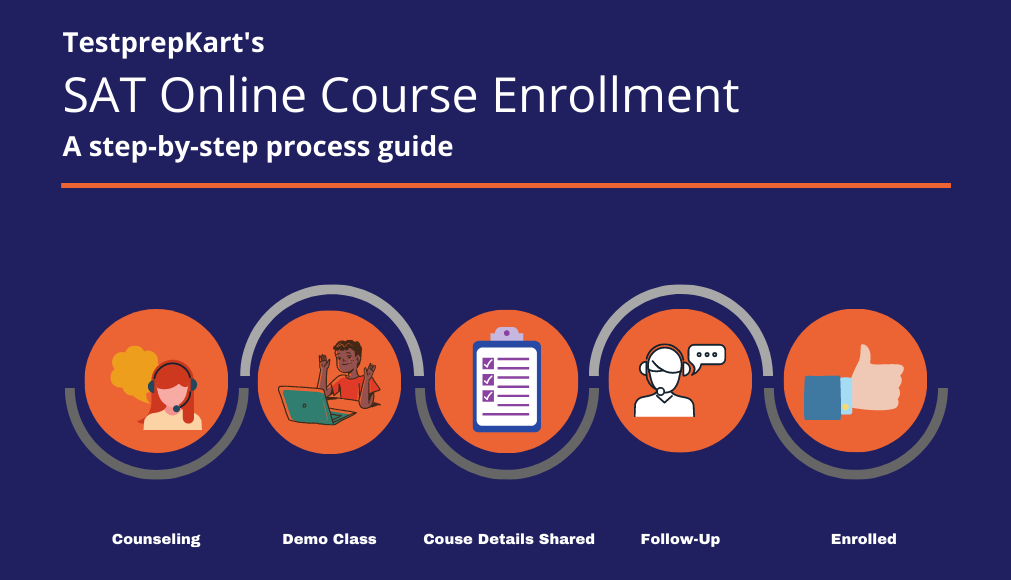 Features of SAT English Preparation Courses:
Have a glance at the course features we offer at TestprepKart:
Live & Interactive SAT English Preparation:
Fully live and online SAT English classes with one on one interaction for SAT English Prep. All classes are realtime and live with options on 30 hours, 40 Hours, 20 Hours, 30 Hours, and more. Supported by Study Material, Test Series, College Board Official SAT Papers Practice, Doubt Removal Classes.
Highly-Qualified SAT English Tutors:
TestprepKart brings you a panel of the most qualified and highly experienced SAT English tutors. Our outperforming SAT tutors are the alumni of IITs, Harvard, Wharton, Yale, Stanford, and Maryland. Our SAT faculty are selected through a rigorous screening process where we keep into account their subject knowledge, conceptual understanding, and their style of teaching.
SAT English Study Material:
SAT English Preparation Courses come with full SAT English Study Material for students to focus specifically on what is needed to secure perfect - 800. SAT English Courses come with official SAT English Papers and detailed Solutions for students to practice along with regular SAT English Prep classes.
Online SAT Egnlish Test Series:
SAT Englis online prep test series are no. of tests taken at regular intervals along with the progress in English course. The pattern will be MCQs of 3 hours just as tests are taken for SAT. You'll be evaluated with over 6500 problems during the entire test series.
Special Query Sessions:
SAT Special Query Sessions (Doubt Classes) encourage students that hesitate to clarify their doubts during the live sessions and also for the students to clarify their doubts after appearing for the SAT Online Test Series.
SAT English Prep Downloads:
Prior to appearing for the SAT, it's pretty important to acquaint yourself with the SAT Engish Material, and we have the best SAT repository which covers the SAT E-Books, Practice Papers, and College Essay stuff.

SAT English Preparation FAQ:
Answer 1: 5 Ways to Improve SAT Scores: English Section
READ
BUILD YOUR VOCABULARY
REFRESH YOUR GRAMMAR
STUDY ETYMOLOGY
TAKE PRACTICE EXAMS
Answer2 : 5 SAT Writing Tips:
Focus on Grammar Rules.
Use Process of Elimination.
Pick the More Concise Grammatically Correct Answers.
Be Consistent.
Read the Passage First for Improving Paragraphs Questions.
Answer 3 : You can visit the College Board website for free practice tests. TestprepKart also provides free SAT english preparation here.
Answer 4 : No. The College Board recognizes that the material taught in a classroom in New York city might not be the same material taught in San Francisco. Furthermore, different teachers emphasize different material. A student does not need to answer every question on the test correctly in order to earn a perfect scaled score of 800.
Answer 5 : SAT reading is hard because students have to remain focused on a long passage that is boring, even fiction-based passages can be boring. When students form the habit of losing focus and doing nothing, they find it difficult to complete a passage about ecosystems in regions of the Amazon.
Answer 6 :
| | | |
| --- | --- | --- |
| Section | Time | No. of Questions |
| Reading | 65 min | 52 |
| Writing and Language | 35 min | 44 |
| Math | 80 min | 58 |
| Essay (optional) | 50 min | 1 |
Answer 7 :You only really get 50 minutes for the SAT essay. This means that you have to read a passage, read the prompts, plan each essay, and write three perfect essays, all in under an hour. This is no easy task, and it is certainly going to take some practice.
Answer 8 : Because of the different trends for Analysis scores on the SAT essay, an Analysis score of a 6 or above puts you well above average; a score of 3-5 is solidly middle of the pack; and a score of 2 is low.
Answer 9 : Well, there will always be a little bit of flex from test to test, but the typical "average" SAT Essay score is a 14 out of 24. Mathematically, the average "should" be a 15 out of 24, which is right in the middle. But, in real life, the overall average actually comes out at 14.
Answer 10 : The Reading and Writing sections together are called "Evidence-Based Reading and Writing" and account for the other 800 points. The essay is optional and scored separately from the multiple choice portions of the test (your essay score doesn't affect your Evidence-Based Reading and Writing score).
Answer 11 : The SAT essay is generally considered one of the least important aspects of a student's college application, so an average essay score isn't necessarily an automatic indication that you need to retake the test. The foremost focus should be on your composite score.
Answer 12: Stanford SAT Essay Policy Stanford requires that applicants submit an SAT Essay along with the rest of the exam. Since the essay is an optional component of the test, students considering Stanford should take note of this policy.
Answer 13: Harvard University has announced that it will no longer require applicants to submit the essay portion of either the SAT or the ACT, even though they will still be required to submit scores for the other parts of the tests.
Answer 14:Responses to the optional SAT Essay are scored using a carefully designed process. Two different people will read and score your essay. Each scorer awards 1–4 points for each dimension: reading, analysis, and writing...
Answer 15:
| | |
| --- | --- |
| SAT Section | Score Range |
| Evidence-Based Reading and Writing (EBRW) | 200-800 |
| Reading | 10-40 |
| Writing and Language | 10-40 |
| Expression of Ideas | 1-15 |
Free SAT English Preparation Resources:
| Reading | Language and Writing | Essay |
| --- | --- | --- |
| Introduction | Introduction | Introduction |
| | | |
| | | |
| | | |
| | | |
| | | |
| | Practice Paper | |
| Practice Paper | | |
| | | Practice Paper |
| | | |
| | | |
| | | |
| | | |
| | | |
| | | |
| | | |
| | | |
| | | |
| | | |
| | | Tips & Tricks |
| | | |
| Answer & Solutions | | |
| | | |
| | Answer & Solutions | |
| | | |
| | | |
| | | |
| | | |
| | | |
| | | |
| | | |
| | | |
| Tips & Tricks | | |
| | | |
| | | |
| | | |
| | | |
| | Tips & Tricks | |
| | | |
| | | |
| | | |