TOP 5 SAT coaching centers in Dubai (UAE)
All of you searching for SAT online coaching in Dubai (UAE), Here is the list of top Rated SAT Coaching Classes available for students in Dubai.
1- Jamboree-India
Jamboree is the oldest institute in Asia and the best of its kind, which offers comprehensive classroom preparation programs for tests such as GMAT, GRE, SAT, TOEFL and IELTS, Jamboree has 36 centres in 4 countries - UAE, Singapore, India, and Nepal. Each center follows a uniform curriculum and has outstanding faculties, all of whom are trained at our head office. Each center offers the same teaching standards and syllabus.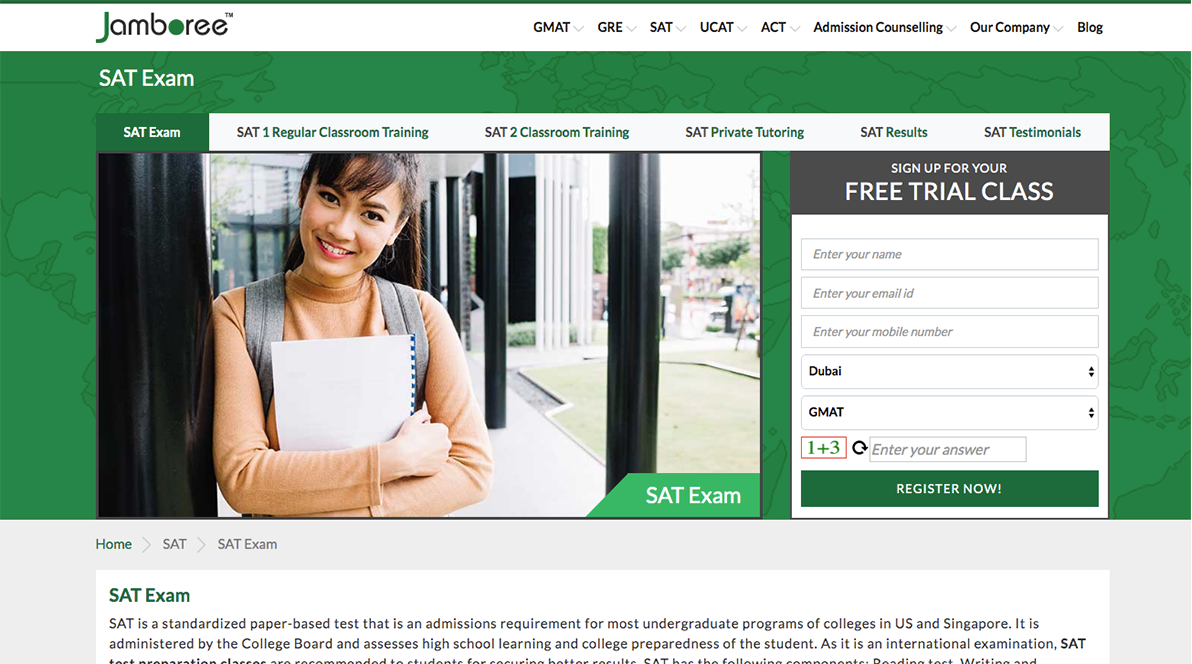 Google Rating - 4.5
For more information visit website
2- Testprepkart
TestprepKart is a leading online coaching provider for students across the globe for SAT. Here at TestprepKart we don't just believe in coaching students, but we believe in grooming student, counseling them, preparing them and above all help them understand and clearing their concepts which matters the most.
Now available for students in Saudi Arabia, UAE, Oman, Kuwait, Bahrain, Singapore, Malaysia, Tunisia etc. for entrance exam preparation.
our students rated us: 4.8 out of 5.0 by 1350+ valuable client
Google Rating - 4.5
For more information visit website
3- Manhattanreview
Manhattan Review is a test preparation company offering GMAT, GRE, LSAT, SAT, ACT, TOEFL and IELTS preparation class courses and private tutoring in many locations in the US and worldwide, both in-person and online. We also offer admissions consulting for top business schools, graduate programs and colleges. Here is how we are different from other test prep and admissions consulting companies:
Google Rating - 4.8
For more information visit website
4- The Brighter Prep
Brighter Prep was founded in 2011 out of a few people's sincere desire to help teenagers and young professionals from all backgrounds get in touch with their authentic vision of the way they wish their careers to develop, and to identify the exact steps they need to walk in that direction. Through our study centers in Dubai, Jumeirah lake towers (JLT) near knowledge village, Abu Dhabi and Istanbul we aim to offer the most comprehensive preparation for students looking to study abroad, focusing on three main areas of international education: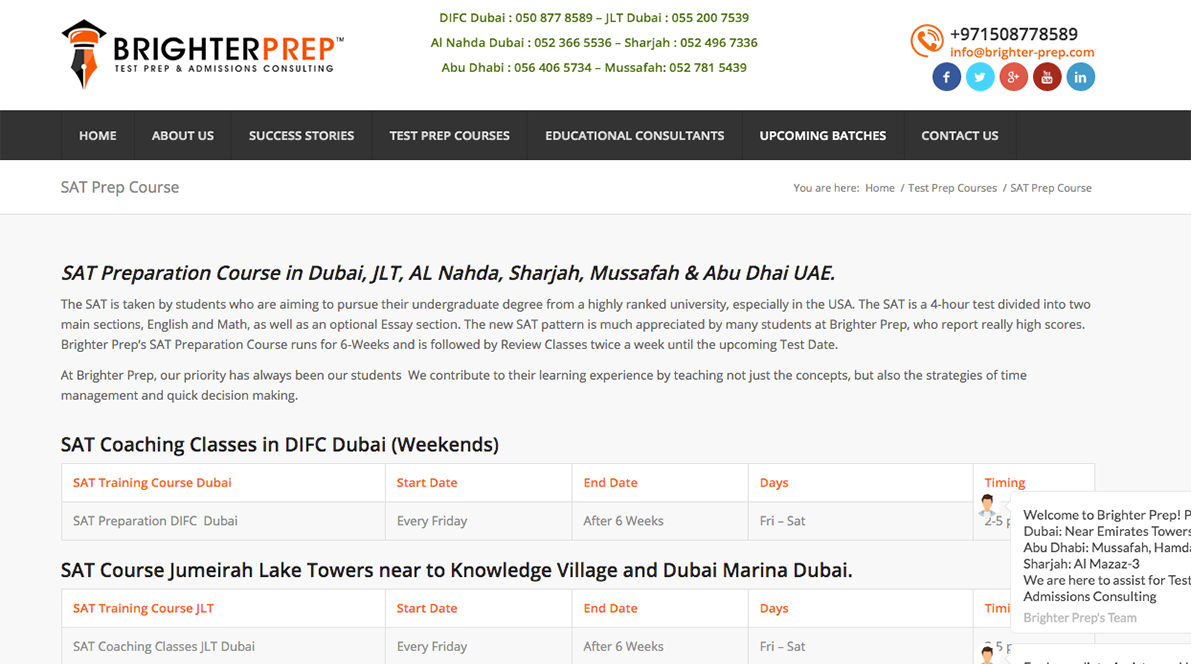 Google Rating - 4.9
For more information visit website
5- Sageeducation
Sage Education Services was formed out of a desire to fill a gap in quality exam preparation and tutoring in Dubai. We are dedicated to providing students with a critical range of exam preparation courses as well as group and individual tutoring with a unique methodology in conjunction with talented and responsive trainers.Applying to universities in the US and surviving high school and college exams can be daunting, but they don't have to be. Our sole aim is to help students achieve their dreams, and guide them through these often overwhelming processes
Google Rating - 4.8
For more information visit website
For SAT 1 Jamboree-India and Manhattanreview are the best as per user and client feedback ,
For SAT 2 Testprepkart has the higest Rating and most satisfied student among All.
For More Details About SAT Coaching Online You Can Visit Here