On

September,12,2020

0 comments
120 Views
Are you planning to study in the world's best universities? Many College requires an SAT Score as part of the admission process.
Our SAT 1 Online Courses are carefully made by international SAT experts. They give hours of research to prepare the online SAT courses.
Our Sat Online Courses/Coaching prepare the student to score at least 1250+
SAT 1 (General) Online Courses:
We provide a number of Online SAT preparation courses. Currently, we are offering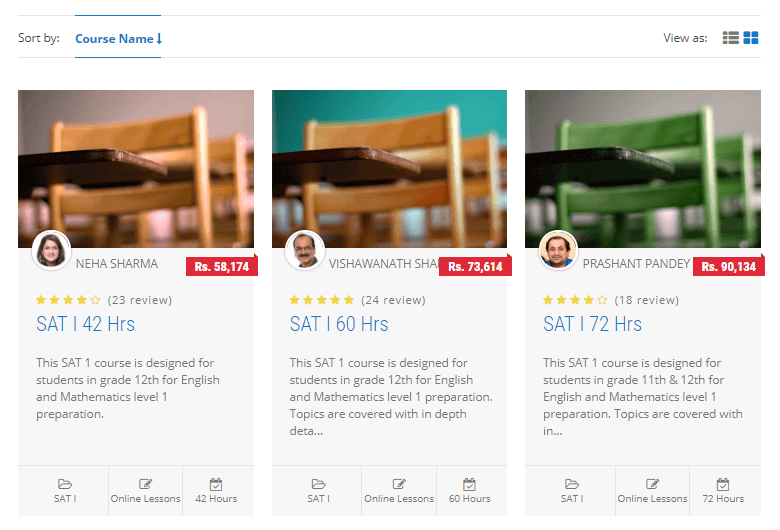 Get Free SAT Counseling Know More About SAT Online Prep
SAT 1 Online Prep Courses Details:
These SAT 1 Online Courses are designed for students in grade 10th,11th, and 12th for English and Mathematics level 1 preparation.
| SAT 1 Online Preparation Courses | Duration | Course Details |
| --- | --- | --- |
| SAT 1 (General) Online Course | 72 Hours | |
| SAT 1 (General) Online Course | 90 Hours | |
| SAT 1 (General) Online Course | 42 Hours | |
| SAT 1 (General) Online Course | 60 Hours | |
SAT 1 Online Courses Introduction:
Course Highlight
| | |
| --- | --- |
| Level | 10th / 11th / 12th |
| Starting | Next Week |
| Lesson | Online |
| Type | Live and Interactive |
| Batch Size | 5 Seats Per Batch |
| Includes | Calculator, Non-Calculator, Reading, Language, and Writing |
SAT Online Course Enrollment Process:
Colleges In The US Require SAT Scores:
Most colleges of the United States want you to submit SAT scores to examine your competencies in the EBRW, Math Level 1, and Essay. The SAT test acts as an indicator for you to demonstrate your abilities.
Colleges also acknowledge some more factors while offering admission to the student. The factors are Letter of Recommendation (LOR), Statement of Purpose (SOP), University Wise Specific Essays, Ideal Activities, etc. Check the components of an undergraduate application to know more.
If you're unsure about if you have to take the SAT Essay or not, click on the button below to register for a free SAT counseling.
SAT 1 Online Courses/Coaching FAQs:
Answer: It depends upon your level of understanding of your high school syllabus and your grade. But for scoring somewhere between 1200-1450 in the SAT you need to give at least 2 months or 40 hours to your SAT Online Course.
Answer: Technically one can give the SAT for unlimited times. We would suggest you give your first SAT as soon as possible. And if you don't get the desired score, try the next SAT Test whenever you feel you are ready but plan your SAT Test dates well in advance and join SAT Online Courses seriously.
Answer: Everyone has the ability to improve, and you want your SAT score to match your potential so that you can get in to the best possible schools. Yes, you should definitely prepare for the SAT.
Answer: The Preliminary SAT or PSAT is a practice version of the SAT. This exam also helps you get scholarships. But PSAT can only be given once a year and it's a 2 hous and 45 minutes test. If you are looking to get scholarship foro your college and also to get familiar with SAT, then start your SAT preparation by enrolling in any online SAT prep courses.
Answer: No, SAT essay doesn't affect your 1600-point score. Also, it's an optional part of exam. But if you want to score a little extra than others, then you should start taking online sat essay prep courses.
Answer: You should start your SAT preparation somewhere in high school sophomore year. Because in this way your senior year will be freed up for college application.
Answer:
For verbal questions:
Analogies (19 question Sentence completions (19 questions)
Critical reading (40 questions)
For math questions:
Five-choice multiple-choice (35 questions)
Four-choice multiple-choice (15 questions that focus on the concepts of equalities, inequalities and estimation)
Student-produced response (10 questions that have no answer choices provided)
Answer: There's nothing like best time for anything. But you should plan your first SAT test before junior year and second SAT test in fall of junior year.
Answer:
Following are the reasons for taking the SAT:
Most of the Colleges Require SAT Scores.
Some of the Scholarships require your SAT scores.
Some employers require SAT scores.
The SAT Is Taken at a Slower Pace compared to ACT.
Answer:
SAT math topics are as follows:
Heart of Algebra
Problem Solving and Data Analysis
Passport to Advanced Math
Answer: The SAT scores are valid for a period of 5 years. But candidates mostly do not use their SAT scores till five years or so. They end up taking new tests and then they apply to the desired colleges.
Answer: If you take multiple SAT tests. The unniversities will prefer the best result among all.
Answer: You can appear in the SAT Subject Test whenever you feel you're ready. But keep in mind that SAT 1 and SAT Subject Tests are conducted on the same day, so you can not appear for both of them. Also, you can take three SAT Subject Tests on a single day, but it's not a recommended practice. And to answer your second question, take the subject test for a subject which you already have a tight grip on. In the end, it is best to have a good score in "normal subjects" than the mediocre score in "fancier subjects".
Answer:
To answer this question, we must look at three things:
Your language level
Your friendliness with Mathematics
Subjects you already Excel
However, many students have been found to perform well in these exams:
Biology E
Biology M
Chemistry
US History
World History
Answer: All classes are about 2 hours and the classes are scheduled thrice a week
Useful SAT Links You Should Not Miss:
SAT Details You Should Not Miss:
SAT Coaching Centers:
Free SAT Online Preparation Resources:
SAT 1 Preparation Material:
| Reading | Writing | Mathematics L1 | Essay |
| --- | --- | --- | --- |
| | | | |
| | | | |
| | | | |
| | | | |
| | | | |
| | | | |
| | | | |
| | | | |
| | | | |
| | | | |
| | | | |
| | | | |
| | | | |
| | | | |
| | | | |
| | | | |