by August,14,2019
0 comments
395 Views
JEE Physics Online Coaching, Courses, Tutors & Test Series:
With increasing competition in engineering entrance exams, JEE Aspirants are bound to make extra efforts to in order to clear the JEE Exams. This rewards them in getting into the top prestigious Engineering Institutes in India for B.E. / B.Tech / B.Arch courses.
For this, students must give their best in preparation, especially when it comes to the most difficult subject in JEE which is Physics.
Quick Connect: +91 8800 1234 92 / info@testprepkart.com
Following are various means & resources to get you ready to tackle the entire syllabus for JEE Physics.
JEE Online Courses:
| | | |
| --- | --- | --- |
| JEE Online Courses | Course Duration | Course Link |
| | | |
| | | |
| | | |
| | | |
| | | |
| | | View Course |
JEE Online Course Features:
For all the above mentioned online courses, following are the features adapted for your online JEE Preparation:
Live & Interactive Sessions: Typically there are 2 kinds of online coaching, one that involves recorded lectures where students can watch and interpret by themselves, & the second type is the Live & Interactive Online Sessions.
Testprepkart provides live & interactive classes which is proven better as it involves students & their teacher to be available on a connected portal where they can attain the lectures & communicate with each other using voice & chatbox.

A digital green board is also available where teacher can write just like a normal whiteboard.

These live sessions are also recorded & saved in students' dashboard so that they can view it later for revision.

Each batch sizes are limited to 5 to 8 students maximum to give more focus on each student.

Whenever needed, students can request for doubt clearing classes & rescheduling of regular classes.
Below is a sample of a live JEE lecture.
Expert JEE Online Tutors: With selection through a rigorous recruitment process, that considers subject knowledge, conceptual understanding and style of teaching, the JEE Tutors at Testprepkart have always proved to be excellent when it comes to tutoring & preparing the JEE course material, Test Series, Assignments and Practice problems. Our JEE faculty members are alumni of IITs/BITS Pilani and other top ranked Engineering institutes with the best grasp on the JEE preparation strategies and techniques.
JEE Online Test Series: Apart from taking classes, it is essential to engage in mock tests to experience what a JEE Exam would be like. With wide selection of questions from Past Year Papers & even more questions formed by JEE Tutors at Testprepkart, your JEE Mains & Advanced Preparation will be way ahead than others. These Online JEE Test Series help identify a student's weaknesses and strengths as well as benchmarks his/her performance with peers (all the students enrolled in Testprepkart) from across India and other countries.
Across Physics, Chemistry & Maths, this series is divided into 30 Online Tests.

These are both chapterwise & combined chapters too. Students opting for subject wise test series can be encouraged too.

Each of these test series are of 3 hours duration & the type of questions are Multiple Choice Questions (MCQs).
From time to time, Doubt Clearing Sessions & Parents Teachers Meeting is also conducted online.
TestprepKart's JEE Students' Reviews:
At TestprepKart, we feel satisfied having worked closely with the students and their parents toward achieving a common objective of great JEE Rank and selection in prestigious Engineering Institutes such as IITs, NITs, IIITs, CFIs & SPAs. Testprepkart has been catering to NRI Students in various countries such as Singapore, UAE, Oman, Saudi Arabia, Thailand, Kuwait & more. Here is what our students, from various parts of the world, speak about JEE Online Coaching at TestprepKart.
Other JEE Physics Preparation Resources:
Free Online Preparation for JEE Physics:
With topic wise distribution of study materials in the form of vast number of free e-books, previous years' papers, free downloads available online, preparation of an Engineering Aspirant never halts. Here is a snapshot of Testprepkart's free preparation portal for JEE Subjects.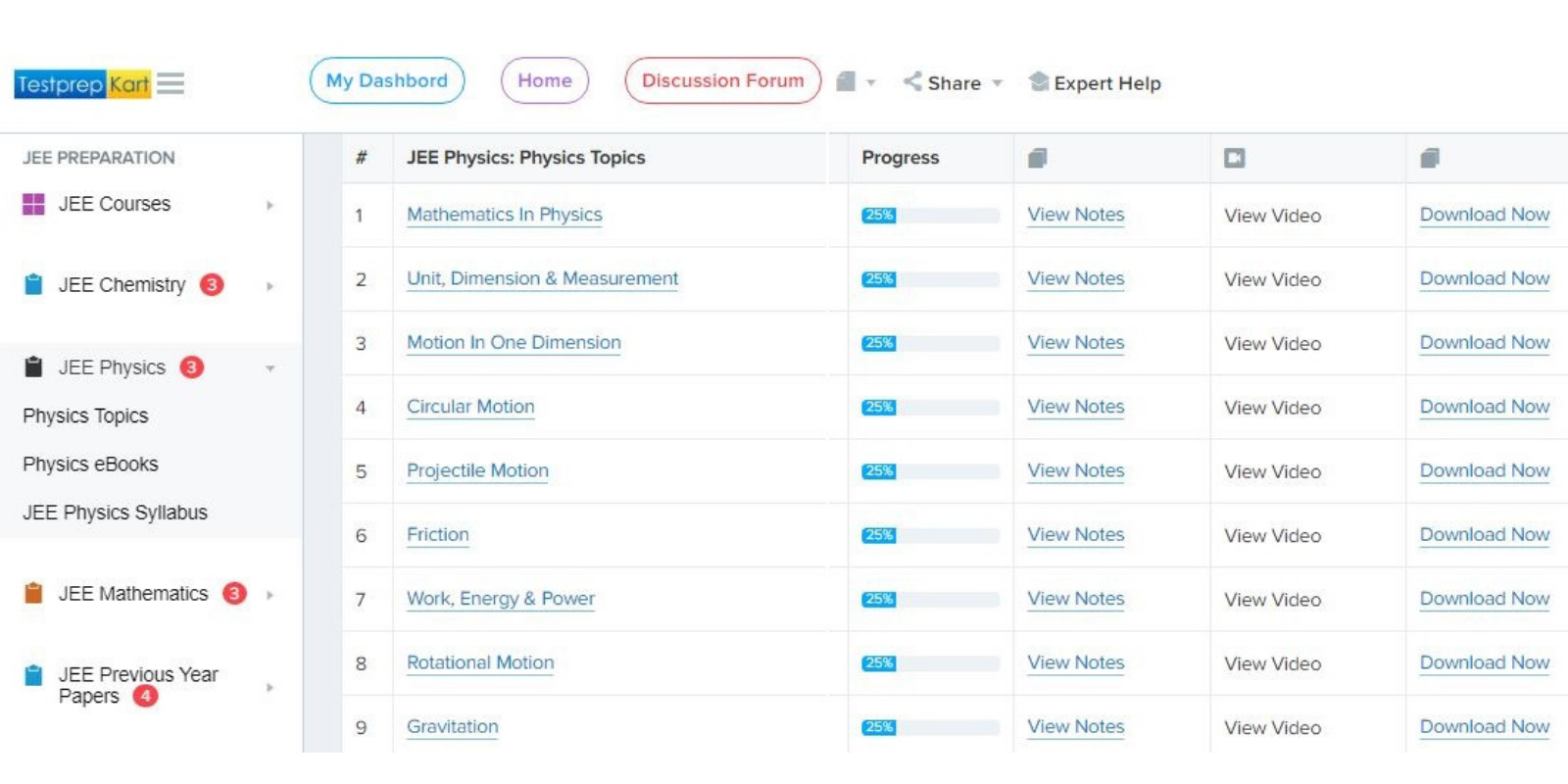 Apart from these, students must be thoroughly aware of the structure of JEE Physics Syllabus, scoring blueprint, high scoring topics & number of questions & weightage of each Physics topic. This is the reason why the following term is popular- "JEE requires the students to work smarter rather than harder". Below are some facts to help you understand that & how our JEE Online Coaching follows similar strategy to help hundreds of JEE Achievers each year.
JEE Online Coaching Format will follow the below structure:
Online Coaching for JEE 2020 & 2021 demands students to work harder than before because of the 2 attempts for JEE Mains - January & April Exams. Syllabus for JEE incorporates three subjects – Physics, Chemistry & Maths. Now, let's take you through the scoring blueprint for JEE Mains 2020
| | | |
| --- | --- | --- |
| JEE Subjects | Number of Questions | Total Marks to Score |
| Maths | 30 | 120 |
| Physics | 30 | 120 |
| Chemistry | 30 | 120 |
JEE Mains Structure:
During JEE Coaching classes as well as exams, you are prohibited to use calculator. Students residing abroad may find it strange as most foreign countries allow the use of calculators, formulas' sheet or log sheets. Many of the NRI Students, taking courses from Testprepkart, addressed this issue as well. Tips and Tricks are discussed during coaching classes to overcome these calculation problems.
During JEE Mains Paper 1, you've have to answer 90 questions in 3 hours duration. All these 90 questions are multiple-choice ones. Various questions in JEE Syllabus accompanies bars/graphs/charts depending on the question. Indeed, you will deal with tables/graphs in all the 3 JEE Subjects. One must prepare from the NCERT books as well while he/she preparing for JEE Mains because JEE Syllabus is mainly based around NCERT Books' Syllabus of Grade 11th & 12th.
# of Multiple Choice Questions – 90 (30 for each subject)

Mode of Exam – Online (CBT – Computer Based Test)

Exam Duration - 3 Hours
JEE Physics Overview:
JEE Physics involves numericals, graphs, diagrams, derivations as well as theory.
Physics being a difficult subject, special focus is given on all its important chapters such as Magnetism, Mechanics, Thermodynamics, in our JEE Coaching Program.
# of Multiple Choice Questions in JEE Physics – 30
JEE Mains Physics- Topic / Chapter wise weightage:
| | | |
| --- | --- | --- |
| Topics/Chapters | No of Questions | Marks |
| Modern Physics | 5 | 20 |
| Heat and Thermodynamics | 3 | 12 |
| Optics | 3 | 12 |
| Current Electricity | 3 | 12 |
| Electrostatics | 3 | 12 |
| Magnetics | 2 | 8 |
| Unit, Dimension and Vector | 1 | 4 |
| Kinematics | 1 | 4 |
| Laws of motion | 1 | 4 |
| Work, Power and Energy | 1 | 4 |
| Centre of Mass, Impulse and Momentum | 1 | 4 |
| Rotation | 1 | 4 |
| Gravitation | 1 | 4 |
| Simple Harmonic Motion | 1 | 4 |
| Solids and Fluids | 1 | 4 |
| Waves | 1 | 4 |
| Electromagnetics induction; AC | 1 | 4 |
| Total | 30 | 120 |
JEE Physics Preparation books-
H.C Verma's Concepts of Physics-Part 1 and 2

IIT JEE Physics by D.C. Pandey

Problems in General Physics by I.E. Irodov – Best for Physics

Problems in Physics by S.S. Krotov – Mostly Recommended

Physics for IIT JEE by Resnick, Halliday and Walker
JEE Advanced Online Physics Coaching:
Once the students qualify JEE Mains, they get a step closer to becoming an IITian by qualifying JEE Advanced. We make sure that such students are given enough guidance during their JEE Advanced Online Coaching so that they can ace the JEE Advanced Papers.
JEE Advanced Preparation books for Physics:
Problems in Physics-A.A. Pinsky

Problems in general Physics-I.E. Irodov

Physics Vol 1 and 2- Tipler

Advanced Physics- Nelkon and Parker

Aptitude Test Problems in Physics-L.A. Sena
JEE Physics Online Coaching. Why TestprepKart?
If you need a reason to enroll with TestprepKart, the list goes on and the list never ends. Here are the pinnacle of TestprepKart:
Highly Qualified Faculties:
Teachers play the most important role in the student's learning and progress. And there is no substitute for a qualified and experienced teacher. Thus, TestprepKart brings for their students a panel of the most qualified and highly experienced group of faculty members.

Our Online JEE faculty members specialize in their subjects where they are undisputed experts- Physics, Chemistry & Mathematics and are assisted by other experts as well when it comes to preparing the JEE course material as well as Tests, Assignments and Practice problems.

Most of our JEE faculty members are alumni of IITs/BITS Pilani and other top ranked Engineering institutes with the best grasp on the JEE preparation strategies and techniques.

Our JEE Online Tutors, for the live classes, are selected through a rigorous recruitment process that considers their subject knowledge, conceptual understanding and their style of teaching, which should make it easy for students to understand and apply the concepts.

The JEE faculty panel will be enlarged according to demands and TestprepKart takes proper care that they are trained in the technical aspects of Live classes as well so as to make optimum use of the students' time through their teaching, timely tests as well as course material sharing.

All JEE teachers try to remain updated with any changes in the exam pattern of JEE Mains & JEE Advanced and TestprepKart takes care to keep them abreast with any new developments or any new topic knowledge required.
Which is better- JEE Online Coaching or JEE Offline Coaching?
One-to-One JEE Mentoring Sessions:
The students would often need JEE online guidance regarding their preparation based on the assessment in the tests as well as class participation.
The faculty members would take JEE Online Coaching sessions of half-an-hour every quarter for each student.

One student will have one JEE faculty member as a mentor and the mentor would be responsible for his smooth progress in the online JEE classes as well as helping him/her cope with stress and anxiety.

The JEE Online Coaching sessions would focus less on academics and more on general preparation strategies, tactics and individual progress and on what subjects to focus more.

The mentoring session can involve parents as well, if they want to, so that they get a genuine feedback of their ward's progress and know of the future plans for his/her score improvements.

The goal of JEE Online Preparation would be to make a student ready for his goals ahead and focus on his/her subjects without getting left behind in the competitive scenario.
Most Engineering Colleges In India Require JEE Rank for Admissions in UG Courses:
Most Engineering Colleges of India want you to submit JEE Ranks (or even SAT 2 Scores) to examine your competencies in the Physics, Chemistry & Maths. The JEE Rank acts as an indicator for you to demonstrate your abilities. Till session 2020-21, NITs, CFIs, IIITs & SPAs will be admitting NRI / PIO / OCI Students on the basis of SAT 2 Scores under the DASA / CIWG Schemes. And from session 2021-22 onwards, JEE is mandatory under the DASA / CIWG Schemes.
Why Foreign/NRI Students must opt for Online JEE Coaching?
Often a lopsided strategy for the preparation of rigorous JEE exam can only give an ill result no matter how far you stretch your caliber. Thus, in the contemporary tight competition existing behind the mechanism of getting the admission in your dream institution truly requires a kickass planning. Through online mode of preparation, an NRI aspirant can positively grab much more than an offline session. There are no other mandatory lines remaining for the students who are basically residing far from India.
JEE Coaching Online actually saves students from killing precious time & investment which they would require to traveling from one pole of the equator to the other. Interestingly, with the privilege of saving time, the Online JEE coaching also allows the NRI aspirants to fix their suitable timings for each subject. The perks of choosing the Online Coaching over offline doesn't end here. But actually consists of a huge list of its unmatched indispensability.
Useful JEE Links You Should Not Miss:
JEE Details You Should Not Miss: