by August,23,2018
0 comments
384 Views
CBSE to change Exam Pattern for Class 10 and 12 Students
Here are some details regarding the new notification from CBSE regarding Exam Pattern for Class 10 and 12 Students.
The Central Board of Secondary Education (CBSE) is planning to change the current exam pattern for Class 10th and 12th Students from 2020 by introducing several Vocational Subject Tests in February and before the declaration of Results.
CBSE Officials said that "These Vocational Subject Tests will not only check Students Analytical Abilities but also helps in reducing the scope of rote learning.
As per CBSE, the new exam pattern will contain the questions that are more in the nature of problem solving. More short questions will be included in the range of (1 to 5 marks). This way the students will pay more stress towards the critical thinking abilities and students will follow less rote learning said by one of the officials of HRD Ministry.
The CBSE board has also submitted the "CBSE Bylaws" to the HRD Ministry for the approval, which will mainly focuses on the academic quality of schools which are seeking Affiliation and Renewal of schools. It will be the responsibility of State education departments to check the infrastructure of their respective State's schools and provide report to CBSE regarding that.
According to One HRD Official "The proposal will take almost 3 to 4 months to approve but CBSE started working towards the new Exam Pattern for Class 10th and 12th Students for 2020".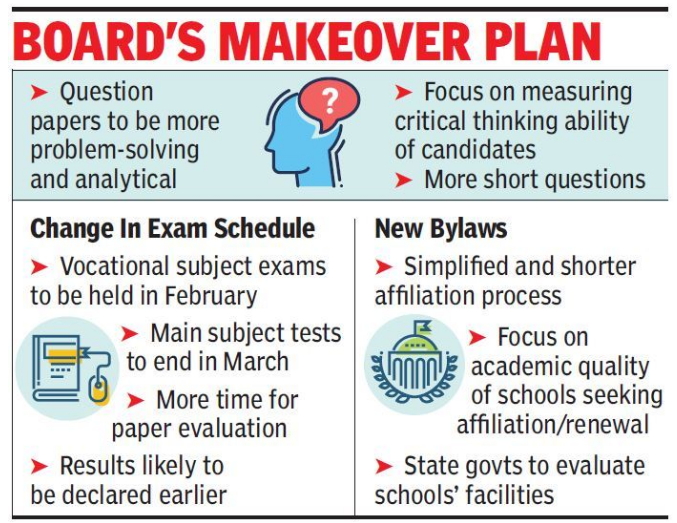 CBSE also states that they are looking at completing all the exams by March in order to give more time for evaluation and thus releasing the Results earlier.
As per MHRD Sources, CBSE will be scheduling the Board Exams in two parts namely Vocational and Non-Vocational subjects. Official said that the number of students will be less for vocational subjects therefore it can be conducted in February and the rest of the students examination will be completed in around 15 days in the month of March.
Ministry officials also said that "Nothing has been approved yet regarding the examination schedule". CBSE is also focusing to change their bylaws which will impact the rules of affiliation of schools. The bylaws that are proposed by CBSE will lay more focus on the academic structure of schools.
It is also stated that "State Governments and other various agencies will be responsible for the inspections during the period of granting recognition to schools".