by June,02,2020
125 comments
348 Views
JEE Online [Coaching, Courses, Tutors & Test Series]:
Planning to take up Engineering to get admission in India's Best Engineering Institutes?
Great! You must be knowing about the JEE – Joint Entrance Examination. Did you decide which one you need to write to get into your dream college? If not you need to know it here is the info JEE Main Paper-1 & JEE Main Paper 2.
Quick Connect: +91 8800 1234 92 / info@testprepkart.com
JEE Main Online Classes & Courses :
Before taking a look at the JEE Courses, make yourself familiar with the differences/ updates in JEE Syllabus & opportunity for NRI Students to apply under DASA & CIWG through your JEE Main Rank:
Select your ideal JEE Online Course. For any clarification, please speak with us on +91 8800 1234 92 or write to us at info@testprepkart.com
REQUEST TRIAL SESSION (Duration: 60 Minutes)
Get Trial Session Download Course Brochure
All the above mentioned online JEE Prep Courses are completely live and interactive with special focus on improving marks in Physics, Chemistry & Mathematics especially for NRI Students looking for NIT, CFTI admissions under DASA / CIWG Quota.
Testprepkart's JEE Perfect Graders:
JEE Main Online Course Preview:
Choose the appropriate JEE Online Classes & Course for yourself and speak to our JEE Counselor to clear up your queries & for JEE Online Classes Enrollment. Select from the range of foundation courses, online test series or crash course depending on your requirements. If you are unsure of what range of JEE Ranks would be needed for your dream Institute, please speak to our JEE Course Counselor at info@testprepkart.com for further clarity.
Expert JEE Tutors To Help You Excell:
Phenomenal experience and great teaching experience of over a decade or more, our JEE Tutors (in various cities of Dubai, Abu Dhabi, Al Khobar, Muscat, Sohar, Riyadh, Jubail, Singapore, Malaysia & more) make sure you Rank high enough in your JEE Main for first-timers and subsequently improve to the desired JEE Rank for your college selection.
Online JEE Coaching Format & Structure:
JEE Syllabus incorporates three subjects – Physics, Chemistry & Maths. Our online JEE Coaching Classes are completely live & interactive & are also recorded by default for your revision. Students also have access to hard copies of JEE study material shipped to their location.
Now, let's take you through the JEE Main scoring blueprint:
JEE Main Structure:
During JEE online classes as well as exams, you are prohibited to use calculator. Tips and Tricks are discussed during coaching classes to overcome the calculation problems.
During JEE Main Paper 1, you've had to answer 75 questions in 3 hours duration. All these 90 questions multiple-choice ones. Upon answering correct, you will be awarded 4 marks per question.
A variety of questions are included in JEE. Various questions in JEE Syllabus accompany bars/graphs/charts depending on the question. Indeed, you will deal with tables/graphs in all the 3 JEE Subjects.
# of Multiple Choice Questions – 75 (25 for each subject)

Mode of Exam – Online (CBT – Computer Based Test)

Exam Duration - 3 Hours
JEE Main Math Structure:
In this section, JEE Preparation / coaching / online classes will cover the questions from the JEE Maths Syllabus including the chapters – Complex Numbers, Probability & Statistics, Algebra & Trigonometry. JEE Math Coaching helps students to crack the Math section in JEE Main.
# of Multiple Choice Questions in JEE Maths – 25
JEE Main Maths Online Coaching:
JEE Maths Preparation Books -
IIT Mathematics-M.L Khanna

Differential Calculus-A Dasgupta

Higher Algebra by Hall and Knight

RD Gupta's Mathematics book for Class 11th and 12th

Geometry and Trigonometry books by S.L Loney
REQUEST TRIAL SESSION (Duration: 60 Minutes)
Get Trial Session Download Course Brochure
JEE Main Physics Overview:
JEE Physics involves numericals, graphs, diagrams, derivations as well as theory.
Physics being a difficult subject, special focus is given on all its important chapters such as Magnetism, Mechanics, Thermodynamics, in our JEE Physics Coaching Program.
# of Multiple Choice Questions in JEE Physics – 25
JEE Main Physics Online Coaching: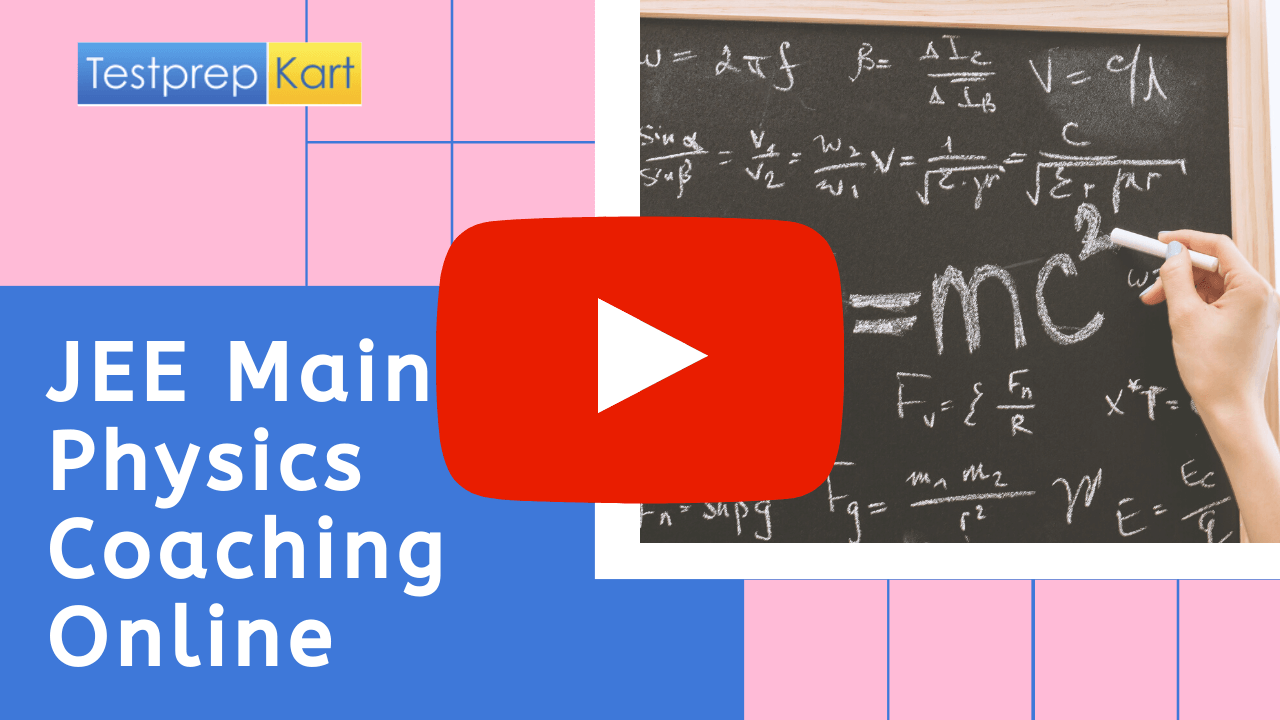 JEE Physics Preparation books-
H.C Verma's Concepts of Physics-Part 1 and 2

IIT JEE Physics by D.C. Pandey

Problems in General Physics by I.E. Irodov – Best for Physics

Problems in Physics by S.S. Krotov – Mostly Recommended

Physics for IIT JEE by Resnick, Halliday and Walker
REQUEST TRIAL SESSION (Duration: 60 Minutes)
Get Trial Session Download Course Brochure
JEE Main Chemistry Overview:
JEE Chemistry section is about various concepts, derivations, chemical formulas & numericals high school level chemistry which generally include topics from Physical Chemistry, Organic & Inorganic chemistry. JEE Chemistry Coaching helps students to ace the chemistry section in JEE.
# of Multiple Choice Questions in JEE Physics – 25
JEE Main Chemistry Online Coaching:
JEE Chemistry Preparation books-
Organic Chemistry by O.P. Tandon

Inorganic Chemistry by O.P Tandon

Organic Chemistry by Morrison Boyd

Concise Inorganic Chemistry by J. D. Lee

Numerical Chemistry by P. Bahadur
REQUEST TRIAL SESSION (Duration: 60 Minutes)
Get Trial Session Download Course Brochure
JEE Paper 2 (Arch) Structure:
JEE Main Paper 2 has a total of 3 sections called- Mathematics, Aptitude Test and Drawing test. Maths & Aptitude Test of conducted online & Drawing Test is taken offline (Pen-Pencil & Paper based). Fill the form above on right side for free demo on online coaching for Jee Paper 2.
# of Questions – 83

Mode of exam – Both Online & Offline

Exam Duration – 3 Hours
JEE Advanced Online Coaching Classes:
Once the students qualify JEE Main, they get a step closer to becoming an IITian by qualifying JEE Advanced. We make sure that such students are given enough guidance during their JEE Advanced Online Coaching Classes so that they can ace the JEE Advanced Papers.
JEE Advanced Preparation books:
JEE Advanced Preparation Books For Mathematics-
Algebra, Differential Calculus, Integral Calculus, Vector and 3D geometry- all these books are by Arihant Prakashan

Higher Algebra-Bernard and Child

Coordinate Geometry-Dr. Gorakh Prasad

Maths-Krechmar

Calculus-J.Edward
JEE Advanced Preparation Books For Physics-
Problems in Physics-A.A. Pinsky

Problems in general Physics-I.E. Irodov

Physics Vol 1 and 2- Tipler

Advanced Physics- Nelkon and Parker

Aptitude Test Problems in Physics-L.A. Sena
JEE Advanced Preparation Books For Chemistry-
ORGANIC CHEMISTRY:
Organic Chemistry-Arihant Prakashan

Organic Chemistry-J.D March

Organic Chemistry-Solomons

Organic Chemistry-IL Finar

Organic Chemistry-Peter Sykes
INORGANIC CHEMISTRY:
Inorganic Chemistry-Arihant Prakashan

Inorganic Chemistry-J.D Lee
PHYSICAL CHEMISTRY:
Physical Chemistry-O.P.Tandon

Physical Chemistry-P.W.Atkins

Numerical Chemistry-R.C. Mukherjee

Physical Chemistry-P.Bahadur

General Chemistry-Ebbings
With practicing on various JEE study resources, including books, e-books, mock tests, online JEE test series, our JEE Advanced Coaching Online equips the JEE Aspirants with accurate & quick problem solving abilities.
Online JEE Courses provided by TestprepKart:
| | |
| --- | --- |
| Class | 11, 12 |
| Duration | 480 hours |
| Syllabus | JEE Main |
| Staffs | Ex-IITians |
| Course mode | Live & interactive |
| Perks | Flexible class timings as per the student's choice |
| Course charge | At the time of Inquiry |
JEE Online Classes are suitable for Class 12 students & also for Class 11th Students who are about to get in class 12th.

Total duration is 480 hours.

Strictly comprises only the contents of the syllabus of JEE Main 2021.

Almost 30+ Ex-IITians tutorials over the lessons are served before the students. Our team of Testprepkart is not a mere headcount of novice teachers but a serious coherent try of Ex-IITians.

Real Live & Interactive mode of online coaching throughout the entire course is available which essentially connects each student with their respective teachers.

This JEE Online CLasses Course, for the convenience of the scholars, comprises of flexible timings so that the scholars must not find the schedule as a troublesome factor.

Small batch strength so as to ease the environment of the class.
REQUEST TRIAL SESSION (Duration: 60 Minutes)
Get Trial Session Download Course Brochure
| | |
| --- | --- |
| Class | 11, 12 |
| Duration | 704 hours |
| Syllabus | JEE Main |
| Staffs | Ex-IITians |
| Course mode | Live & interactive |
| Perks | Flexible class timings with flexible batch size |
| Course charge | At the time of Inquiry |
JEE Online Classes are suitable for Class 11 students & also for Grade 12th students who have decided to drop a year for JEE Preparation.

Total duration is 704 hours

Strictly follows the syllabus of the JEE Main 2021.

The best available tutors right from the IIT backgrounds are ready 24*7 to build the structure of every aspirant like that of a topper

Real Live & interactive mode of coaching

Flexible timings for the students after their school timings

Flexible batch size
| | |
| --- | --- |
| Class | 12 |
| Duration | Fixed timings |
| Syllabus | JEE exam |
| Staffs | All Ex-IITians |
| Course mode | Live & Interactive |
| Perks | One course with coverage of both the parts of JEE Main & Advance |
| Course charge | On request |
JEE online classes are suitable for Class 12 students

Fixed timings

Strictly follows the syllabus of JEE Main 2021.

Testprepkart is an assembly of all IITians who efficiently serve the JEE aspirants and boosts up their confidence

This course entirely covers up the essential issues included in the JEE 2021 Syllabus and helps the aspirants accordingly in gaining clarity on their weaker sections.

This course contains an impeccable collection of online JEE practice papers.

Strong evaluation method with a superb rational feedback of the performances by the expert JEE Online Tutors that eventually enhances the confidence within you.

Detailed special classes only for the purpose of clearing the doubts and boosting up of the weak sections

Course charges will be stated at the time of inquiry
REQUEST TRIAL SESSION (Duration: 60 Minutes)
Get Trial Session Download Course Brochure
For mock test practice on JEE 2021 & 2021 Syllabus, check out our 'JEE Online Test Series'. With wise selection of questions from Past year papers & even more questions formed by IITians JEE Tutors at Testprepkart, your JEE Main & Advanced Preparation will be way ahead than others.
Keeping in mind about the difficulties that the JEE Aspirants face in each of the subjects (comprising of JEE Physics Maths & Chemistry), we ensure your JEE Online Mock Test or Test Series follow the weightage of each topic/chapters, topics that are more scoring & the exact exam pattern of JEE. This replicates the exact pattern as that of JEE Main & helps the students race against time in the most efficient way possible to attempt & solve more questions (especially the top scoring ones).
Following are some highlights for JEE Online Test Series:
Across Physics Chemistry & Maths, this series is divided into 30 Online Tests. These are both chapterwise & combined too.

Syllabus & exam date for each Online JEE Test Series is predecided & informed in advance to the students. Depending on the availability of the student, tests can be requested to be rescheduled.

Each of these test series are of 3 hours duration & the type of questions are Multiple Choice Questions (MCQs).

Regular assessment is done after the result of each test is released. From time to time, Doubt Clearing Sessions & Parents Teachers Meeting is also conducted online (live & interactive). Hence the students get a one-to-one JEE mentoring and guidance session with a faculty member to discuss the progress against plan and then plan for the current or next year with rigid expectations in mind.

By the end of the academic session, a few final Tests are taken which covers the entire syllabus for JEE, its Exam Pattern & Topics' Weightage.

Online JEE Test Series help identify a student's weaknesses and strengths as well as benchmarks his/her performance with peers from across India and other countries.
With repetitive JEE Mock tests, students can improve on their weak areas & in the end perform better with all that practice. JEE Online Test Series & Mock Test hence prepares the JEE Aspirants remove the fear and anxiety of JEE Exams from the mind of JEE Aspirants, especially the students preparing from abroad, as lesser number of chapter will ease them into the test taking mode while preparing them for bigger challenges ahead. Whether you are a JEE Aspirant residing in India or a foreign candidate or an NRI Student residing abroad, keeping your efforts on the extra has always been beneficial.
Alternative Engg Entrance Exams in India apart from JEE:
You don't only need to Crack JEE if you want to pursue Engineering. Especially the foreign candidates & NRI Students residing abroad face confusion in this area of topic. Here is some proper guidance for you. There are several other Engineering Entrance Exams that can land you in reputed Engineering Colleges of India.
Have a look at the most popular entrance exams details to get admission in different Engineering colleges and courses.
SAT - SAT stands for Scholastic Aptitude Test. It was first initiated in the year 1926 and undergoes regular amendments and changes till date.
The SAT test is carried out seven times each year in the month of October, November, December, January, March or April, May and June at the international level. SAT is a Paper-based standardized test. SAT Test is designed for examining your writing, critical reading and mathematical knowledge.
The Paper is designed for time duration of 3 to 4 hours. The Scoring system is based on a scale of 200 – 800 (in 10- points increments) on each of the substituent sections (total of 400- 1600). However, the essay is scored on a scale of 0 -24, in 1- point increment order.
BITSAT - Birla Institute of Technology & Science, BITS Pilani offers various Integrated First Degree Programmes across its four campuses in Pilani, Dubai, Goa and Hyderabad.
BITS Pilani conducts Birla Institute of Technology and Science Admission Test (BITSAT) every year for admissions to its UG engineering programmes. Nearly 2,000 seats are available under such programs.
VITEEE - For admissions into Vellore Institute of Technology, Vellore (Tamil Nadu, India).
KVPY - Kishore Vaigyanik Protsahan Yojana or better known as KVPY is a scholarship program that started in 1999 by the Department of Science and Technology (DST) of the Government of India. This program is run by Indian Institute of Science (IISc) and aims to encourage the students studying science to take up research in the areas of basic science as a career option. The program is for those students who are highly motivated and talented students who want to pursue their career in science research areas.
NTSE - The National Talent Search Examination are for those candidates who are studying at Grade 10th level. NTSE mainly consists of tests like Mental Ability Test (MAT) and Scholastic Aptitude Test (SAT). The format of the question paper in the MAT and SAT are in the form of multiple choices. Every question has four alternatives. NTSE is a national level scholarship exam under NTS scheme in Indian since 1963. This scheme was introduced as National Science Talent Search Scheme. The scheme aims at awarding scholarship for higher studies and nurturing talented students.
Other State - Level Engineering Examinations:
Engineering examination in India can be categorized in two categories, one is National level engineering examination and State level engineering examinations which are organized by the respective states.
List of all other engineering examinations are listed here – State level Engineering Exams
Most Engineering Colleges In India Require JEE Scores/ Rank:
Most Engineering Colleges of India want you to submit JEE Ranks (or even SAT 2 Scores) to examine your competencies in the Physics, Chemistry & Maths. The JEE Rank acts as an indicator for you to demonstrate your abilities. Till session 2021-21, NITs, CFIs, IIITs & SPAs will be admitting NRI / PIO / OCI Students on the basis of SAT 2 Scores under the DASA / CIWG Schemes. And from session 2021-22 onwards, JEE is mandatory under the DASA / CIWG Schemes.
TestprepKart JEE Students Reviews:
At TestprepKart, we feel satisfied having worked closely with students and parents toward achieving a common objective of great JEE Rank and selection in prestegious Engineering Institutes such as IITs, NITs, IIITs, CFIs & SPAs . Here is what our students speaks about JEE Coaching / JEE Online Classes at TestprepKart.
JEE Online Coaching. Why TestprepKart?
If you need a reason to enroll with TestprepKart, the list goes on and the list never ends. Here are the pinnacle of TestprepKart:
Highly Qualified Faculties:
Teachers play the most important role in the student's learning and progress. And there is no substitute for a qualified and experienced teacher. Thus, TestprepKart brings for their students a panel of the most qualified and highly experienced group of faculty members.

Our JEE Online Classes faculty members specialize in their subjects where they are undisputed experts- Physics, Chemistry & Mathematics and are assisted by other experts as well when it comes to preparing the JEE course material as well as Tests, Assignments and Practice problems.

Most of our JEE faculty members are alumni of IITs/BITS Pilani and other top-ranked Engineering institutes with the best grasp on the JEE preparation strategies and techniques.

Our JEE Online Tutors, for the live classes, are selected through a rigorous recruitment process that considers their subject knowledge, conceptual understanding and their style of teaching, which should make it easy for students to understand and apply the concepts.

The JEE faculty panel will be enlarged according to demands and TestprepKart takes proper care that they are trained in the technical aspects of Live classes as well so as to make optimum use of the students' time through their teaching, timely tests as well as course material sharing.

All JEE teachers try to remain updated with any changes in the exam pattern of JEE Main & JEE Advanced and TestprepKart takes care to keep them abreast with any new developments or any new topic knowledge required.
Book your JEE Main Coaching Online free demo now.
One-to-One JEE Mentoring Sessions:
The students would often need JEE online guidance regarding their preparation based on the assessment in the tests as well as class participation.

The faculty members would take JEE Online Coaching sessions of half-an-hour every quarter for each student.

One student will have one JEE faculty member as a mentor and the mentor would be responsible for his smooth progress in the online JEE classes as well as helping him/her cope with stress and anxiety.

The JEE Online Coaching sessions would focus less on academics and more on general preparation strategies, tactics and individual progress and on what subjects to focus more.

The mentoring session can involve parents as well, if they want to, so that they get a genuine feedback of their ward's progress and know of the future plans for his/her score improvements.

The goal of JEE Online Preparation would be to make a student ready for his goals ahead and focus on his/her subjects without getting left behind in the competitive scenario.
Why Foreign/NRI Students must opt for Online JEE Coaching?
Often a lopsided strategy for the preparation of rigorous JEE exam can only give an ill result no matter how far you stretch your caliber. Thus, in the contemporary tight competition existing behind the mechanism of getting the admission in your dream institution truly requires a kickass planning. Through online mode of preparation, an NRI aspirant can positively grab much more than an offline session. There are no other mandatory lines remaining for the students who are basically residing far from India.
JEE Coaching Online actually saves students from killing precious time & investment which they would require to traveling from one pole of the equator to the other. Interestingly, with the privilege of saving time, Online JEE coaching also allows the NRI aspirants to fix their suitable timings for each subject. The perks of choosing Online Coaching over offline doesn't end here. But actually consists of a huge list of its unmatched indispensability.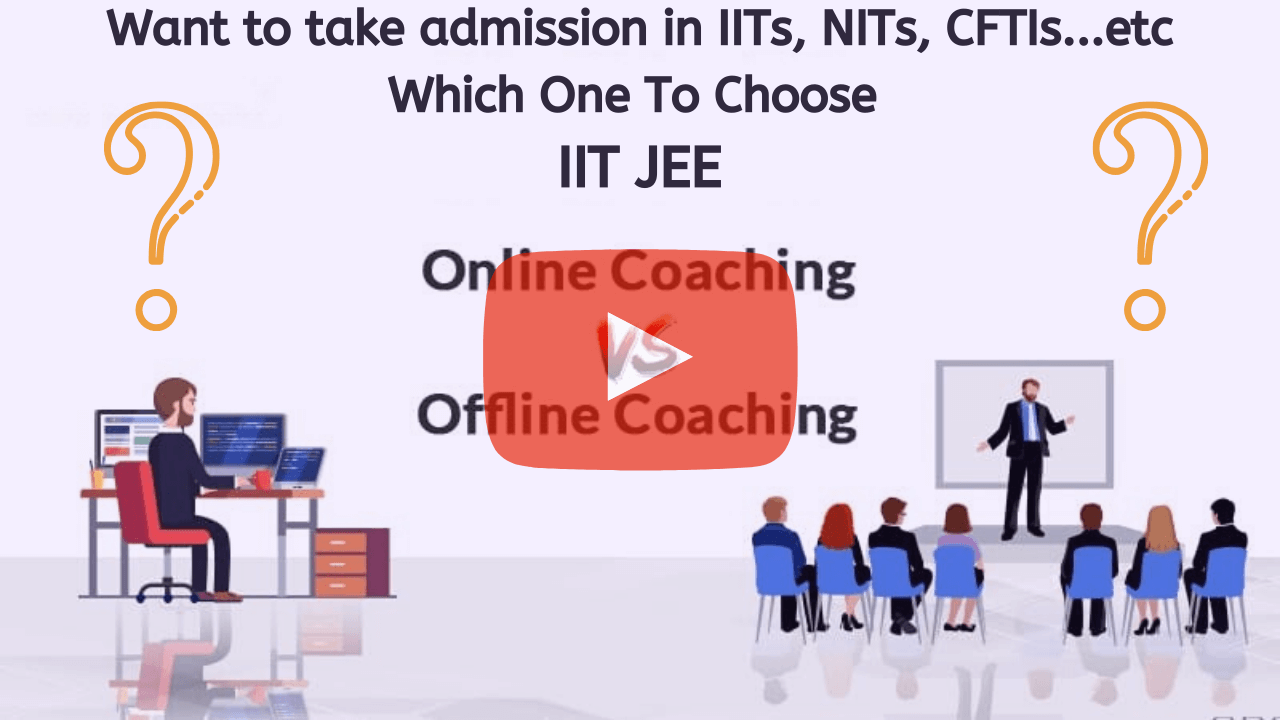 Visit Testprekart's Youtube Channel for JEE Coaching Online free.
Useful JEE Main Links You Should Not Miss:
JEE Details You Should Not Miss:
JEE Coaching Centers:
JEE Main & Advance Preparation Resources:
How to register for JEE Online Preparation Courses:
Fill up the form above on the right-hand side. On receiving your information, you will be called up by the JEE counselor for course explanation. After filing up enrolment form link and fee submission your classes will start.

You can directly call us on +91 8800 1234 92 or write to us at info@testprepkart.com