by July,13,2020
0 comments
284 Views
NTA or National testing agency released application correction guidelines for candidates appearing for JEE Main 2020 and NDA/ NA 2020 exams.
Candidates are required to update "Yes" in their JEE Main application form during the correction period for smooth scheduling of the JEE Main 2020 and NDA/NA 2020 examination.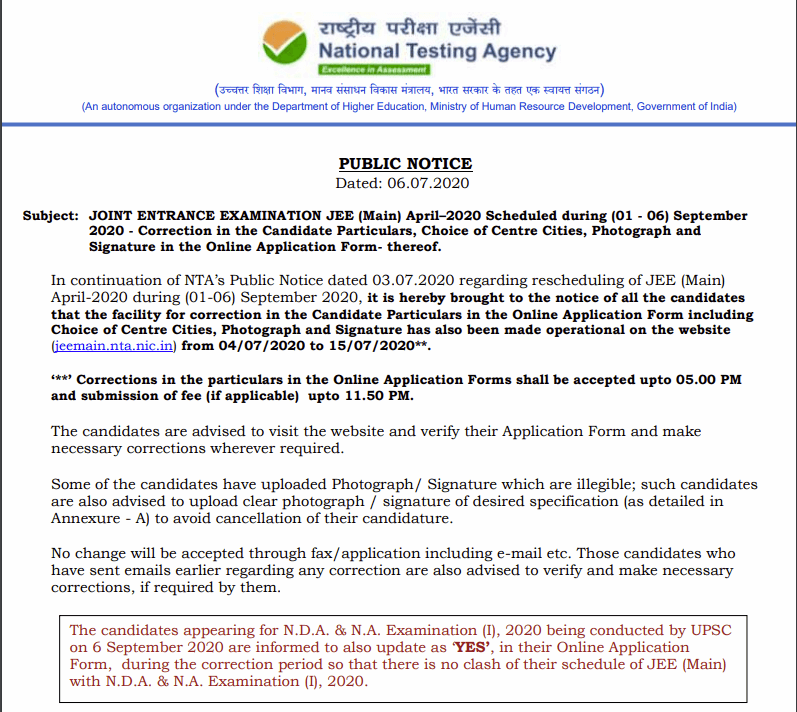 The JEE Main 2020 Application correction facility already started from July 4 and is scheduled till July 15 (5.00 PM). Candidates looking for making any amendments in their already submitted JEE Main applications are advised to do so before the last date.
Candidates can change - candidate particulars along with the choice of exam center, photograph, and signature in their JEE MAIN 2020 application. Candidates willing to make changes in gender or category will have to pay the difference fee through online mode till 11.50 PM on July 15.
Candidates need to keep this in mind that No change is accepted through email/fax, they are required to make corrections through the official website only.
We request candidates thinking of making any changes in their application should do so in the time frame and before the last date. as
NDA and NA examination is scheduled on September 6, 2020. JEE Main 2020 exam is also now scheduled to be held between September 1-6. Updating details about the NDA/NA exam in the JEE Main application form will save the candidates from any last moment discomfort.
TestprepKart offers guidance and a range of resources to help students looking for schools and financial assistance.
Quick Connect: +91 8800 1234 92 / info@testprepkart.com
For specific queries on DASA / CIWG - Please share your query here: DASA / CIWG Queries

Useful JEE Main Links You Should Not Miss:
JEE Coaching Centers :
JEE Main & Advanced Preparation Resources :
How to register for JEE Online Preparation Courses: