JEE Architecture Eligibility
There are many NRI students studying outside India who want to prepare for B.Arch JEE to get admission in prestigious institutes in India.
So here we are answering commonly asked questions of NRI students and their parents regarding the eligibility of JEE Main B.Arch admission process and exam preparation.
Latest B.Arch Syllabus Know More about Exam Mode
JEE Architecture Eligibility Criteria for NRI Students
| | |
| --- | --- |
| Criteria | Specific Details |
| Age Limit | Only that candidate applied who was born after 1 October 1994. |
| Qualification | Candidates must have completed 10+2 or equivalent qualifying exams. |
| Documents | Exam Marksheet, One ID Proof, Scanned Clear Passport Photograph with Signature, Admit Card |
B.Arch have some reserved seats for NRI students under the DASA / CIWG scheme. The number of seats in DASA quota is 15% of the total seats in the college.
To know more about JEE Paper 2 / Barch / NATA Eligibility, Exam Pattern, Available Seats in Architecture Colleges. Check out the full video below 👇👇👇👇: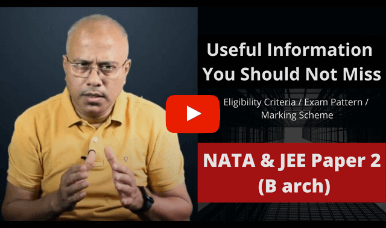 JEE Main Paper 2 qualification measures for admissions to BArch programs has been amended, as according to by a most recent warning by NTA (JEE Main Paper 2 eligibility criteria for admissions to BArch programmes has been revised, according to the latest notification by NTA (National Test Agency), the conducting authority of the exam.
JEE Architecture Eligibility
The notification states that for admissions to the first year of 5 years B.Arch course, aspirants are required to pass 10+2 or equivalent examinations with 50% marks in Physics, Chemistry and Mathematics and also 50% marks in aggregate.
Besides this, diploma holders will not be considered eligible for admissions into BArch programmes through JEE Main. Till 2018, diploma students were allowed admissions to Barch courses through JEE Main.
JEE Architecture Eligibility Under DASA CIWG Quota
Criteria

Specific Details

Academic Eligibility

Candidates must have passed Class 12 with Mathematics, Physics and one amongst the themes from (Chemistry, Biology) from any system of education recognized by the Association of Indian Universities (AIU)

Candidates should have scored a minimum of 60% aggregate marks or 6.50 CGPA (on a ten-point scale)

Candidates should have obtained a minimum total valid score of 180+ in JEE Main

Age Limit

Only that candidate applied who was born after 1 October 1994

Reservation Criteria

15% seats are under the exaggerated standard of DASA out of which 5% effusive seats are held for Children of Indian Workers in Gulf (CIWG).

Competitors who will get a confirmation in NITs and IIEST Shibpur under CIWG classification will pay the education cost of Rs 1,25,000 for every annum either in INR or identical USD.

JEE Scores

Candidate must have to get a minimum score of 180+ in JEE Main

Candidates should sent their JEE Main score through NTA account

CIWG Countries

These are all countries which are under the CIWG United Arab Emirates

Saudi Arabia

Bahrain

Qatar

Iraq

Iran

Kuwait

Oman

CIWG Documents

Parent's Passport Copy

Parent's Visa

Parent's Work Permit

Any kind of proof of that company where your parents work in Gulf Countries.

Other than this, certificate holders won't be viewed as qualified for entrance into BArch programs through JEE Main. Till 2018, recognition students were permitted admissions to BArch courses through JEE Main.
SPA Admission

for JEE Architecture 2021
Undergraduate courses offered at the School of Planning and Architecture are Bachelor of Architecture and Bachelor of Planning with a sum of 141 vacant seats.
SPA offers Post Graduation courses in Master of Planning, Master of Architecture, Master of Building Engineering and Management and Master of Landscape Architecture.
SPA Admission Procedure & Eligibility
The organization additionally offers to examine work prompting a PhD degree under different divisions. Non-Architects having appeared for CEED exam and awaiting results are additionally qualified to apply for Master's projects.
The CEED Qualification certificate is basic when called for an interview. The choice to PG courses will be based on qualifying degree and resulting rounds of testing conducted by SPA
Applicants applying for PhD are required to have finished their Master's qualification in the relevant field of study with at least 55% marks.
Know more about B.Arch and B.Plan JEE Main 2021 result will be announced as per the schedule above at jeemain.nta.nic.in
"No aspirants will be admitted to architecture course except if she/he has passed through an assessment toward the finish of the 10+2 scheme of assessment with half marks in Physics, Chemistry and Mathematics and also 50% checks in total of the 10+2 assessment", the notification states.
JEE Main Paper 2 is a portal for admissions to undergraduate B.Arch and B.Planning courses offered by NITs and CFTIs. The test is spread across three areas - Mathematics, Aptitude, and Drawing and will be three hours long.
The initial two segments of the test are held in online mode while the Drawing section will be conducted offline. Take a look at JEE Main test example and JEE Main prospectus on Testprepkart.
Get Trial Session Download Course Brochure
FAQ JEE Architecture Eligibility :
Answer 1:No, JEE and NATA both are different exams, there is no relation between these two. Basically, JEE is conducted for those students who wants to get admission in the IITs and NITs for Engineering programs. NATA is conducted for the students who wants to make their career in architecture field.
Answer2 : Yes, you can still pursue B.Arch without a NATA exam basis you have JEE Mains score of more than 87. To become a fully certified architect, it is a must that you give the NATA exam.Check NATA 2020 for full details.
Answer 3 : The cutoff for B. Arch courses is about 50% of the total marks. Above 70% and you can get a seat in one of the finest institutions in India offering B. Arch
Answer 4 : NIT Trichy is the best in NITs for architecture. NIT Trichy is the best in NITs for architecture. NIT Trichy is the best in NITs for architecture. NIT, Trichy is the best for architecture
Answer 5 :Candidate shall be admitted to architecture course only if she/ he has passed an examination at the end of the 10+2 scheme of examination with at least 50% aggregate marks in Physics, Chemistry & Mathematics and also at least 50% marks in aggregate of the 10+2 level examination.
TestprepKart offers guidance and a range of resources to help students looking for schools and financial assistance.
Quick Connect: +91 8800 1234 92 / info@testprepkart.com
For specific queries on DASA / CIWG - Please share your query here: DASA / CIWG Queries

Useful JEE Main Links You Should Not Miss:
JEE Details You Should Not Miss:
JEE Coaching Centers:
JEE Main & Advanced Preparation Resources:
How to register for JEE Online Preparation Courses: