by May,13,2020
11 comments
23 Views
11th class students planning to take admission into IITs, NITs, CFTIs...SPAs..etc. this is the right time to choose JEE 2 year coaching programme, It can helo you to crack IIT JEE in first attempt.
It took us some time to come up with this course because we wanted to make sure our students got the best. That's why we've put the best of our industry expertise into formulating this online classroom program for aspirants to one of the country's toughest exams.
JEE 2 Year Coaching
This JEE 2 year course module will cover the entire 11th class and 12th class syllabus (topic-wise) for Physics, Chemistry and Mathematics that helps NRI students score good marks in Engineering Entrance Exams and as well as in 11th class & 12th class.
| | |
| --- | --- |
| JEE Course Duration: | 480 Hours coaching classes for all subjects including Math + Physics + Chemistry |
| JEE Course Study Material: | Printed hard copy of study material for all subjects including theory and practice problems + Online study material |
| Test Series: | Formulated Test Series specifically for Engineering along with detailed solutions & doubt removal classes. |
| Doubt Removal Classes: | Scheduled doubt removal classes to get you going and get help from teachers for all your doubts. |
| Course Objective: | Focus on key areas of the paper from a problem-solving point of view. Major stress is given on solving as many questions as possible. |
REQUEST TRIAL SESSION (Duration: 60 Minutes)
Get Trial Session Download Course Brochure
Middle East batches for JEE 2 year coaching in Saudi Arabia, UAE, Oman, Qatar, Kuwait & Bahrain.
| | | |
| --- | --- | --- |
| Month | Class 12th Batch | Class 11th Batch |
| April | 14th April / 23rd April | 8th April / 20th April |
| May | 3rd May /18th May | 9th May / 22nd May |
| June | 1st June / 15th June | 7th June / 21st June |
| July | 6th July / 22nd July | 3rd July / 18th July |
| August | 1st Aug. / 15th Aug. | 7th Aug. / 21st Aug. |
| September | 9th Sept. / 21st Sept. | 6th Sep. /19th Sep. |
| October | 1st Oct. / 12th Oct. | 5th Oct. / 16th Oct. |
| November To January | Request Timings | Request Timings |
Class Timings: 6:00 PM Local Time onwards
2 Year JEE Course Features and Benefits:
Online Live Classes : 480 hours live and 2-way interactive classes from India 's best online JEE faculty where students can communicate with each other via voice or chat, discussing as many doubts as possible.
These are like regular coaching classes, the only difference being that you get experienced IIT-qualified teachers at home to train you well for JEE.
Recordings of Classes : All the live classes that students take with TestprepKartare recorded for future reference so that students will be able to see them in the future at any time and revisit it better. If for some reason the student misses a class.
It will also be recorded and he/she can repeat the same class at any time later.
Doubt Removal Sessions : Doubt removal sessions is a continuous process with TestprepKart, because we want to effectively prepare every student.
The teacher should give students complete authority in every lesson, so they can ask all their concerns and questions.
Personal Attention and Focus On Every Student : Despite of the smallest batch size of just 20 students, TestprepKart pays full attention to every student by online live classes.
The experts would evaluate every class and every test. If the student is not performing according to the required standard, students and parents will be informed.
Global Benchmarking : TestprepKart offers competition and analysis internationally through its online platform.
Students will be from every corner of India and abroad (students of the NRI), and on the same platform will test them.
Students can gain a greater understanding of the level of competition and success so they can work more in the poorer areas.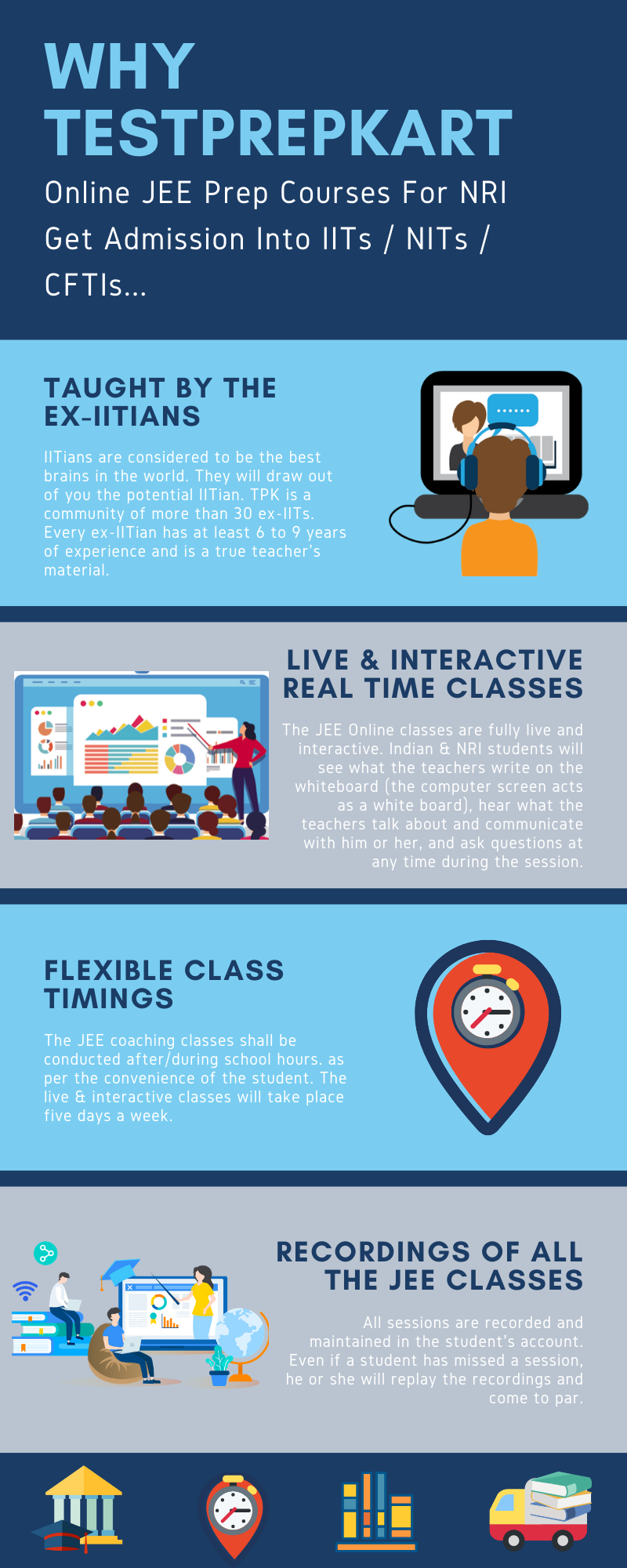 2 Year JEE Online Coaching Classes (FAQ)
Answer: NRI students can login to JEE online classroom through his/ her student's account, provided after enrolment of 2 year JEE online classes admission. Our operation team will also send the class link to the student's email-id.
Answer:The JEE online classes will be 120 minutes (2 hours) per day and 3-4 days in a week for 11th and 12th grade students, 120 minutes (2 hours) per day and 3-4 days in a week for grade 9-10 students. The timings of the classes will be suitable as per students requirements.
Answer:NRI student can ask doubts through a microphone or live chat option on whiteboard screen during the JEE online class.
Answer: With TestprepKart JEE online coaching, an Indian & NRI student can study from IIT qualified teachers at the comfort of own home. TestprepcKrt educational team has many years of experience in preparing students for JEE in online mode, not just in terms of education but also in handling mental pressure of NRI students. The study material, assignments, Online Test Series and practice tests are all designed by IITians faculty, keeping in mind the latest changes in JEE Main and JEE Advanced exam pattern.
Answer: Parents & guardians can directly interact with teachers through online PTMs (conducted quarterly). Patents can discuss a student's performance with the educational team after every test.
Answer: Yes, TestprepKart provide exclusive hard copy study material including online test series, which will be sent to student's postal address anywehre in the world after the enrollment.
Answer: Yes, our JEE online coaching will also cover school board preparation of Maths, Chemistry & Physics. Students' concepts will be so clear that they can easily answer subjective & long questions asked in the board exams.
TestprepKart offers guidance and a range of resources to help students looking for schools and financial assistance.
Quick Connect: +91 8800 1234 92 / info@testprepkart.com
For specific queries on DASA / CIWG - Please share your query here: DASA / CIWG Queries

Useful JEE Main Links You Should Not Miss:
JEE Details You Should Not Miss:
JEE Coaching Centers:
JEE Main & Advance Preparation Resources:
How to register for JEE Online Preparation Courses: