JEE Architecture exam dates 2021
JEE Architecture exam is conducted twice a year, i.e. Jan-2021 & April-2021. Those candidates who want to apply for JEE Architecture exam need to fill their application form.
All the official dates and any important information are provided by the authorities, but still, we are giving tentative dates for JEE Architecture Exams 2021-:
| | | |
| --- | --- | --- |
| Important Events | JEE Architecture Exam 2021 (January Session) | JEE Architecture Exam 2021 (April Session) |
| Mode of Examination | Computer-Based Examination | Computer-Based Examination |
| Commencement of the JEE Architecture Exam 2021 | 2nd or 3rd week of Jan 2021 | 2nd or 3rd week of April 2021 |
JEE Architecture coaching classes and NATA coaching classes can help you to study in a systamatic manner, and also it's helpful to get a good score in architetcure exam
JEE Architecture syllabus Download Course Brochure
To know more about JEE Paper 2 / Barch / NATA Eligibility, Exam Pattern, Available Seats in Architecture Colleges. Check out the full video below 👇👇👇👇: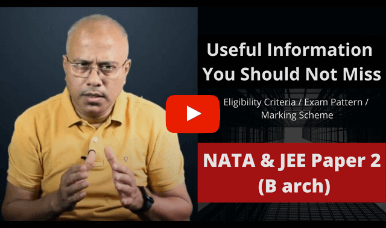 JEE Main Architecture exam dates 2021 Result Date
Results for all the JEE Exam 2021 are released separately. To check the result candidates need to enter essential details like Application Number and D.O.B to check their results.
| | | |
| --- | --- | --- |
| Events | JEE Architecture Exam 2021 held in January | JEE Architecture Exam 2021 to be held in April |
| Declaration of JEE Architecture 2021 Result (Paper 1) | 17th January 2021 | Exams yet to held |
| Declaration of JEE Architecture 2021 Result (Paper 2) | 23rd January 2021 | Exams Yet to held |
JEE Main Paper 2 New Pattern (B.Arch & B.Planning Separate Exam Papers)
Before preparing for the JEE Main examination, the candidate must know about the exact pattern. JEE has done some modifications for B.Arch and B.Planning exams. Earlier there was Paper 2 for both these streams, but now they have introduced Paper 3 separately for B.Planning. Details are as followed -:
Important Points for all Papers 1,2 & 3 for JEE Main Exam 2021

Name of the Event

JEE Main 2021 – B.E./B. Tech Paper 1

JEE Main 2021 – B. Arch Paper 2

JEE Main 2021 – B. Planning Paper 3

Examination Mode

Computer Based Test

Aptitude and Mathematics CBT Mode

Computer Based Test

Drawing Exam- Paper and Pen mode

Exam Duration

Max. 3 hours

Max. 3 hours

Max. 3 hours

Subjects taken into consideration

Chemistry, Mathematics and Physics

Mathematics Drawing Test and Aptitude Test,

Aptitude Test, Mathematics and Objective Type questions based on Planning

Number of questions asked

Total 75 questions (25 questions from every subject)

Total 77 questions (Aptitude- 50; Mathematics- 25; and Drawing- 2)

Total 100 questions (Aptitude- 50; Mathematics- 25; and Planning Based-25)
Know more about JEE Architecture paper pattern here
JEE Main 2021 Paper 2 Eligibility Criteria for B.Arch
To qualify for JEE Main 2021, Paper 2 or JEE Architecture authorities have set some basic eligibility criteria which need to be followed. The eligibility criteria are as followed -:
| | |
| --- | --- |
| S.No. | Basic Eligibility Needs to be fulfilled |
| 1 | Candidate should have Physics Mathematics and Chemistry as compulsory subjects in 10+2. |
| 2 | Candidates who are going to appear should born after 1st October 1993 to be eligible for filling JEE Main for B.Arch. |
| 3 | The student should secure a minimum 75% in class 10+2 examination and minimum 50% marks in Physics, Mathematics and Chemistry. |
| 4 | To be eligible candidate can give JEE Main B.Arch examination for three years consecutively. |
Know more in depth about JEE Architecture Eligibility Criteria here.
JEE Main 2021 Paper 2 Application Form
In the following table, we will be going to provide you with essential information related to the application form for JEE Main Paper 2
Important Events

Details

Application dates for JEE Main Paper 2

3rd September to 10th October 2019 ( for Jan 2021 Session )

7th February to 12th March 2021 ( for April 2021 Session )

Mode of the Application

Online

Mode of Paying Fees

Credit card/ Net banking/ UPI/ debit card

Details required for filling JEE Main Paper 2

Personal Information, Complete Contact details and a new password

Documents Need to be uploaded at the time of registration

Scanned Signature, Photograph, and class 12 mark sheet in prescribed format and size.

Application Fees for JEE Main 2021 Paper 2

Paper-II

Male Candidates (General or OBC) - Rs. 650

Female Candidates (General or OBC) - Rs. 325

NRI Candidates for SAARC countries - USD 75

Candidates from Non- SAARC countries – USD 150

Taking both Exams

Male Candidates (General or OBC) - Rs. 1300

Female Candidates (General or OBC) - Rs. 650

NRI Candidates for SAARC countries - USD 150

Candidates from Non- SAARC countries – USD 300
JEE Main 2021 Paper 2 Syllabus (Architecture Entrance Exam)
For preparing JEE Main Architecture Exam syllabus is quite essential. So here we come up with complete details-:
Mathematics: Relations and Functions, Mathematical Reasoning, Quadratic Equations, Three Dimensional Geometry, Co-ordinate Geometry, Permutations and Combinations, Differential Equation, Continuity and Differentiability, Integral Calculus, Vector Algebra, Limits, Sequences and Series, Applications of Binomial Theorem, Trigonometry, Mathematical Induction, Matrices and Determinants, Probability, Complex Numbers, Sets, and Statistics.
Aptitude test: Awareness related to places, buildings and materials persons, Visualizing different sides of 3D objects, Mental Ability (Visual, Numerical and Verbal), Visualizing 3D objects from 2D drawings, Analytical Reasoning, Texture and objects which are related to Architecture and building environment, Three-dimensional concept – perception and appreciation of scale and proportion of objects, building forms and elements, colour texture, contrast and harmony.
Drawing test: Transformation of forms both 2 D and 3 D union, Drawing and designing of geometrical or abstract shapes and patterns in pencil, Generation of Plan, Development of surfaces and volumes, Creating 2D and 3D compositions by utilizing provided shapes and forms, Elevations and 3 D views of objects Rotation, Sketching of activities from memory of urban scenes (festivals, public space, street scenes, market, recreational spaces monuments, etc.), landscape (trees, gardens, jungles, riverfronts, plants etc.) and rural life.
Get detailed info about JEE Architecture syllabus here
JEE Main Paper 2 Exam Pattern for B.Arch Courses
In the upcoming table, we will be providing you complete details about exam pattern for B.Arch course -:
Important Events

Detailed Information

Mode of the Exam

Both Mathematics and Aptitude subject will be organized in CBT and Drawing Test will be organized in paper and pen mode.

Duration of the Exam

· Max 3 hours

· A physically challenged person will be given 4 hours for completion of the exam.

Important Subjects

General Aptitude, Drawing skills and Mathematics

Number of questions from each subject

· Math's section will consist of 20 MCQ questions and total five numerical questions;

· Whereas the Aptitude section will be consisting of 50 MCQs

· Drawing section will be consisting of 2 questions in which you have to draw and show your sketching skills.

Marking Criteria

· Each MCQ carries 4 Marks, and for every correct answer, it is awarded. And for every wrong answer, there will be a deduction of 1mark.

· Answers which will be having they will also be of 4 marks, but there will be no negative marks for these incorrect questions.

· In the Drawing section, both questions will be evaluated from the 100 marks.

Marks

400 marks maximum

Paper medium

Hindi or English (Students from cities like Daman & Diu, Gujarat, and Dadra and Nagar Haveli can choose the Gujarati language also.)
JEE Main 2021 Paper 2 Guidelines: Bachelor of Architecture
Here we are providing some vital information related to JEE Main Paper 2 guidelines -:
Students should take the JEE Main Paper 2 Admit Card and must carry valid photo ID proof (Driving License, PAN Card, Passport, Voter ID, Ration Card, Aadhaar Card with Photograph)within the examination hall.
To check the exact location for your examination centre, you should visit the examination one day before and should report to the examination hall 30minutes before the beginning of the examination.
Seats in the examination will be given as per their Roll Number. You must sit on your allocated seats, and if it was founded, that candidate is not seated in its desired seat, then examination might be cancelled.
Candidate should carry their stationeries and geometry box.
Candidate must carry a copy of the required documents which are required on the day of your JEE Main exam, and you need to present when it is required in the examination centre.
Candidate must write their Roll No. on the documents which are required to be submitted.
If a required candidate should carry PWD certificate which is issued by a proficient authority
FAQ JEE Architecture:
Answer 1:No, it is not compulsory to appear for the JEE Main paper 2 if you are not interested in BArch course
Answer2 : No, it is not but for colleges under JEE Main and JEE Advance i.e. IITs & NITs accepts JEE score. The National Aptitude Test in Architecture (NATA) conducted by Council of Architecture is mandatory for admission to first year BArch.
Answer 3 :Here we must understand that JEE Main Paper 1 is for Engineering degree course while the Paper 2 is for Architecture programme. So, if a candidate want to take admission into any of the colleges through Joint Seat Allocation Authority (JoSAA) for the Architecture course, he/she is required to appear for the either of the exams and also if someone wants to appear for both the exams, they can do so.
Answer 4 : If a candidate wants to take admissions to the 5 years undergraduate BArch or BPlanning courses at the NIT's and the centrally funded institutes then you are required to appear JEE Main Paper 2.
Answer 5 :'Generally' there are no placements in BArch, but that does not mean that architects are jobless. They have plenty of options to earn as assistant architect in reputed firms to start their work or they can open their own firm in any city.
Answer 6: You should also have 50% minimum in your 12th std. And 50% marks in maths then and then only you are eligible to take admission in Architecture colleges. Another important examination is NATA you should score minimum 60% to be eligible for taking admissions in Architecture.
TestprepKart offers guidance and a range of resources to help students looking for schools and financial assistance.
Quick Connect: +91 8800 1234 92 / info@testprepkart.com
For specific queries on DASA / CIWG - Please share your query here: DASA / CIWG Queries

Useful JEE Main Links You Should Not Miss:
JEE Details You Should Not Miss:
JEE Coaching Centers:
JEE Main & Advance Preparation Resources:
How to register for JEE Online Preparation Courses: