JEE For B.Arch
NRI students who are having dreams which need to be fulfilled, it's high time to study and clear your JEE exams. And to get admission to the top-notch School of Planning and Architecture (SPA) in India needs to get clear JEE Exam Paper-2 for B.Arch.
The architecture sector has now become an indispensable part of the various development activities throughout the world. But before starting preparation, NRI students must have complete knowledge about the process, requirement, and eligibility for taking admission to top-notch B.Arch colleges of India.
JEE Architecture Syllabus Download Course Brochure
Bachelor of Architecture Highlights
Here we will be going to provide you complete details related to B.Arch course
| | |
| --- | --- |
| Level of the Course | Under-graduate |
| Total Duration of the Course | Five years |
| Examination System | Semester type |
| Eligibility | Must clear the JEE mains Cut OFF marks |
| Fees of the entire Course | INR 3-6 Lakhs (Approx) |
| Job Profiles available after completion of course | Architecture Designer, Interior Designer |
To know more about JEE Paper 2 / Barch / NATA Eligibility, Exam Pattern, Available Seats in Architecture Colleges. Check out the full video below 👇👇👇👇: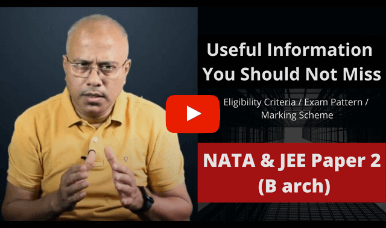 Top B.Arch Colleges Through JEE
We have listed some top-notch B.Arch colleges in India which accepts the JEE main scores-:
1. School of Planning & Architecture, New Delhi
2. Indian Institute of Technology, Mumbai
3. Thapar Institute of Engineering and Technology, Patiala
4. National Institute of Technology or NITs
5. Punjab Engineering College, Chandigarh
6. Indian Institute of Technology Jodhpur
7. Institute of Engineering and Technology, Lucknow
JEE Main Paper 2 Cut-off in Barch Colleges (NITs / CFTIs / SPAs)
All NITs/ CFTIs/ SPAs and IITs which are providing Architecture courses accept JEE scores. And the JEE main paper 2 cut-off lies between the opening and closing rank of the students who are going to take admission in a reputable institute.
If you are looking to take admission in the top-notch college, then you require being within ALL INDIA RANK of 500, and up to 3000, you will get admission in a good college.
B.Arch Eligibility for NRIs
JEE has set some eligibility criteria for the NRI students which needs to be followed to get admission in B.Arch colleges
Basic Eligibility:
Registration fees for NRI students

Students from SAARC countries -: USD 75

Students from Non-SAARC countries -: USD 150
Should have scored a minimum 75% marks in Class XII Board Exams.
Essential Documents which are during registration
Birth Age Proof

NRI student proof

Valid Passport and Citizenship certificate
Other top Entrance Exams apart from JEE
JEE For IIIT Download Course Brochure
To attract more NRI students, various other exams are conducted and eligible to take admission to top-notch architecture colleges.
Some of them are listed below -:
National Aptitude Test in Architecture (NATA) -: This is the exam which is usually conducted for taking admission in architecture courses. This test is conducted by Council of Architecture (CoA) and conducted twice a year in April and July.
Graduate Aptitude Test in Engineering (GATE) -: This is another entrance exam which is equivalent to JEE, and it is conducted by IIT Delhi so that NRI students can take admission in various architecture courses.
FAQ JEE For Architecture (B.Arch):
Answer 1:Arch program of architectural institutes. Council of Architecture, conducting body for NATA will not hold any common counselling process. Candidates who want to get admission in B. Arch courses have to apply separately offered based on NATA
Answer2 : The cutoff for B. Arch courses is about 50% of the total marks. Above 70% and you can get a seat in one of the finest institutions in India offering B. Arch..
Answer 3 : JEE Advanced Qualified Students who are aspiring for Admission to Architecture Programs in IITs are hereby informed that Candidates desirous of joining the B. Arch. ... No separate Architecture Aptitude Test admit card will be issued to them. They have to bring the JEE (Advanced) original admitcard to the Examination Hall.
Answer 4 : YES. All Architecture colleges take your 12th marks into consideration but the weightage varies. Some colleges have a 50-50 weightage system whereas all Architecture colleges in Mumbai have a 60-40 ratio system where 60 is your NATA score and 40 is your 12th Board Marks. Yes.
Answer 5 :IIT Kharagpur IIT Kharagpur is a top IIT for Architecture Engineering.
Answer 6:Arch/ B. Planning course and there are 331 seats. These institutes offer admission based on Central Seat Allocation Board (CSAB)
TestprepKart offers guidance and a range of resources to help students looking for schools and financial assistance.
Quick Connect: +91 8800 1234 92 / info@testprepkart.com
For specific queries on DASA / CIWG - Please share your query here: DASA / CIWG Queries

Useful JEE Main Links You Should Not Miss:
JEE Details You Should Not Miss:
JEE Coaching Centers:
JEE Main & Advance Preparation Resources:
How to register for JEE Online Preparation Courses: