by April,25,2020
0 comments
50 Views
JEE Coaching Classes For Class 12th
Nothing is too late, if you start JEE Prep in class 12th, It would be a good move scoring good marks in JEE Main. To score a good score in the JEE exam in your preparation from 12th class itself is a very good step,
When you initially work hard and sincerely on it, there is no question that you will pass JEE with flying colors. You are supposed to have a strong base and a good understanding of the basics, so now is a perfect time.
Quick Connect: +91 8800 1234 92 / info@testprepkart.com
JEE Online Courses Available For Class 12th
Testprepkart offers you the best JEE courses designed by a team of 12th class experts, Indian & NRI students who want to take admission in IITs, NITs, CFTIs, SPAs etc.
Select your ideal JEE Online Course. For any clarification, please speak with us on +91 8800 1234 92 or write to us at info@testprepkart.com
| | | | |
| --- | --- | --- | --- |
| JEE Prep Courses For 12th Class Indian & NRI Students | JEE Prep Course Duration | JEE Prep Course Level | JEE Prep Course Details |
| JEE Preparation Online Course | 1 Year | 12th & 12th Passed | |
| JEE Online Classes for Class 12th | 1 Year | 12th & 12th Passed | |
JEE Online Course For 12th Class
| | |
| --- | --- |
| JEE 1 Year Prep Course: | JEE 1 Year Course Description: |
| Total No. of Course Hrs.: | 628 Hours |
| Course Focus On: | JEE + SAT + BITSAT + CBSE (PCM) - Grade 12th |
| Concepts & Consolidation: | 480 Hours |
| Doubt Removal Sessions: | 120 Hours |
| Live Strategy Session: | 12 Hours |
| Online Test Series: | 185 Hours |
JEE Prep Course For 12th Class Features
This JEE (Main & Advanced) course is designed exclusively for students studying science and mathematics from Class 12.
These subjects are taught by ex-IITians who are experienced in their domain knowledge. The purpose of this program is to improve the intellectual ability of JEE in students.
1. JEE Prep Course Taught by the Ex-IITians:
IITians are considered to be the best brains in the world. They will draw out of you the potential IITian. TPK is a community of more than 30 ex-IITs. Every ex-IITian has at least 6 to 9 years of experience and is a true teacher's material.
2. JEE Online Live & Interactive Real Time Classes
The JEE Online classes are fully live and interactive. Indian & NRI students will see what the teachers write on the whiteboard (the computer screen acts as a white board), hear what the teachers talk about and communicate with him or her, and ask questions at any time during the session.
Students can see their teachers, too.
3. JEE Online Coaching Class Timings For Class 12th
The JEE coaching classes shall be conducted after/during school hours. as per the convenience of the student. The live & interactive classes will take place five days a week.
4. JEE Special Classes / Doubt Removal Sessions
If a student is weak in a specific topic area or sub-topics, special classes will be provided as per their convenience of timing. Doubt removal classes are part of the whole program. It takes place after every topic taught and every test conducted.
5. Recordings of All the JEE Classes
All sessions are recorded and maintained in the student's account. Even if a student has missed a session, he or she will replay the recordings and come to par.
6. Personalized Mentoring System
Each student gets a course coordinator, whether he or she is in batch mode or one-on-one mode. This makes students free to speak to the course coordinators directly about their issues.
7. Study material
Each student will get online & offline study material. Online study material will be uploaded in students' account.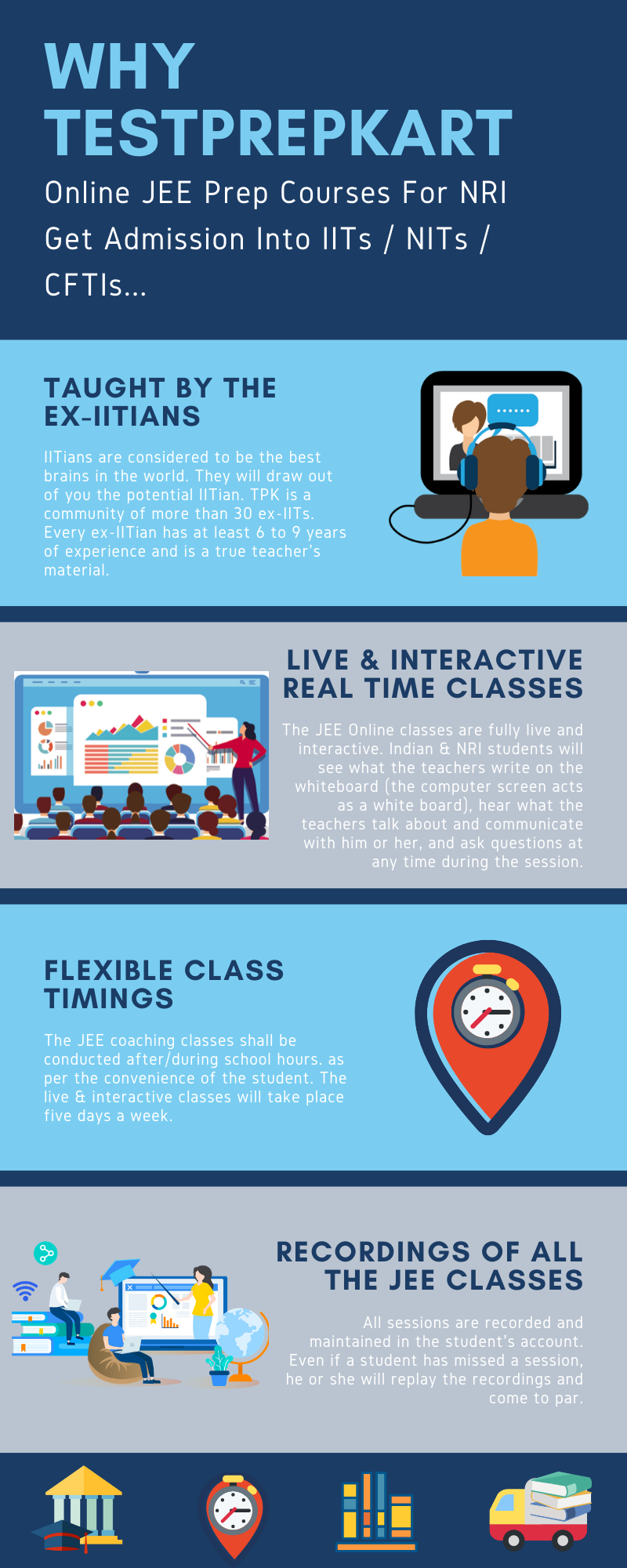 Testprepkart's JEE Perfect Graders:
Possible Entrance examination You can Plan For:
NRI & Indian students who have are now in class 12, can explore various career options and entrance examinations for higher educations.
JEE Main

NEET UG

SAT

State engineering entrance tests

CLAT (Common Law Admission Test)

LSAT

IIM IPM (Integrated Program in Management at IIMs)

NPAT (Narsee Monjee Programs Admission Test)

Christ University Entrance Tests

SET (Symbiosis Entrance Tests)

DU JAT (Delhi University Joint Admission Test)
JEE Main
JEE is an engineering entrance exam organized for admission to various engineering colleges in India. JEE Main is performed in two parts: JEE Main and JEE Advanced. The second section of the JEE Advanced exam is considered to be one of the most demanding undergraduate admission exams on an international level for NRI & Indian Students.
The first stage of JEE is JEE-Main and those NRI & Indian Students who qualify may appear for the JEE-Advanced Exam. NRI students who want to start their career as an engineer can start JEE preparation in class 12th.
Premiere institutes in India where Indian & NRI students can take admission after cracking JEE -
IITs
IITs are the most prominent institutions that offer the best Engineering courses in India. These are reputed groups equipped with courses such as undergraduate, postgraduate and doctoral.
There is No NRI Quota (DASA / CIWG Quota) available for NRI Students. They should clear JEE Main + Advanced as an normal Indian student to take admission in IITs.
NITs
National Technology Institute (NITs) are autonomous public higher education institution based in India. NITs are also famous among NRIs students.
The National Institute of Technology (NITs) is open to all type of students. Indian students & NRI students take JEE Main to get the admission in NITs.
NRI / OCI / PIO students can avail NRI quota under DASA / CIWG Scheme to take admission in NITs.
CFTIs
CFTIs are the centrally funded institutions offer the best engineering courses in India The Centrally Funded Technical Institutes (CFTIs) is open to all type of NRI & Indian students. Indian students & NRI students take JEE Main to get the admission in NITs.
NRI / OCI / PIO students can avail NRI quota under DASA / CIWG Scheme to take admission in CFTIs.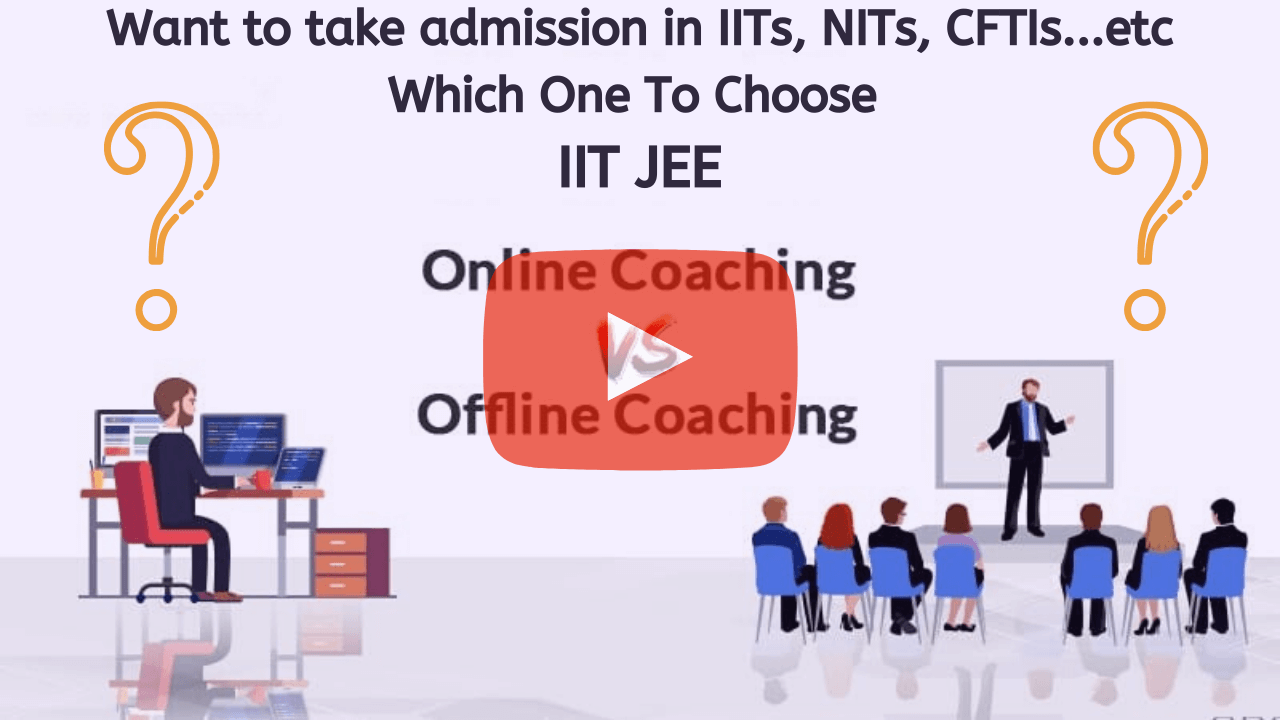 NEET UG
NEET is one of the most competitive entrance exams in India. The NEET entrance exam is organized by CBSE for admission to the MBBS or BDS courses in India.
Applicants begin to study for the 10th exam for admission to medical or dental colleges approved by the Indian Medical Council or the Indian Dental Council under the Ministry of Health and Family Welfare of the Union, Government of India. Every year, the Indian Medical Council (MCI) prescribes a NEET exam syllabus containing questions from Physics, Chemistry, Botany and Zoology. Students may opt for online NEET coaching to begin the preparation of the exam along with their daily school classes
SAT
SAT is a standardized test in form of an entrance exam used for admissions (in UG Programs) in most of the US colleges and universities & also for few universities in other countries.
NRI students take the SAT exam to get admission in prestigious US & Canada Colleges. If you are looking for taking admission for UG in Canada / US / UK colleges. You can also take SAT Prep Courses.
Common Law Admission Test (CLAT)
CLAT is an all-India standard entrance examination, administered on a rotational basis by 19 National Law Universities (NLUs) for admission to their UG and PG degree programmes.
The entrance examination is conducted out and the succeeding students are presented with a list of applicants on the basis of 'Merit-Cum-Preference' to each university for admission to their undergraduate (UG)/postgraduate (PG) programs.
While NRI & Indian students can only appear for the exam after taking class XII results, they can start preparing for the exam immediately after class 10.
LSAT
The Law School Admission Test (LSAT) is an important part of law school admissions in the United States, Canada and a growing number of other countries. The curriculum is specifically designed to evaluate critical reading, analytical thinking, logical reasoning, and concise writing skills — the core skills required to excel at law school. The LSAT is the only exam approved for entry by all ABA-accredited law schools and common law schools in Canada.
NPAT (Narsee Monjee Programs Admission Test)
NMIMS-NPAT 2020 is the official entrance exam for admissions to the Undergraduate and Integrated Degree Programs (Academic Session 2020-21) offered by the constituent NMIMS schools in Mumbai, Shirpur, Bengaluru, Hyderabad, Navi Mumbai and Indore Campuses.
Christ University Entrance Tests
The Christ University Entrance Examination is conducted for admission to B Tech, BBA, BBA (Hons), BBA (Finance and International Business), BBA (Finance and Accounting), BA LLB (Hons), BBA LLB (Hons), LLM, B Com (Hons), B Com (International Finance), B Com (Professional), BA-CEP and BHM.
SET (Symbiosis Entrance Tests)
Every year Symbiosis conducts four entrance tests [namely Symbiosis Entrance Test (SET)/Symbiosis Law Admission Test (SLAT)/SIT Engineering Entrance Exam (SIT EEE)/Symbiosis Entrance Exam for Design (SEED)] for admission to its undergraduate programs in Management, Law, Engineering, Mass Communication, Economics, Architecture, Liberal Arts, Computer Studies & Culinary Arts.
DU JAT (Delhi University Joint Admission Test)
National Testing Agency Delhi University conducts DU JAT (Delhi University Joint Admission Test) annually for shortlisted candidates for admission to B-Schools affiliated undergraduate management programs at Delhi University.
List of State-level Engineering Entrance Tests (NRI students can appear for)
Indian and NRI students can prepare for below state level examinations, if you are in 12th class they have good opportunity to prepare for state level examinations:
| | | |
| --- | --- | --- |
| S.No | State Name | Engineering Entrance Test |
| 1 | Andhra Pradesh | |
| 2 | Arunachal Pradesh | NERIST |
| 3 | Assam | |
| 4 | Bihar | |
| 5 | Chtattisgarh | |
| 6 | Goa | |
| 7 | Gujarat | GUJ CET |
| 8 | Haryana | HSTES (Examination Board) |
| 9 | Himachal Pradesh | HP CET |
| 10 | Jammu & Kashmir | JKCET |
| 11 | Jharkhand | |
| 12 | Karnataka | |
| 13 | Kerala | |
| 14 | Madhya Pradesh | MP PET |
| 15 | Maharashtra | |
| 16 | Manipur | NERIST |
| 17 | Meghalaya | NERIST |
| 18 | Mizoram | NERIST |
| 19 | Nagalnd | NERIST |
| 20 | Odisha | OJEE |
| 21 | Punjab | Punjab B.Tech (No Specific Test) |
| 22 | Rajasthan | REAP |
| 23 | Sikkim | NERIST |
| 24 | Tamil Nadu | |
| 25 | Telangana | TS EAMCET |
| 26 | Tripura | TJEE |
| 27 | Uttar Pradesh | |
| 28 | Uttarakhand | Uttarakhand B.Tech (No Specific Test) |
| 29 | West Bengal | |
A few popular State level exams are below, Indian & NRI Students can take these exams to take admission in respective colleges:
1. BITSAT
BITSAT is conducted annually for admission to the Integrated Degree programs offered by the Birla Institute of Technology and Sciences. Indian & NRI students both can take BITSAT entrance test.
BITS offers undergraduate and postgraduate courses in engineering and Pharmacy. Applicants who qualify for the entrance exam will be offered admissions at any of the three campuses in Pilani, Goa and Hyderabad.
2. SRMJEEE
SRM Joint Engineering Entrance Examination or SRMJEEE will be conducted by the SRM Institute of Science and Technology for admission to the B.Tech programs offered by the Institute.
Indian & NRI students both can take SRMJEE entrance test.
Excluding the core academic selection criteria, the institute also provides admissions and scholarships to top-ranking students from all central and state boards in India and to the top 1,000 IIT JEE ranking candidates, top-ranking students from each Tamil Nadu district and outstanding sportsmen at national and international level.
3. MHT CET
Appearing for Maharashtra Common Entrance test will take you to extremely prestigious institutes such as the Pune Institute of Computer Technology (PICT) and the College of Engineering, Pune.
Indian & NRI students both can take MHT CET entrance test.
4. UPESEAT
Indian & NRI students both can take BITSAT entrance test. With the Worldwide Achiever Award for being the University of the Best Industry-Academic Partnership at the World Education Summit & Awards 2018.
The University of Petroleum & Energy Studies is a great place to learn for anyone who aspires to have a career in Petroleum / Mechanical / Civil Engineering.
Tips to study for JEE in Class 12th
Go through the IIT-JEE syllabus and learn about the topics you've already learned in class 11. Once you've covered all of the topics and chapters in class 11, you should start learning 12 topics in class.

If you have backlogs left in Class 11, then you need to arrange your schedule in such a way that you don't fall behind in your current Class 12 topics and at the same time seek to cover your backlogs in Class 11.

Prepare a clear time table for all 3 topics. Don't follow other people's research schedule. You will know when the right time to research for you is.

ease complete your daily, weekly and monthly goals.

Take lists of essential concepts, formulas, responses, errors when solving problems, etc. Have your own tricks and shortcuts.

Do revision every single day. Don't leave the revision for the last month, it's an ongoing process.

Knowledge of concepts, practice, speed and accuracy are important. Time management is the secret to this. You will devote enough time to each of the sections – Physics, Chemistry and Mathematics. For your tests and exams, try the subject you are most comfortable with first.

Analyze the exam and find out about the errors that are going on. Correct those errors (with the aid of the teachers) and do not repeat them in the next exams.
JEE Online Coaching Classes For Class 12 (FAQ)
Answer: NRI students can login to JEE online classroom through his/ her student's account, provided after enrolment of JEE online cLasses admission. Our operation team will also send the class link to the student's email-id.
Answer:The JEE online classes will be 120 minutes (2 hours) per day and 3-4 days in a week for 11th and 12th grade students, 120 minutes (2 hours) per day and 3-4 days in a week for grade 9-10 students. The timings of the classes will be suitable as per students requirements.
Answer:NRI student can ask doubts through a microphone or live chat option on whiteboard screen during the JEE online class.
Answer: With TestprepKart JEE online coaching, an Indian & NRI student can study from IIT qualified teachers at the comfort of own home. TestprepcKrt educational team has many years of experience in preparing students for JEE in online mode, not just in terms of education but also in handling mental pressure of NRI students. The study material, assignments, Online Test Series and practice tests are all designed by IITians faculty, keeping in mind the latest changes in JEE Main and JEE Advanced exam pattern.
Answer: Parents & guardians can directly interact with teachers through online PTMs (conducted quarterly). Patents can discuss a student's performance with the educational team after every test.
Answer: Yes, TestprepKart provide exclusive hard copy study material including online test series, which will be sent to student's postal address anywehre in the world after the enrollment.
Answer: Yes, our JEE online coaching will also cover school board preparation of Maths, Chemistry & Physics. Students' concepts will be so clear that they can easily answer subjective & long questions asked in the board exams.

Useful JEE Main Links You Should Not Miss:
JEE Details You Should Not Miss:
JEE Coaching Centers:
JEE Main & Advance Preparation Resources:
How to register for JEE Online Preparation Courses:
faq
Fill up the form above on right hand side. On receiving your information, you will be called up by JEE counsellor for course explanation. After filing up enrolment form link and fee submission your classes will start.

You can directly call us on +91 8800 1234 92 or write us at info@testprepkart.com