by April,25,2020
0 comments
64 Views
JEE Coaching Classes For Class 9th
9th class is an exciting time for most Indian & NRI teens students. 9th class curriculum & foundation courses move to tackle higher- thinking skills and the ability to learn autonomously. JEE is an entrance that needs to be prepared from an early age. The earlier the student prepares, the better the performance will be.
The beginning of the high school years marks the culmination of their primary education, and the course requirements for high school students begin their preparation to enter college or the workforce after graduation.
Later, to lay the foundation for your IIT JEE preparation, we started with the JEE foundation courses. JEE Online Classes are going to be incredibly helpful in making things easier later with a little hard work now.
Quick Connect +91 8800 1234 92 / info@testprepkart.com
JEE Online Classes / Courses Available For Class 9th
Testprepkart offers you best JEE courses is designed by the team of experts for 9th class Indian & NRI students who wants to crack IIT-JEE, NEET (AIPMT) and KVPY exams in future.
Select your ideal JEE Online Course. For any clarification, please speak with us on +91 8800 1234 92 or write to us at info@testprepkart.com
| | | | |
| --- | --- | --- | --- |
| JEE Prep Courses For 9th Class Indian & NRI Students | JEE Prep Course Duration | JEE Prep Course Level | JEE Prep Course Details |
| JEE Foundation Course | 1 Year | 9th to 10th | |
| JEE Preparation Course For 9th Class | 1 Year | 9th to 10th | |
JEE Foundation Course For 9th Class
| | |
| --- | --- |
| JEE Foundation Course Details | JEE Foundation Course Description |
| Total No. of Course Hrs. | 390 Hrs. |
| Course Focus On | CBSE Class 9th (Math & Science) + JEE / PMT Foundation + NTSE + Olympiads |
| Concepts & Consolidation | 156 Hrs. |
| Doubt Removal Sessions | 60 Hrs. |
| Online Test Series | 171 Hrs. |
JEE Prep Course For 9th Class Features
This JEE (Main & Advanced) course is designed exclusively for students studying science and mathematics from Class 6 to Class 10.
These subjects are taught by ex-IITians who are experienced in their domain knowledge. The purpose of this program is to improve the intellectual ability of JEE in students.
1. JEE Prep Course Taught by the Ex-IITians
IITians are considered to be the greatest brains in the world. They will draw out of you the potential IITian. TestprepKart is a community of more than 30 ex-IITs teachers. Every ex-IITian has at least 6 to 9 years of experience and is a true teacher's material.
2. Live & Interactive Real-Time Classes
The JEE Online classes are fully live and interactive. Indian & NRI students will see what the teachers write on the whiteboard (the computer screen acts as a whiteboard), hear what the teachers talk about and communicate with him or her, and ask questions at any time during the session. Students can see their teachers, too.
3. JEE Online Class timings
The JEE coaching online classes shall be conducted after/during school hours. as per the convenience of the student. The live & interactive classes will take place five days a week.
4. Special JEE Online Classes / Doubt Removal Sessions
If a student is weak in a specific topic area or sub-topics, special classes will be provided as per their convenience of timing. Doubt removal classes are part of the whole program. It takes place after every topic taught and every test conducted.
5. Recordings of All the JEE Online Classes
All sessions are recorded and maintained in the student's account. Even if a student has missed a session, he or she will replay the recordings and come to par.
6. Personalized Mentoring System
Each student gets a course coordinator, whether he or she is in batch mode or one-on-one mode. This makes students free to speak to the course coordinators directly about their issues.
7. Study Material Of JEE
Each student will get online & offline study material. Online study material will be uploaded in students account.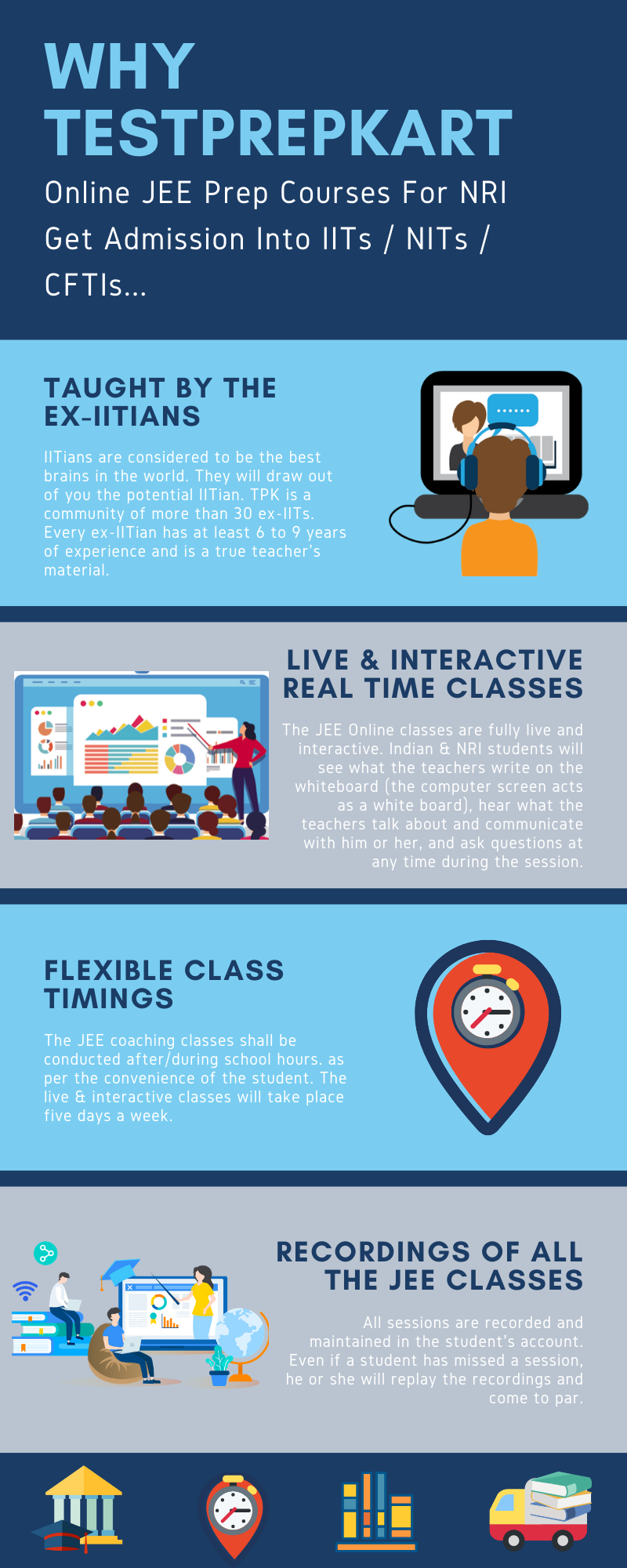 Testprepkart's JEE Perfect Graders

Possible Entrance Examination You Can Plan For
It is likely that the best institutions will select the applicants by a reasonable way of evaluating the potential and worthiness of each applicant without favoritism and cultural influences.
If you are in 9th class you have enough time to prepare for entrance exam. Indian and NRI students can prepare for below national level examinations
Joint Entrance Exam or JEE
Abbreviation for Joint Entrance Exam, JEE is the most popular engineering entrance exam in India through which students can take admissions in UG Engineering & Architecture Courses in the renowned Technical Institutes of India.
Indian and NRI Students can take admission in IIT , NITs, CFTIs. NRI / OCI / PIO students have benefits of taking NRI quota under DASA / CIWG Scheme to take admission in Premiere institutions in India.
If you are in 9th class you have good opportunity to prepare for JEE
Subjects Physics , Chemistry & Mathematics
Conducting Body National Testing Agency
Premiere institutes in India where Indian & NRI students can take admission -
IITs
IITs are the prominent institutions that offer the best Engineering courses in India. These are reputed groups equipped with courses such as undergraduate, postgraduate and doctoral.
There is No NRI Quota (DASA / CIWG Quota) available for NRI Students. They should clear JEE Main + Advanced as an normal Indian student to take admission in IITs.
NITs
National Technology Institute (NIT) is an autonomous public higher education institution based in India.
The National Institute of Technology (NITs) is open to all type of students. Indian students & NRI students take JEE Main to get the admission in NITs.
NRI / OCI / PIO students have benefits of taking NRI quota under DASA / CIWG Scheme to take admission in NITs.
CFTIs
CFTIs are the centrally funded institutions offer the best engineering courses in India The Centrally Funded Technical Institutes (CFTIs) is open to all type of students. Indian students & NRI students take JEE Main to get the admission in NITs.
NRI / OCI / PIO students have benefits of taking NRI quota under DASA / CIWG Scheme to take admission in CFTIs.
National Eligibility cum Entrance Test (NEET)
NEET is the only National Level Medical Entrance Exam which helps in providing admissions in various Top MBBS/BDS colleges in India and also in AYUSH Courses offered by Indian Medical Colleges.
Apart from it, if someone wishes to go for AIIMS and JIPMER, then they have to give separate entrance exam.
Subjects Physics, Chemistry, Biology
Conducting Body National Testing Agency
National Talent Search Examination or NTSE
The national level exam cum scholarship program is one of the most prestigious competitive exams for 9th class students. The primary objective of NTSE is to recognize students with strong academic abilities and outstanding intellectual abilities.
Subjects Science, Mathematics, Social Science, Mental Ability and General Awareness
Conducting Body National Council of Educational Research and Training (NCERT)
National Interactive Maths Olympiad or NIMO
With a view to eliminating the fear of math from students 'minds, this national exam is for students in classes V to XII. It test their analytical ability and their intellectual skills.
NIMO is dedicated to making math more enjoyable by incorporating educational programs such as virtual Olympiad, workshops and seminars.
Subjects Math
National Biotechnology Olympiad or NBO
The particular exam consists of 50 questions for 50 marks and requires candidates from all streams to participate. In addition to annual e-newspapers, its Biotechno Activity Books & Job Books have been widely valued by students.
It wants to encourage the younger generation to develop their knowledge of, and raise awareness of, Biotechnology issues.
Subjects Math
Conducting Body Eduheal foundation
Asset (Assessment of Scholastic Skills Through Educational Testing)
A scientifically designed, skill-based evaluation test, it breaks free from the idea of rote learning. Meaning for Class III-X pupils, tests how well children understand the underlying school curriculum These exams are based on the curriculum of the CBSE, ICSE, CIGSE, and the major state boards.
Subjects English, Mathematics and Science (Social Studies and Hindi – Optional)
Conducting Body Educational Initiatives Pvt. Ltd.
Kishore Vigyan Protsahan Yojana or KVPY
It is a national competitive examination in basic sciences administered by the Department of Science and Technology for students of classes XI and XII.
The selected Indian & NRI students would be eligible for admission to the five-year integrated MS program at the Indian Institute for Science and Research.
The goal of the program is to recognize students with talent and study skills.
Conducted Body (funded by) Department of Science and Technology of the Government of India
List of State-level Engineering Entrance Tests (NRI students can appear for)
Indian and NRI students can prepare for below state level examinations, if you are in 9th class they have good opportunity to prepare for state level examinations
| | | |
| --- | --- | --- |
| S.No | State Name | Engineering Entrance Test |
| 1 | Andhra Pradesh | |
| 2 | Arunachal Pradesh | NERIST |
| 3 | Assam | |
| 4 | Bihar | |
| 5 | Chtattisgarh | |
| 6 | Goa | |
| 7 | Gujarat | GUJ CET |
| 8 | Haryana | HSTES (Examination Board) |
| 9 | Himachal Pradesh | HP CET |
| 10 | Jammu & Kashmir | JKCET |
| 11 | Jharkhand | |
| 12 | Karnataka | |
| 13 | Kerala | |
| 14 | Madhya Pradesh | MP PET |
| 15 | Maharashtra | |
| 16 | Manipur | NERIST |
| 17 | Meghalaya | NERIST |
| 18 | Mizoram | NERIST |
| 19 | Nagalnd | NERIST |
| 20 | Odisha | OJEE |
| 21 | Punjab | Punjab B.Tech (No Specific Test) |
| 22 | Rajasthan | REAP |
| 23 | Sikkim | NERIST |
| 24 | Tamil Nadu | |
| 25 | Telangana | TS EAMCET |
| 26 | Tripura | TJEE |
| 27 | Uttar Pradesh | |
| 28 | Uttarakhand | Uttarakhand B.Tech (No Specific Test) |
| 29 | West Bengal | |
A few popular State level exams are below, Indian & NRI Students can take these exams to take admission in respective colleges
1. BITSAT
BITSAT is conducted annually for admission to the Integrated Degree programs offered by the Birla Institute of Technology and Sciences. Indian & NRI students both can take BITSAT entrance test.
BITS offers undergraduate and postgraduate courses in engineering and Pharmacy. Applicants who qualify for the entrance exam will be offered admissions at any of the three campuses in Pilani, Goa and Hyderabad.
2. SRMJEEE
SRM Joint Engineering Entrance Examination or SRMJEEE will be conducted by the SRM Institute of Science and Technology for admission to the B.Tech programs offered by the Institute.
Indian & NRI students both can take SRMJEE entrance test.
Excluding the core academic selection criteria, the institute also provides admissions and scholarships to top-ranking students from all central and state boards in India and to the top 1,000 IIT JEE ranking candidates, top-ranking students from each Tamil Nadu district and outstanding sportsmen at national and international level.
3. MHT CET
Appearing for Maharashtra Common Entrance test will take you to extremely prestigious institutes such as the Pune Institute of Computer Technology (PICT) and the College of Engineering, Pune.
Indian & NRI students both can take MHT CET entrance test.
4. UPESEAT
Indian & NRI students both can take BITSAT entrance test. With the Worldwide Achiever Award for being the University of the Best Industry-Academic Partnership at the World Education Summit & Awards 2018.
The University of Petroleum & Energy Studies is a great place to learn for anyone who aspires to have a career in Petroleum / Mechanical / Civil Engineering.
Why start Preparation early For JEE in class 9
NRI students are going to have an advantage over your peers when you start the actual class 11 preparation. Since most of them will have difficulty grasping the initial concepts, you will find it simpler and can move to solve tougher problems.
NRI & Indian have four years to go before the JEE exams, if you see. If it is used right, it can make a big difference. It can also help you with other tests, such as Olympiads and NTSE.
How to start preparing For JEE
Choose the right JEE Prep Course for 9th Class & than follow these tips
Tip No. 1 For 9th class Students For JEE Prep - Most of the time, you're going to find the school curriculum simple. You just need to look at half of the syllabus every semester. So, after you finish your schoolwork and other extracurricular activities, you might have some time left.
You should use it this time. But first of all, the foundation is very relevant. If you have issues with class 9th and 10th PCMs, don't do this right now.
Give more time to be sure about the first move than the complicated concepts. Therefore, it's very important that you understand everything learned at school very well, so it's not a tough task to crack school exams.
Tip No. 2 For 9th class Students For JEE Prep - Solving time-limit problems is one of the main factors that will decide your score in any exam. The secret to score in JEE exams is precisely to solve problems within a set timeframe. This is only possible if you solve more and more problems within a defined period of time.
Tip No. 3 For 9th class Students For JEE Prep - Identify your strength and weakness in studying these subjects. Take a note of this and seek to clear up all of your questions. The purpose is to be able to point out subjects that sound complicated to you, and then to reflect on them for further development. You have a lot of time to do that.
Tip No. 4 For 9th class students For JEE Prep - Make a couple of friends who are looking for the same thing. It's good to have a great study circle. They're going to help you at times when you're having trouble. Try to explain what you've learned from your mates. It is the only way to retain the ideas for a long time to come.
Tip no. 5 for 9th class students for JEE prep - If you are sure about basic concepts, you can only get to grips with complicated topics and problems in these subjects. Simple knowledge of subjects is required to solve any problems with this exam.
JEE Online Coaching Classes For Class 9th (FAQ)
Answer NRI students can login to JEE online classroom through his/ her student's account, provided after enrolment of JEE online cLasses admission. Our operation team will also send the class link to the student's email-id.
AnswerThe JEE online classes will be 120 minutes (2 hours) per day and 3-4 days in a week for 11th and 12th grade students, 120 minutes (2 hours) per day and 3-4 days in a week for grade 9-10 students. The timings of the classes will be suitable as per students requirements.
AnswerNRI student can ask doubts through a microphone or live chat option on whiteboard screen during the JEE online class.
Answer With TestprepKart JEE online coaching, an Indian & NRI student can study from IIT qualified teachers at the comfort of own home. TestprepcKrt educational team has many years of experience in preparing students for JEE in online mode, not just in terms of education but also in handling mental pressure of NRI students. The study material, assignments, Online Test Series and practice tests are all designed by IITians faculty, keeping in mind the latest changes in JEE Main and JEE Advanced exam pattern.
Answer Parents & guardians can directly interact with teachers through online PTMs (conducted quarterly). Patents can discuss a student's performance with the educational team after every test.
Answer Yes, TestprepKart provide exclusive hard copy study material including online test series, which will be sent to student's postal address anywehre in the world after the enrollment.
Answer Yes, our JEE online coaching will also cover school board preparation of Maths, Chemistry & Physics. Students' concepts will be so clear that they can easily answer subjective & long questions asked in the board exams.
Useful JEE Main Links You Should Not Miss
JEE Details You Should Not Miss
JEE Coaching Centers
JEE Main & Advance Preparation Resources
How to register for JEE Online Preparation Courses